This Saturday, May 6, 2017, the annual North Carolina Fallen Firefighters Memorial Service will be conducted at Nash Square in downtown Raleigh. The event starts at 1:00 p.m. and will be preceded with a parade at 10:00 a.m., featuring honor guards, pipes and drums, and fire apparatus from across the state, from departments with one or more fallen members in their past. See event information.
Also this weekend, motorcyclists from across the state will participate in the annual Red Helmet Ride to support the families of the fallen members and the North Carolina Fallen Firefighters Foundation. They'll ride on May 5 and May 6. View the flyer.
Eleven firefighters will be added to the memorial wall this year. Ten passed away in 2016, and one is a legacy addition from 1967.
The memorial was dedicated in 2006, and contains the names of some 290 firefighters and fire service members who've died in the line of duty since 1902.
And if this posting seems familiar, it is. Have reused the text and formatting from last year's posting.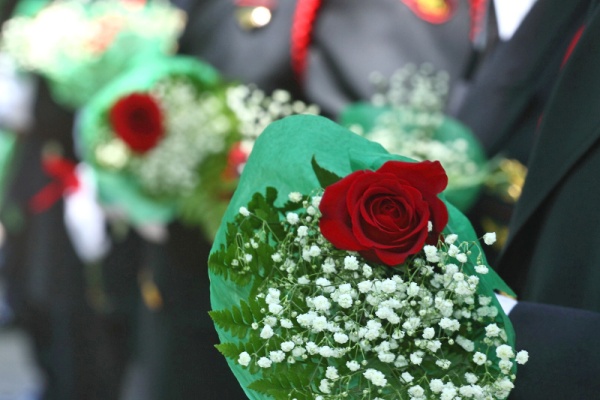 This Year's Honored
| | | |
| --- | --- | --- |
| Lee Roy Horton | Statesville FD | 11/22/67 |
| Joshua Woods | Siler City FD | 1/12/16 |
| James Ronald Varnell | Bakertown FD | 2/2/16 |
| Richard Michael Sheltra | Pineville FD | 4/30/16 |
| John Morris Davis Jr. | Kenly FD | 5/7/16 |
| Prentice J. Tyndall | Hugo FD | 5/12/16 |
| Bradley S. Long | Sherrill's Ford-Terrell FD | 6/6/16 |
| Joshua Lee Warren | Alexis FD | 6/16/16 |
| David Kevin Britt | Severn Fire FD | 6/18/16 |
| Lennie J. Terry | Triple Springs FD | 12/11/16 |
| Donald Key II | Whispering Pines FD | 12/27/16 |
Details on those who died in 2016:
Joshua Woods, Firefighter, 24, died as a result of injuries, after his personal vehicle crashed while responding to an emergency call. Read USFA report.
James Varnell, Firefighter, 53, died after becoming ill, as he prepared to leave the fire station, after participating in fire department training. Read USFA report.
Richard Sheltra, Firefighter, 20, died of injuries sustained while operating on the interior of a structure fire at a strip mall. Read USFA report.
John Davis, Firefighter, 45, died after suffering a cardiac arrest, while at the scene of a motor-vehicle accident, and after assisting other responders with extrication. Read USFA report.
Prentice Tyndall, Firefighter, 45, died of a brain injury, after becoming ill, the day after answering a fire call. Read USFA report.
Bradley Long, Captain, 28, died during a diving operation, while searching for a missing boater. He and a second diver were in the water when a mayday was called. He never resurfaced, and his body was later found. Read USFA report.
Joshua Warren, Firefighter, 34, died after becoming ill during physical fitness training at a local gym, while on duty. Read USFA report.
David Britt, Fire Chief, 54, died after suffering a medical emergency at his home, several hours after responding to a vehicle collision. Read USFA report.
Lennie Terry, Assistant Chief, 64, died of a heart-related ailment, after participating in a fire department activity.
Donald Key, Lieutenant, 31, died after becoming ill at home, after returning from an emergency call. Read USFA report.
And about the legacy addition:
Lee Horton, Captain, 41, was killed in a bomb blast, when his booby-trapped personal vehicle exploded beside Station 2. Read blog posting.