Note: See this Facebook posting for comments and discussion about this blog posting.
On August 1, 1979, the Nahunta Fire Department in Wayne County became the first rural fire department in North Carolina–and in the United States–to receive a Class 8 fire protection rating for its rural water supply system, that used tankers and portable dump tanks to provide a sustained and consistent flow of water for firefighting.
This news was announced at that year's annual conference of the state firemen's association and state fire chief's association, held in Asheville from July 30 to August 2. Remarks made at the event, as recounted in the printed proceedings, noted that through the department didn't have a hydrant within about seven or eight miles of their district, but still received a "Municipal Class 8" rating by the Insurance Services Office.
The rating was based on the "Fast Dump System," as they called it. And it was something that had been in the works for about eleven years. (At Nahunta? In Wayne County? In other places in the state?) The Fire Chief was Jay Howell, who took a nod during the announcement. Wayne County Fire Marshal Carl Ray Coley's efforts were also cited.
To share the knowledge, an evening meeting was held at the conference, for any department members to attend and ask questions about how ISO determined rating, and how other departments might qualify in the future.
The state fire commissioner's office (as one speaker called it) also assisted, and noted that Nahunta was also the first rural fire district in the nation to receive such a rating, for the "fast dump system." The state fire and rescue office "recommended and trained with" the department until the water supply system was approved. And they noted they're working with other departments in the state, for use in their areas.
One colorful description of the process was "its just like having a big wash tub near the fire scene where the water supply from that fire district can be tanked in and dumped [in]."
Who were the next departments in the state to receive such a rating? Good question!
How quickly did departments in other states get rated by ISO, using the same system? To be determined!
When was the "fast dump system" first started in North Carolina, or in the other states? Have long heard it came from Midwestern farmers in the late 1960s, and a resulting presentation at FDIC on year. Need more information.
Historical Perspective
The Nahunta Fire Department was organized after a meeting on February 12, 1958, by Nahunta Farmers Club members who wanted fire protection for their area. They became one of the earliest rural fire departments in Wayne County, and organized with two stations: No. 1 at Nahunta and No. 2 on Gurley Dairy Road.
They elected officers and a board of directors. The department collected monies from the communities, beginning with a minimum of $5 per tobacco barn. They also solicited donations.
Station 1 was located just behind Nahunta School on a donated site, shown on left below. Construction started in 1959 on a cement block building measuring 30 by 40 feet. The first apparatus was a Army surplus International truck bought in 1958 for $150 and converted into a pumper. A similar truck was purchased for Station 2.

In 1960, a "state dump truck" was purchased for $250 and the bumper body was designed and built by firemen. In 1961, Station 2 bought a Chevy truck for $150 for a tanker.
The Wayne County tax department provide a donation of around $200 in 1959. Other funds came from fundraisers ranging from turkey shoots to fish stews. Car identification tags were sold and a go-cart was raffled.
In November 1962, three sets of protective personal equipment were ordered for each of the two stations. Later, each fireman paid one-half of the cost of their gear, and the department paid the other.
On Thanksgiving of 1961, construction started on Station 2. The cement block building coast $1800 and was erected by local firemen, which the exception of the cement laying. The 0.3 acre lot was donated.
Until 1964, bi-monthly meetings alternated between both buildings. They then recognized the need for having faster response times, and covering areas beyond the four-mile limit. Thus the two stations were divided, and began operating under separate charters. Equipment was divided between the two stations.
Station 1 became the Nahunta Volunteer Fire Department. Station 2 became the Little River Volunteer Fire Department.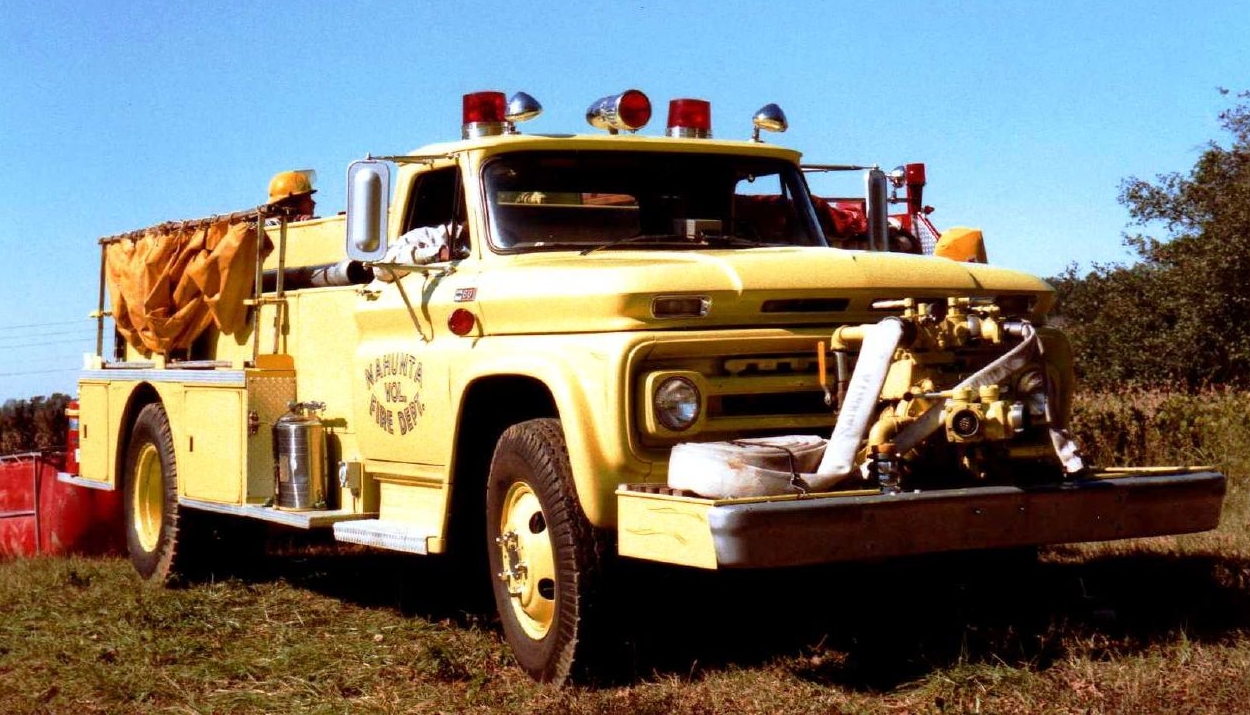 Nahunta's 1965 Chevrolet C60/Darley pumper, 500/500. Later modified with a 1000 gallon tank with "jet dump" in the late 1970s. Lee Wilson photo. 
Nahunta Volunteer Fire Department, Inc., was incorporated with the state in 1959, their paperwork filed on May 26, 1959. Little River Fire Department, Inc., was incorporated with the state in 1964, their paperwork filed on April 27, 1964.
Both departments are still operating.
Sources
A History of Nahunta Community, North Carolina, by Mozelle R. Gurley, Nornegay Printing Company, Goldsboro, NC, via the Internet Archive at https://archive.org/details/historyofnahunta00moze
Lee Wilson photos, via Flickr, https://www.flickr.com/photos/leewilson/
North Carolina corporations records via Secretary of State web site search, https://www.sosnc.gov/search/index/corp
Oral histories, via Facebook version of this posting
Proceedings of the North Carolina State Firemen's Association and North Carolina Association of Fire Chiefs, July 30-August 2, 1979