Biltmore Fire Departments – A Short History
---
Research notes by Mike Legeros - Last updated August 30, 2015 (annotations)

Abstract

George Vanderbilt's Biltmore Estate was completed in 1895. The property was protected by various types of fire equipment, including fire hydrants with hose and fire apparatus. Though the Biltmore House has never caught fire, smaller buildings on the estate burned in early decades. In 1903, a fire department was organized at nearby Biltmore Village. The Biltmore Fire Department protected both the estate and the village until 1929. They operated hand and motor apparatus including a 1926 Ahrens Fox triple combination pumper. That year, the village was annexed the city, and Asheville Fire Station 5 opened at the former Biltmore Village fire station. Also that decade, the town of Biltmore Forest was charted in 1923. The planned residential community was developed from some 1,500 acres of estate property. The Biltmore Forest Fire Department operated with combination firemen and police officers, as well as volunteer firemen. They had a single combination fire and police station and five pieces of apparatus over the decades until they ceased operation in 1995. The town contracted with the Asheville Fire Department until 2013, and then the Skyland Fire Department, which completed a new fire station near the town in 2014.

Read the research notes (PDF, 4.6M)

Annotations
August 30, 2015 - On July 27, 1924, the Asheville Fire Department recorded this entry in a log book: "Still [alarm]. 3:00 a.m. Biltmore [Village], Merchant & Shelton. 1500 feet hose used, 3 bursted sections. Time out of station 5 hr - 20 min. Biltmore & Oteen [Veterans Hospital] Fire [Departments] were also there.
August 27, 2015 - In March 1954, the Bon Marche department store burned in downtown Asheville. The newspaper story included a reference to Biltmore Forest Fire Department providing mutual, the first such reference found. "The Biltmore Forest standing by early this morning to replace a truck taken from Biltmore to Central Station."
Montage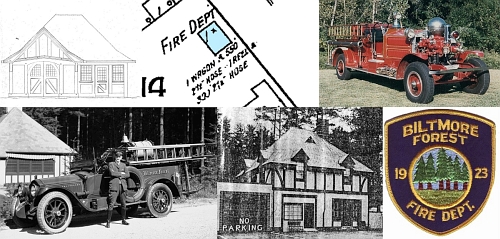 ---
Spot an error on this page? Please let me know, just click my name below...
Copyright 2022 by Michael J. Legeros