North Carolina's first firefighters were its citizens, who answered the alarm of fire with whatever equipment they or their communities had.

Buckets and ladders were common, and were sometimes required of each household. Other early laws compelled citizens to participate in fire watches.

Colonial-era communities were particularly vulnerable to fire, with their wooden structures and minimal water supplies.

The first formal volunteer fire companies were formed at the end of the 18th century, in New Bern (1773), Salem (1785), Fayetteville (1791), and Washington (1791).

Raleigh's first fire company was formed in 1819. Led by Raleigh Register editor Joseph Gales, the group was organized after the delivery of the city's first fire engine.

Hand-powered pumping engines appeared as early as 1785, when two were delivered to Salem. Dozens were delivered throughout the state in subsequent decades. In some cities, they were upgraded over several decades.

In Raleigh, hand engines were delivered in 1819, 1840, 1851 (two engines), and 1875. The last hand engine, operated by the Victor Company, was later horse-drawn.

"Hand engines" were operated in towns of all sizes, including Beaufort, Charlotte, Clayton, Greenville, Plymouth, and Warrenton.

Water was poured into the earliest of these engines, and then sprayed using an attached nozzle. Later-era hand engines used hoses to draft and spray water.

Water supplies in the early and mid-19th century ranged from well pumps to water pipes to underground cisterns.

Steam-powered pumping engines first appeared during the Civil War. The first "steamer" was delivered to New Bern in 1865. Some were hand-pulled before being horse-drawn. Most were delivered in the 1880s, or later.

Over 35 steamers in North Carolina were built by companies including American LaFrance, Button, Clapp & Jones, Gould, and Silsby.

Steamers were operated in Durham, Elizabeth City, Fayetteville, Goldsboro, Reidsville, and Statesville, among others.

Hook and ladder trucks were another common piece of early fire apparatus. The "hooks" they carried were used to pull down burning buildings before the flames spread to other structures.

Some communities divided their engine and ladder companies along racial lines. The Excelsior Hook and Ladder Company in Durham, formed after 1876, was a "colored" fire company.

For larger fires, mutual aid between towns was rendered by sending equipment and personnel on railroad cars.

On November 5, 1885, Raleigh's Rescue Steam Fire Engine Company traveled south by special train when the Fayetteville Hotel burned.

Even after the arrival of motor apparatus, rail cars were still used to send assistance. Washington sent its fire truck on a flatbed to assist New Bern, during the great fire of 1922.

Fire companies also traveled for recreational purposes. Competitions were held between visiting and home firefighters.

The 1870 State Fair also featured steam engine and hand engine contests.

By the late 1880s, annual conventions and tournaments were held by two new organizations, the North Carolina State Fireman's Association and the North Carolina Colored Volunteer Fireman's Association.

Municipal water systems with pressurized fire hydrants spread across the state starting in the 1880s.

Fire hoses were connected directly to hydrants, without the need for pumping engines.

Hose was wound on large reels that were pulled by hand or horse. Hose was also packed in horse-drawn wagons.

Chemical tanks were popular at this time, too, both as hand-drawn "chemical engines" and as attached to horse-drawn or motorized hose wagons.

Used at a fire, chemicals were added to small water tanks that pressurized the contents. This allowed for the quick extinguishing of small fires, without requiring an external pump or water supply.

Chemical tanks could only be used once, before being recharged.

Electric-telegraph fire alarm systems also appeared in the 1880s.

When an alarm box was activated, the number of the box was transmitted to such signaling devices as a station gong or watch tower bell.

By 1899, alarm systems were installed in 11 towns including Asheville, Fayetteville, Greensboro, Goldsboro, Winston, and Salem.

Volunteers represented the majority of early 20th century firefighters. Only a couple of cities were fully staffed with career personnel. Early adopters included Wilmington (1897), Charlotte (1907), Durham (1909), and Raleigh (1912).

The first recorded firefighter fatality occurred during this period. Edward Peed of Washington's Salamander Fire Company was killed in a building collapse on February 8, 1902.

Two years later, New Bern firefighter Johnnie Gaskill was killed when kicked in the head by a horse.

In 1912, motorized fire apparatus debuted in numerous cities including Asheville, Charlotte, Durham, High Point, Lumberton, and Raleigh.

Fire station sizes also changed as horse-drawn apparatus was replaced by motor vehicles.

Many municipalities had a "central fire station" with space for several pieces of fire apparatus, as well as office and living space for career or volunteer firefighters.

In the 1940s, fire protection for suburban and rural communities increased with the formation of rural fire departments.

These were private organizations, formed and largely funded by citizens. By the 1950s, they were often assisted with money and equipment from the Office of Civil Defense.

Once a rural fire department was organized, volunteer firefighters and community members built the necessary infrastructure.

They held fundraisers, elected officers, and established by-laws. They donated barns and garages for storing fire trucks; built tin sheds and block buildings as their firehouses.

They even constructed their own fire apparatus, often using surplus vehicles. Wake County's Fairview Fire Department was a typical example.

Their first fire engine was built from an ex-weapons carrier. Members added a water tank and pump, mounted two taillights as warning lights, and applied a coat of donated paint in a chicken shack.

It was stored in a building whose doors were untied, laid flat, and driven over when they responded to a call.

Today, volunteers outnumber paid personnel by a factor of three. There are 37,774 volunteer and 10,522 career firefighters serving in North Carolina's 1,293 fire departments.

Note

A version of this article was published in a News & Observer Fire Prevention Day insert on October 2, 2007.
Turn of the Century

In 1899, the North Carolina State Fireman's Association recorded 23 towns with fire departments: Asheville, Charlotte, Concord, Elizabeth City, Enfield, Fayetteville, Goldsboro, Greensboro, Greenville, Henderson, Kinston, LaGrange, Monroe, New Bern, Raleigh, Reidsville, Salem, Salisbury, Tarboro, Washington, Wilmington, Wilson, and Winston. Seven other towns had fire equipment only: Beaufort, Hickory, Lumberton, Milton, Morehead City, Plymouth, and Scotland Neck.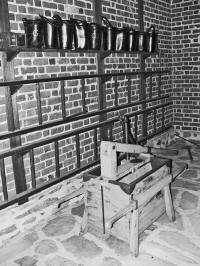 Two of the first fire engines in North Carolina were delivered to Salem in 1785. The smaller wooden engine could be carried inside doorways and between buildings. Mike Legeros photograph.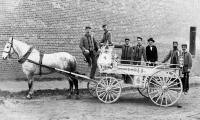 Hose wagons appeared in the 1880s, following the installation of municipal water systems. Firefighters connected their hoses directly to the hydrants. Courtesy Greensboro Historical Museum.



Motorized fire apparatus appeared in 1912, first hose wagons and pumping engines, and soon service ladder and aerial ladder trucks. This 1923 American LaFrance Type 17 aerial ladder served Asheville. Courtesy North Carolina Collection, Pack Memorial Public Library, Asheville, North Carolina.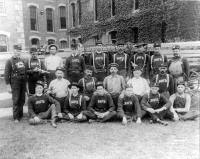 The State Hospital in Morganton operated a volunteer fire brigade for several decades. Fire brigades also protected schools, mills, and factories. Courtesy Broughton Hospital.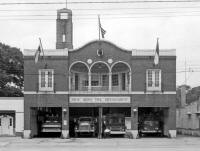 Fire station sizes expanded as apparatus changed from hand-drawn to horse-pulled to motor-driven. New Bern's 1928 fire station on Broad Street is pictured circa 1960.Courtesy North Carolina State Archives.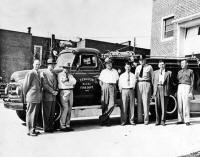 Community members pose in 1953 with a new fire truck purchased for the new Zebulon Rural Fire Department. The volunteer group protected unincorporated areas outside the eastern Wake County town. Courtesy North Carolina State Archives.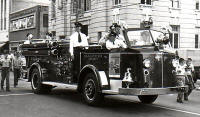 Raleigh firefighters ride past City Hall on Fayetteville Street for a Fire Prevention Week parade in October 1953. Courtesy North Carolina State Archives.
More than Suppression
North Carolina's firefighters do more than just extinguish fires. They also render emergency medical assistance, rescue trapped people, stand by during dangerous situations, perform salvage and overhaul, conduct inspections of buildings, and educate about fire safety.