North Carolina State Firefighters' Association History
Albert Brinson Statistician Reports
Last updated: December 12, 2022
---
New Bern Fire Department member Albert W. Brinson served as Statistician for the North Carolina State Firefighters' Association from 1940 to 1962.
This page presents his reports as printed in the proceedings of the annual conferences, from 1941 to 1960. The reports for 1961 and 1962 are forthcoming.
Brinson's reports are superb snapshot of the state fire service in the 1940s and 1950s, including during the war years. Among the topics covered in the reports are:
Fire fatalities in the state
Fire losses, statewide and nationally
Tabular information on the state's fire departments
Wartime effects including airplane accidents around the state
Major fires
Unusual fire causes
Fire department news
Read the reports (PDF).
Related
Biography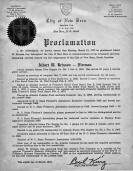 ---
Copyright 2023 by Michael J. Legeros