North Carolina State Firefighter's Association History
Firefighter Games a Long Tradition in North Carolina
Last updated: February 21, 2019
Contests between North Carolina's firefighters are as old as many of the departments themselves. After the Civil War, newspapers reported the excursions of firemen from one city to another. In September 1869, for example, some 30 members of Raleigh's Merchants Independent Fire Company were received by the Steam Fire Engine Company of New Bern.
Inevitably, such visits included competitions between the visiting and home firefighters. In August 1882, the colored firefighters of Wilmington received Raleigh's Victor Company. Among the activities was a "reel contest." The prize was awarded for the best time for pulling a hand hose reel for 250 yards, laying 100 feet of hose, detaching, attaching, and flowing water from a hydrant. Wilmington's Cape Fear Company No. 3 made the best run.
With the creation of the North Carolina State Firemen's Association (NCSFA) in September 1888, a statewide firemen's tournament became an annual tradition. The timed events in those early years included steam engine contests, hand-drawn hose reel races, and foot races. Horse-drawn hose wagon and hook and ladder contests were added in later years.
The last year for steam engine contests was 1913. Later that decade, the tournament was suspended for three years during World War I. The contests resumed in 1920, with the addition of competitions for motor pumpers and motor chemical cars.
Through the early years of the 20th century, the state firemen's convention and tournament visited cities across North Carolina: Asheville, Charlotte, Durham, Fayetteville, Goldsboro, Greensboro, Morehead City, New Bern, Raleigh, Salisbury, Wilmington, Winston, Winston-Salem, and Wrightsville Beach were host cities between 1888 and 1920.
The last NCSFA tournament with competing teams was held in August 1940 in Salisbury. Another with no competing teams was held in August 1941 in Asheville. The next year's tournament was likely suspended due to war conditions and was never resumed. The convention was also cancelled for that reason, for three years during the 1940s.
Additional notes, February 2019. Two additional races were held in 1948 and 1949, with competing teams using motor apparatus, for fastest application of water and "chemicals". Though these events did not appear to be branded as "tournaments."
A second statewide tournament during the same period was conducted by the North Carolina Colored Volunteer Firemen's Association (NCCVFA). They were chartered in February 1891, and also held annual conventions and tournaments throughout the state.
Between 1891 and 1911, their host cities included Charlotte, Concord, Durham, Henderson, Monroe, New Bern, Raleigh, Rocky Mount, Salisbury, Warrenton, Washington, Wilmington, Wilson and Winston.
The NCCVFA conducted tournaments into the late 20th century. Their 67th annual conference was held in Wake Forest at DuBois High School.
Today, firefighter competitions are still conducted in some North Carolina communities. The Warrenton Rural Fire Department in Warren County has held contests as part of their annual Firemen's Day festivities since 1983. The Southport Fire Department in Brunswick County has hosted firefighter games since 1984 as part of the town's Fourth of July festivities.
Mike Legeros is the historian of the Raleigh Fire Department.
---
NCSFA Tournament Rules Excerpts - 1916
Steamer Contest - Quick Steam from Start to Finish
Engine to come to starting point hitched [to horses]. [Company to] run 200 yards. Take [off] suction [and] attack hose and throw water 50 feet from nozzle through not less than 98 feet of hose. Time for firing engine optional after signal to start is given. Driver, Engineer, and Stoker to ride on engine. Hose wagon to follow with not more than six men exclusive of driver. Time to be taken from starting signal until water goes over the 50-foot line. Quantity and quality of fuel optional.
Grab Race Contest
Company to run 50 yards, grab [hand hose] reel and run 50 yards to plug, unreel not less than 48 feet of hose, attach same to plug and throw water-drag rope to be put up or down (optional with company). Plug must be closed when company starts to run. Couplings to be broken opposite or beyond the plug. Should butt or nozzle blow off, company to be ruled out.
Hand Truck Hook and Ladder Race
Companies allowed one man to every 75 pounds, exclusive of Ladderman and Captain. Must run 100 yards, take off and raise one ladder (which must be not less than 30 feet long); man to ascend and touch top piece or round of ladder and descend; replace ladder. Ladder must be raised by hand. No hooks or poles allowed.
---

A version of this article appeared in the Spring 2012 edition of the Carolina Fire Rescue EMS Journal, Vol. 26, No. 4

Raleigh's Capital Hose Company running team on West Morgan Street, 1891. North Carolina State Archives photo.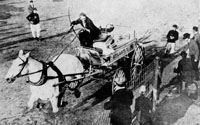 Atlantic Fire Company of New Bern in hose wagon contest, circa 1900. That year's tournament was held in Wilmington.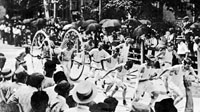 Hose reel race on George Street in New Bern, July 1910. Winning teams included fire companies from Spencer, Salem, and Chapel Hill.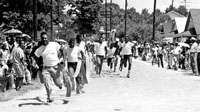 Wake Forest Fire Department #2 competing in a closing event of the 67th annual session of the North Carolina Volunteer Fireman's Association, July 1957. News & Observer photograph.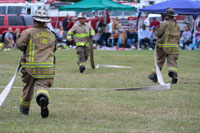 Scene from the 26th Annual Fireman's Day in Warrenton on September 26, 2009. Mike Legeros photo.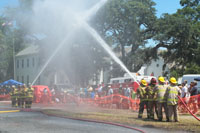 Dueling hose streams at the 27th Annual Firefighter Competition in Southport on July 3, 2010. Mike Legeros photo.