Office of State Fire Marshal
History. Research Notes. North Carolina.
Last updated: May 3, 2022
---
Contents
Short History
1899 - Insurance department created, first insurance commissioner named. Legislation gives commissioner the authority to investigate fires and create fire reports.
1907 - Legislation makes insurance commissioner a position electd by popular vote.
1914 - Sherwood Brockwell named as state fire marshal, first in the state.
1939 - Legislation creates state volunteer fire department for purposes of mutual aid. Fire chief is the state fire marshal.
1953 - Brockwell dies. Three deputy fire marshals take over his duties while insurance commission works on naming successor. No future state fire marshal is apparently named.
1955 - Sherman Pickard hired to lead new state fire training program.
1957 - Elwood Inscoe hired to assist Pickard.
1966 - Inscoe named new supervisor of Fire and Rescue Services, following resignation of Pickard.
1977 - North Carolina Fire Commission created.
1985 - Fire and Rescue Services begins publishing Fire & Rescoue Journal.
1985 - Fire commission moved to NCDOI. Tim Bradley hired as executive director of commission.
1985 - Legislation says state fire marshal means the state insurance commissioner.
1994 - Tim Bradley hired to lead Fire and Rescue Division, appointed deputy commissionor.
1998 - OSFM created, renamed from Safety Service, which included Fire and Rescue and Engineering divisions. Bradley appointed to lead and promoted to senior deputy commission.
2017 - Brian Taylor appointed as senior deputy commission and chief state fire marshal. (new position?).
Graphic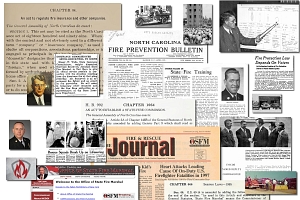 ---
Spot an error on this page? Please let me know, just click my name below...
Copyright 2022 by Michael J. Legeros