See more photos.

The present High Point Fire Department was organized in 1901, when citizens A. B. Horney and Walter Lovelace organized the creation of a 20-member volunteer fire company. Equipment, including 500-feet of hose and nozzles, was purchased and stored in the High Point Milling Company on Hamilton Street. A second fire company was soon organized, also with 20 volunteers. Its hand reel, hose, and axes were stored at the Southern Chair Company on East Russell Street.

By 1906, a third fire company had formed. The West End volunteers operated a hand reel stored beside the Myrtle Chair Company on Taylor Street. By that time, the North Side and South Side fire companies each operated a horse-drawn hose wagon. By 1911, the West End fire company was also operating a horse-drawn hose wagon.

High Point's first motor apparatus was delivered in 1913, a Seagrave chemical and hose wagon. The first motor pumper was delivered in 1917, an American LaFrance Type 75 triple combination. The first aerial ladder was delivered in 1924, an American LaFrance tiller.

Historian Mike Legeros explores the history of the High Point Fire Department through the stories of the city's former firehouses.

Old Station 1
212 North Wrenn Street
Opened 1905 / Closed 1975
Presently furniture gallery

High Point's historic North Side Fire Station was originally addressed 112 Jordan Street. Built in 1905, it replaced a station on the south side of Washington Street at Jordan.

During its early years, the fire station also housed the police department and jail on the first floor and a courtroom on the second floor.

A four-story combination hose and bell tower also extended upward from the south corner of the front of the building.

By 1917, the resident fire company was called Eagle Hose Company No. 1.

The interior was remodeled in 1936 to accommodate a new ladder truck. The bell, which still signaled alarms, was also removed from the tower and a Central Telephone switchboard was installed inside.

By 1950, the tower itself had been removed.

After 70 years of service, the North Side station closed on January 25, 1975 when the fire companies relocated to 508 North Centennial Street.

The 5,550 square-foot structure presently serves as a furniture gallery. It is also listed on the National Register of Historic Places.










Old Station 4
1329 North Main Street
Opened 1925 / Closed 1985
Presently beauty salon

High Point's fourth fire station was completed in March 1925 by J. O. Conner. The $9,750 building was built to protect Emerywood, a new subdivision, and the soon-to-be-annexed village of Mechanicsville.

On April 1, 1950, the station made national headlines when it caught fire that morning. Personnel were trapped on the second floor and telephoned the dispatcher.

Only when a nearby alarm box was pulled did the dispatcher realize that the call was not a prank.

Station 4 was relocated to 213 Fisher Avenue in late 1985. The building was privately purchased and the structure was designated a county historical property in 1986.

The two-story, 2,388 square-foot former firehouse is presently a beauty salon.







Old Station 5
513 Oakview Road
Opened 1960 / Closed 1988
Presently municipal offices

High Point's second Fire Station 5 opened in January 1960, upon the annexation of the Oak View area north of the city.

To continue providing protection to the area, the city purchased the assets of the volunteer Oak View Fire Department including the land, the building, a pumper, and a tanker.

The Oak View station measured 1,900 square-feet. An additional 2,300 square-feet of living space was added that year.

In 1988, Station 5 was relocated to 3828 Johnson Street. The old station remained city property.

Later used as classroom space and an exercise area for the police department, the single-story station presently serves as municipal office space.






The Other Station 5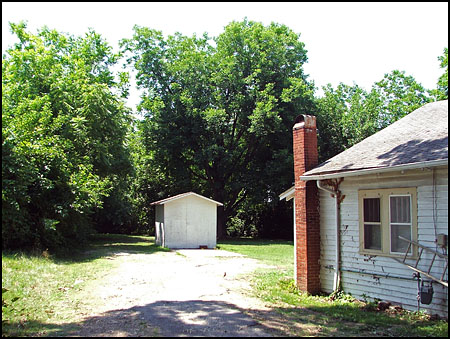 By 1924, a fifth High Point fire company protected the Oak Hill community in the southwest corner of the city. The volunteers first operated a hand-drawn hose reel. By 1929, a single-story Station 5 was opened behind a residence at 311 West Burton Street, now Burton Avenue. Though High Point's other four fire stations were staffed with a combination of paid and call men, the Oak Hill company remained an all-volunteer group.

By 1931, the station housed a Ford truck equipped with 800 feet of 2 1/2-inch hose and two chemical extinguishers. By 1947, the volunteers operated a 500 GPM pumper, a 1917 American LaFrance Type 75 triple combination. Station 5 was closed around 1950. A small shed presently occupies the site of the old station.

By 1956, fire protection outside of High Point's western municipal limits was provided by the 10-A Volunteer Fire Department. Their station was located on Westchester Road, less than a mile from Oak Hill. By 1964, the western area had been annexed and a new Station 8 opened on nearby Prospect Street that year. The 10-A volunteers relocated into Davidson County and were later renamed the Hasty Fire Department.
Other Early Fire Stations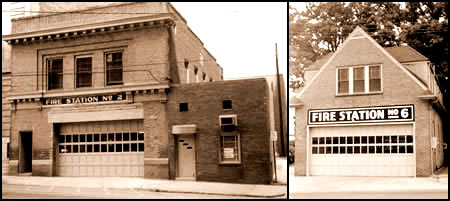 Photos courtesy West McBride
Old Station 2, also known as the South Side Station, was located at 69 Rankin Street, later addressed 209 South Wrenn Street. Opened by 1917, it operated until 1967. The two-story structure also served as fire department headquarters. Station 2 was relocated to 434 South Elm Street in 1967. The Southside fire company was previously housed at 214 East Commerce Street, in a building built by 1906.

Old Station 3, also known as the West End Station, was located at 306 Taylor Street. Opened by 1911, the two-story structure was constructed on a site provided by the Myrtle Chair company. The property was free for use as long as a fire station was maintained on the premises. Station 3 was relocated to 300 North Rotary Street in 1961.

Old Station 6 was located at 111 East Davis Street, later named Kearnes Street. Opened in 1928 and built by S. P. Montgomery for $6,255, the two-story station was placed in service on September 26. Station 6 was relocated to 110 East Springfield Avenue in late 1965.

All three stations were subsequently demolished.
Map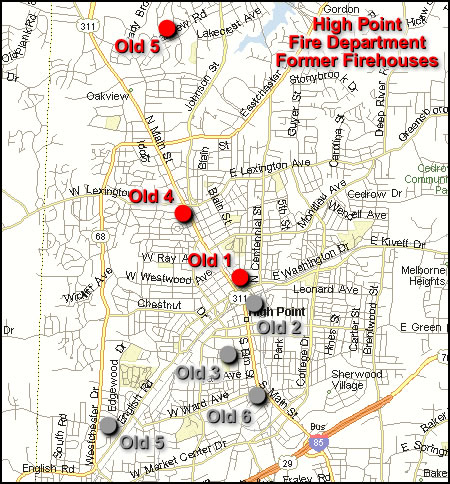 References

High Point Fire Department


High Point Fire Department

(unofficial)
High Point Public Library


The North Carolina Collection was consulted for this article, notably vertical files of fire department information, numerous city directories, and several scrapbooks of indexed newspaper clippings.
High Point Museum


The museum has several vertical files of fire department information available to researchers, including newspaper clippings and photographs.
Sanborn Fire Insurance Maps via NC LIVE


High Point insurance maps from 1885, 1890, 1896, 1902, 1911, 1917, 1924, 1950, and 1956 are available online. Access requires password available from your local library. After logging into NC LIVE, click Browse Resources and select Maps.