Remembering the Bessemer Fire Department
One of the state's earliest suburban fire departments
Last updated: May 25, 2020
---
Community Fire Protection
Community fire departments have a long history in North Carolina, beginning with volunteer fire companies that organized in the late 1700s and early 1800s. As these towns grew into cities, their fire companies evolved into fire departments. Their firefighting equipment and water supplies, however, were comparative primitive. Steam power in the mid- to late-century brought more powerful fire engines and that did not require people power. The period also saw municipal water systems installed, with fire hydrants capable of supplying hand hose streams, and without the need for accompanying pumping engine.
For communities outside a municipality, or too small to support a water system, they relied on older-fashioned methods. Wells or cisterns, with water drawn by suction for their fire engines. Some developed early methods of hauling water, such at least one horse-drawn water tanker. Or they relied upon assistance from neighboring towns or cities. Such as when a horse-drawn steamer was sent from Raleigh to Fayetteville in 1885. Such "mutual aid" became far more common in the motor era, with a pumper responding "outside the city" and drafting water from a nearby pond or stream.
The need for "rural fire protection" reached discussion at a state level by the late 1930s, and legislation was passed from 1939 to 1947 that allowed counties to contract with municipal fire departments, to establish and maintain their own fire departments, and for rural communities to levy taxes for fire protection through a popular vote.
There were also sanitary districts, created as means for communities to install water and sewer systems into areas outside of municipalities. These legal entities were also empowered to purchase fire equipment, and their property-owning members formed volunteer fire departments.
[ Legeros: Exactly how many sanitary district-based fire departments were created in the state, during this period? Versus "rural" fire departments that hauled or drafted their own water? Good question. Thinking that the number is fairly small. ]
Bessemer Fire Department
One of the earliest of the state's "suburban" fire departments was the Bessemer Fire Department in Greensboro. They were organized in 1942, upon the completion of a sanitary district, which added water lines and fire hydrants. By all accounts, they were not equipped for fighting fires outside of their district, in areas without fire hydrants. Thus they were not a "rural" fire department.
The Bessemer Fire Department operated a 1942 Chevrolet/American pumper 500/200. It was housed in a small fire station on Elwell Avenue, and they had some 20 volunteer firemen.
As these news excerpts note, they occasionally responded outside of their district, and fought fires as best as they could with limited water supplies. Also, at least in 1948, the city fire department would "stop at the line" if they were dispatched for a fire that was outside of the municipal limits.
Bessemer Fire Station
The Bessemer fire station was located at 609 Elwell Avenue. The building is still standing. Guilford County Real Property Data lists the construction date as 1940, with an "effective date" as 1970, and with two additions. Currently measures 2,674 of total living area: 1,999 in the main section, 675 in the office, and 140 under a canopy. The parcel is classified as commercial and measures 0.14 acres. Click to enlarge:
Dates and Events
1939, Nov 27 - Bessemer Sanitary District water and sewer construction project begins. The project, in cooperation with the WPA, will lay five-and-a-half miles of water lines and seven miles of sewer lines, with service provided for 300 dwellings.
1942, Apr 9 - Greensboro Daily News, "Big Bessemer Project is Complete - Fire Truck and Equipment Will Be Purchased" - B. Lee Fentress, county attorney, and who handles all legal matters for the district board, notes that they've "obtained a priority rating for purchase of a fire truck and equipment to cost $3,500" and that they've starting planning to organize a volunteer fire department. [ Legeros: The "priority rating" may refer to the wartime restrictions of vehicle purchases, such as fire apparatus. In Raleigh, restrictions prevented the fire department from buying needed new apparatus until the late 1940s. ]
1942, Sep 29 - Greensboro Record, "Blackout Drill Tonight Marks Anniversary of Victory In World War" - Article mentions "new Bessemer fire truck" that will sound its siren in that section of the city, during the event.
1942 - Mrs. Effie Boone sells 0.12 acres of land at 609 Elwell Avenue to the Bessemer Sanitary District, where a one-story fire station building will be erected. The building will include an office room, as shown in a 1948 fire insurance map (see below). The office may have served the fire department, or the sanitary district, or both. Source: Guilford County real estate records.
Click to enlarge:
1944, Mar 13 - Greensboro Record, "Bessemer Building Damaged By Blaze" - Fire discovered at 2:30 a.m. caused an estimated $3,000 of damage to the building and contents of Brady's cafe on East Bessemer Avenue. The Bessemer Fire Department, "organized a few years ago," responded and controlled the fire in an hour.
1947, Oct 17 - Greensboro Daily News, "Curiosity Seekers Get Warning From Firemen" - Full text:
"The Bessemer Volunteer Fire Department is having troubles, but steps are being taken to correct the situation. Too many curious sightseers are getting to the fire before the department does, and their cars are blocking the way." C. Gus Cox, secretary of the department, said yesterday that a fire Wednesday night caused several hundred dollars of unnecessary damage. He claimed that had the Bessemer department been able to get by the parked cars, the fire would have been put out more quickly. Department officials yesterday issued a threat to get warrants for drivers of cars which block the way and hinder firemen seeking to put out fires in the future."
1948, Jan 17 - Greensboro Record, "Garage Burns With Damage About $7,000" - Though outside of their district, the Bessemer Fire Department responded to the 9:15 a.m. blaze at 2318 East Market Street, a short distance beyond the city limits. The fire destroyed a garage and house-trailer, but firemen prevent the flames from reaching a store and service station in front of the garage. The Greensboro Fire Department was also summoned, but the trucks from the "central station" stopped at the city limits, which was several hundred feet from the scene, and "could offer no assistance."
1948 - Sanborn Fire Insurance map describes fire department as "Volunteer - One Chief, one Assistant Chief, one Captain, and 31 men. One [station] man on duty 24 hrs. One 1942 Chevrolet truck equipped with American-Marsh pump, capacity 500 GPM, with 200 gallon booster tank, with 1000 feet of 2 1/2-inch hose and 300-feet 3/4-inch hose. Alarm by telephone."
The fire station is shown as a one-story, cinderblock building facing 610-612 Elwell Avenue, with a single apparatus bay, and one room on the south side of the structure, labeled as office. It's beside a larger one-story building occupied by a dry cleaner and machine shop.
Click to enlarge:
1949, July 4 - Greensboro Daily News, "Bessemer Fire Fighters Perpetuate Volunteers"
Department is the "oldest outfit of its kind" in Guilford County, all volunteer, and in their seventh year of operation. Fires are reported by calling the fire station on Elwell Avenue, 2-4120. If reported at night, it rings the "extension phone" of one "crew member" who lives across the street from the fire station. All families in Bessemer have been "supplied with a card" that lists the names and phone numbers of each of the 35 department members.
The department operates a 1942 "pumping truck" with a 250 gallon tank. Each member knows how to operate the truck, says Assistant Fire Chief Roy A. Moore. "The one who gets here in the station first throws on the siren, takes the truck and goes." The first man at the station also marks the fire location on a board on the firehouse wall, with the names of every street in Bessemer, about twenty total. They're marked with a red peg, showing which street has the reported fire.
Later arriving firemen drive their cars to the station, "take a look at the board before backing out," and then respond to the scene. The average time from "general alarm" to the arrival of firemen has been from three to six minutes.
In 1947-48 [fiscal year?], the department answered 56 "calls to fire", with an estimated $113,491 of property value. Actual damage, however, was only about $8,507.
Current Fire Chief is Thomas Batts, with C. B. Swaney as Captain. Officers are elected at each December meeting and serve one year. They stage a "realistic practice session" one night each week.
Click to enlarge: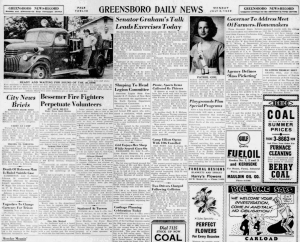 1950, Mar 6 - Bessemer Community Center, Incorporated filed articles of incorporation with the Secretary of State. Also on that day, a five-acre tract of land was purchased, and the project was formally launched. The Bessemer Volunteer Fire Department was one of six civic groups that participated in the project, along with the Bessemer Women's Club, Bessemer Junior Women's Club, Bessemer American Legion, Bessemer Men's Civic Association, and Bessemer Youth Club. Sources: Greensboro Record, June 7 and 17, 1960.
1951, May 15 - Greensboro Record, "First Aid Courses Are Completed By Number Of Groups" - Bessemer Fire Department volunteer members have completed Red Cross standard and advanced first aid training courses. Firemen who completed were Roy Moore, C. B. Swaney, C. E. Brady, Jack Lewis, and David DeVane.
1954, Jul 6 - Greensboro Daily News, "Fire Destroys Old Lowdermilk Homeplace" - Located on Holts Chapel Road, fire destroyed the old R. E. Lowdermilk homeplace yesterday afternoon. The 1:15 p.m. fire consumed the 40-year-old building within an hour. By 2:30 p.m., "only the chimneys and foundations were left." The nine-room house had been vacant three months. The Bessemer Fire Department "attempted to fight the fire," although it is located in the district of the "recently organized by equipment-less" Franklin Boulevard Fire Department. [ Legeros: FBFD was renamed Fire District 14 Fire Department that year. ]
Click to enlarge:
1955, Feb 11 - Greensboro Daily News, "Home Destroyed On English St." - Fire destroyed a two-story frame house at 816 English Street last night. It was believed started from electrical wiring. The Bessemer Fire Department "sent out all its equipment and volunteers" but "little was reported saved" of the house.
1956, Jul 4 - Greensboro Daily News, "Firemen Called To Fight Fire - At Department" - Full text:
"Bessemer firemen were called out at 3 p.m. yesterday to fight a fire at the Bessemer Fire Department. Chief Roy Moore and Assistant Chief C. B. Swaney, on discovering flames eating away at the ceiling, moved the fire truck out of the building, uncoiled a few feet of hose and had the blaze extinguished within 10 minutes." It apparently originated, Moore said, when rags in a trash can burst into flame from spontaneous combustion. A wooden hose rack above the can ignited, damaging some 200 feet of high pressure hose stored there. An area about four by eight feet in the plywood ceiling was burned through, and several rafters were charred. The entire building sustained smoke damage."
Click to enlarge:
1957, Jan 4 - Greensboro Daily News, "House Burns Down As Handicapped Firemen Watch" - Bessemer firemen were helpless to fight a fire at 1270 Hall Street, which was outside the limits of both the city and the Bessemer Sanitary District, and thus there were no fire hydrants to supply water. The firemen had only 300 gallons of water available. They were assisted with a "tanker truck" from the "14th Fire District," but the fire was out of control by that time. The fire was reported about 2:15 p.m.
1957, July 10 - Greensboro Daily News, "First Fire Call Answered in Bessemer Area" - Full text:
"Greensboro fire fighters answered their first call to the newly-annexed Bessemer area Friday morning. Ironically, the fire was aboard a city garbage collection truck--and it occurred on Elwell Avenue in front of the now closed Bessemer Fire Station which went out of business when the area was annexed to Greensboro."
Click to enlarge:
1957, Sep 7 - Greensboro Record, "Business Property For Sale" - The classified advertisement reads: "Bessemer Fire Station Property located at 619 Elwell Avenue." Sold by the Bessemer Community, Inc. and deeded by Robert H. Frazier, Executor and Trustee to Effie P. Boone, widow, by deed dated on June 2, 1942. Included in the sale is the building and "two heaters as is in said building."
Click to enlarge:
Other Early Suburban and Rural Fire Departments
Around the state, they included:
1942 - Bessemer (Greensboro)
1944 - Oak Grove (Greensboro)
1945, by - North Asheboro (Asheboro)
1946 - Guilford College (Greensboro)
1946 - Seagate (Wilmington)
1947 - Wilkinson Boulevard (Charlotte)
1948 - Pleasant Garden (Marion/Mitchell County)
1949 - Pinoca (Charlotte)
1949 - Sedge Garden (Winston-Salem)
Sources
In addition to the author's extensive fire history materials, Guilford County real estate records, and Sanborn Fire Insurance Maps, the primary sources are Greensboro Daily News and Greensboro Record stories, obtained through the Greensboro News-Record Archives, via Newsbank. Highly recommended resource.
---
Copyright 2023 by Michael J. Legeros