Carolina Beach Fire Department History
Plus Federal Point Fire Department History
Last updated: August 12, 2017
---
Introduction
This history was compiled as part of a blog posting in 2013, about the expansion of the Carolina Beach fire station on South Dow Road. It cited information from an Island Gazette story that also featured a historical perspective from Deputy Chief Granger Soward. This history expands upon and clarifies some of that history.
Town is Incorporated
1925 - Carolina Beach is incorporated.
1920s - Carolina Beach FD is organized.
The fire department is housed in the original City Hall, which was likely located on the opposite side of the ocean-facing Pavilion. The City Hall was a combination town hall, police department, fire department, and school room. (The school room may have been used for Sunday School classes only.)
The fire department had a small shed beside the City Hall, which housed a fire truck. The City Hall was converted from an open-air structure used for picnics and social functions. The building's present day location is along the Boardwalk, and on the site of Britts Donuts and other shops. (The donut shop is cited by some as the location of the town's first fire station.)
See below photo from the Louis T. Moore Collection of the New Hanover Public Library, taken between 1921 and 1940. View wider interactive version showing Pavilion to the left of the City Hall building.
See also the 1925 map shown below, which does not show the City Hall building. Thus the structure was probably built after 1925. Click to enlarge: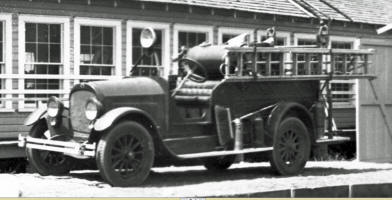 Courtesy Louis T. Moore Collection, New Hanover Public Library
1936 - Carolina Beach FD is reorganized.
This was reported in the June 26, 1936, edition of the Star. Police Chief Bill Smith is the Fire Chief. The department is "voluntary." They have an American LaFrance chemical and hose truck formerly owned by Wake Forest, along with 500 feet of hose. The town also has a new water system, that provides every "cottage" with hydrant protection. (Based on the above photo, the apparatus appears to be a custom chassis American LaFrance from the 1920s or perhaps early 1930s.)
[ Legeros note: From my records, the town of Wake Forest in 1921 purchased American LaFrance fire equipment, which was mounted onto the chassis of a Wescott automobile. It was replaced in 1935 with the purchase of a Chevrolet/Barton fire engine. ]
In a meeting the prior week, the firefighters received instruction from Wilmington Asst. Chief Luddie Croom. He offered his services and advice to the town, and was expected to appear at another meeting soon.
1938 - Carolina Beach FD is listed in the Secretary's report of North Carolina State Fireman's Association, for year ending June 30, 1938. This is the first time for their listing in the annual report.
1939 - New town hall is approved by President Franklin D. Roosevelt on December 8, 1939. It will cost $44,000 and includes a fire station, police station, and auditorium.
Business District Destroyed By Fire
1940 - Bids for construction open on the new town hall in August 1940. Construction was planned to begin on September 1, but is delayed until December 1. Work is later halted until September 1941.
1940 - Business district destroyed by by fire on September 19, 1940.
Blaze is discovered at 1:30 a.m. The fire started in the Carolina Club pavilion and swept down the boardwalk, destroying everything between Hamlet and Harnett streets and between Carolina Avenue and the ocean. Two blocks of buildings are consumed. The fire destroyed two hotels, five cafes, one theater, one ABC store, one grocery store, the Carolina Club pavilion, the town hall, several bingo establishments, several souvenir ships, a shooting gallery, a barber shop, a penny arcade, a soda shop, a photograph shop, a gift shop, two bath houses, and several bowling alleys.
The Wilmington Fire Department also sends a truck. Some accounts cite additional fire departments responding, such as from the Ethyl-Dow plant on nearby Kure Beach. Click to enlarge: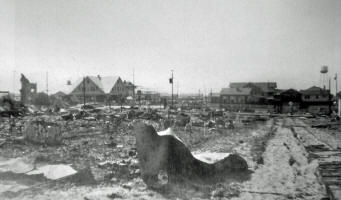 1940 - Temporary headquarters for the fire department, police department, and city hall are established in one of the "Three Hill cottages" on the highway leading to Carolina Beach, within a day after the blaze.
1942 - Town hall building is used for the first time on January 30, 1942.
The building isn't completed, but is used to celebrate President Roosevelt's birthday, with a ball to raise funds to fight polio. Officials move into the building in April 1942, except for the fire department, which would "take up their space in the near future." Location is addressed 207 Canal Drive, and is located across the street from the municipal marina. King Street, beside the building, is later named Carl Winner Avenue.
The building housed four offices, a jail for whites, a jail for blacks, twelve restrooms, a kitchen, two bays for fire apparatus, a recreation room for the volunteer firemen, and an 800 seat auditorium. In 1949, a library opened above the fire station. Shown above in postcard view. Click to enlarge:
1955 - Sanborn fire insurance maps show city hall and fire station. Click to enlarge:

1956 - Civil Defense unit formed at Carolina Beach. City Manager J. Boyd Jones is named Civil Defense Directory. Approximately sixty men attend a meeting on February 20, 1956. They will be used to form auxiliary police and fire departments. The Fire Chief is Jim Knox.
Expansion
1960s or later - Fire station space is expanded. A second story is added to the original two bay section of the building. A single-story addition with two bays is added beside the original fire station space, followed by another single-story addition with one bay with a higher roof. The middle photo is from 1991. Click to enlarge:


1971 - Carolina Beach FD is described in a county report. Two full-time members and thirty-one volunteers. Three pieces of apparatus: 1968 Ford pumper 1200/600, 1952 International pumper 600/600, 1944 American LaFrance pumper 750/250. Sirens at city hall and second location.
1974 - Federal Point FD incorporated on December 16, 1974. They erect a one-story fire station at 914 Charlotte Avenue, presently addressed 9 S. Dow Road. Building is later expanded with additional two-story concrete addition with two bays. County real estate records list the building as built in 1970. This is likely incorrect, unless the fire department was organized and operating for a few years prior to its incorporation.
1979 - Carolina Beach Fire Chief position reorganized from volunteer to paid. Fire Chief Mike Chappell is appointed at the town board meeting of June 26, 1979.
1984 - Enlarging the town hall is authorized for an estimated $15,000. The town hall will take over one bay of the fire department, which will "rearrange its parking of its trucks" to compensate for the lost space. Source: Star-News, May 10, 1984.
1990 - Town Hall moves to new location at 1121 Lake Park Boulevard. Fire, police, and recreation departments expand into the vacated space.
1991 - Old Town Hall offered for sale, reports a June 26, 1991, newspaper story. Officials hope a national hotel or motel chain will purchase the location. The town is embarking on long-range plans for new municipal facilities on Highway 421.
After The Hurricanes
1996 - Carolina Beach City Hall building flooded following Hurricane Fran, which made landfall on September 5, 1996. The building is condemned by the county inspections department, and the Town Council votes to demolish the structure. (Votes to demolish at a later date?) The building is refurbished and the fire and police departments move back in.
1998 - Carolina Beach City Hall floods following Hurricane Bonnie, which made landfall on August 26, 1998. The Fire Chief relocates to the town's recreation center behind the Carolina Beach Municipal Building. The fire trucks occupy a parking lot next door. Fire equipment is stored in three storage units, along with at the recreation center. The City Hall building has structural problems, including a weakening and leaking roof. The building is (again) condemned by county inspectors and declared unsafe to occupy. It is demolished in April and May 1999.
1998-1999 - Carolina Beach FD subsequently moves into temporary location, a four-bay metal building at 1331 Bridge Barrier Road. The building, leased for two years and owned by Bob Campbell, was built based on the town's specifications.
The fire department moves into the building between September 1998 and April 1999. The Fire Chief's office continues to be located above the gymnasium at the town's recreation center. The town's apparatus includes a Pierce pumper and a Ford/Grumman telesquirt. Photos from Jun 2013. Click to enlarge:


1999 - Town plans a public safety complex on the north side of the Municipal Administration Building on Lake Park Boulevard. The 26,000 square-foot building would cost about $3.25 million. The project is presumably later abandoned.
Federal Point Relocates
2000 - Federal Point FD begins planning for a new station at 9815 River Road. Recent annexations by Carolina Beach and Kure Beach, along with rapid growth in the lower third of the county, prompted the department to relocate off the island. Department sells current building to Carolina Beach for $250,000 on March 23, 2000. Town is expected to take possession of the building in late July 2001.
2001 - Federal Point FD station is expanded with an addition. Details? Or was the addition added the following year, as a permit was issued February 1, 2002, for a $267,3000 project. Construction of the replacement FPFD station is delayed over a year. Carolina Beach leases building back to FPFD for $2,400 a month.
2002 - Federal Point FD relocates to new station at 9815 River Road. That's the year the building was built, per county real estate records. Building is completed in April-May? Photo from June 2013. Click to enlarge: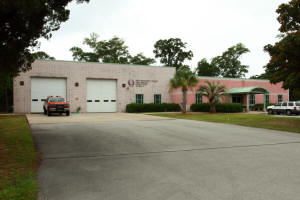 Mike Legeros photo
2002 - Carolina Beach FD moves to Federal Point FD building. The leased building on Bridge Barrier Road is later used as a commercial repair shop, and is still standing. Building is expanded in the rear with space for offices and living areas. Photos from 2005. Click to enlarge:


2010 or earlier - Carolina Beach FD adds additional facilities. For firefighters on call overnight, they share two bedrooms and one bathroom in a renovated parking garage near the fire station. Also, behind the fire station at 811 Cape Fear Boulevard, is a city-owned house that's occupied by four members of the volunteer firefighter residency program.
Another house was previously located beside the fire station, at the corner and addressed 815 Cape Fear Boulevard. The house was destroyed for live fire training and the lot is the site of the planned fire station expansion. Photo below from June 2013. Click to enlarge:



Mike Legeros photo
2010 - Federal Point FD ceases operation on October 1, 2010. New Hanover FD becomes sole provider of fire protection in unincorporated areas of county. Corporation disillusion filed December 22, 2010.
2013 - Ground is broken for expansion of Carolina Beach fire station. Click to enlarge: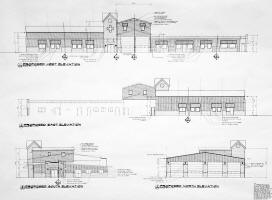 Sources
Most but not all of the sources for this page are listed below. The author made a day trip to Carolina Beach, as he recalls. Some of the information was also found here and there, there.
North Carolina Secretary of State Corporation Records
Robesonian - September 19, 1940
Sanborn Fire Insurance Maps
Star-News issues
Star-News issues:
November 18, 2010 - Carolina Beach Fire Dept. makes plans for expansion
September 20, 2001 - Federal Point's new fire station finally in works
October 14, 2000 - Federal Point fire department to move
July 25, 1999 - Carolina Beach seeks site for fire department
April 14, 1999
April 13, 1999
September 16, 1998 - Bonnie sends Carolina Beach fire and police depts. packing
June 27, 1979 - Carolina Beach budget is approved
February 21, 1956.
---
Copyright 2023 by Michael J. Legeros