American Eagle Flight 3379 - December 13, 1994
Last updated: January 11, 2020
Change Log:
January 11, 2020 - Audio recording added. Updating page to incorporate new information from recording.
May 30, 2018 - Site created
---
Contents

Introduction
Audio Recording
Maps
Narrative - Long Version (Rough)
Narrative - Short Version
Victims and Survivors
Photographs
Testimonials
Run Card
Participating Agencies
Statistics
Abbreviations
Memorial
Sources

Introduction

This page presents information about the emergency response on December 13, 1994, to the crash of American Eagle Flight 3379 in Morrisville, NC.

Read NTSB accident investigation report (PDF, 9.3MB)
Audio Recording
Listen to audio recording of 911 caller, dispatch of fire units, and first 13 minutes of radio traffic.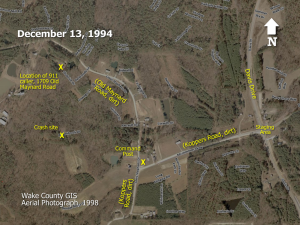 Maps
| | | |
| --- | --- | --- |
| | | |
| Crash site with 1998 aerial photo | | Crash site with 2017 aerial photo |

See also interactive Google Map.
Narrative - Long Version (Rough)
Read detailed narrative (PDF, 50+ pages).
Narrative - Short Version
On December 13, 1994, American Eagle Flight 3379 crashed about four nautical miles from Raleigh-Durham International Airport. The British Aerospace Jetstream 3201 was approaching Runway 5L was carrying eighteen passengers and two crew members, and was scheduled to land at 6:32 p.m. The plane subsequently crashed into a dense wooden area in Morrisville. At 6:35 p.m., a resident at 1709 Old Maynard Road reported the crash, heard another explosion, and saw an orange glow from the woods behind his house. He and another neighbor grabbed flashlights and walked to the crash site in about ten minutes. They discovered the wreckage scattered across 500 yards of dense woods, with the plane in two parts, and flames engulfing the cockpit and forward cabin. They also found survivors.
At 6:37 p.m., the Morrisville Fire Department was dispatched to the Old Maynard Road address for the crash of a possible "twin engine plane. At 6:38 p.m., immediately after the dispatch of MFD, the Wake County Fire Marshal Office on-duty unit, WC1, was notified. Morrisville 100 (Fire Chief) acknowledged the call. The dispatcher then called Morrisville 100 and advised that they were receiving reports of flames from the scene. Morrisville 100 requested dispatch of an engine company from Yrac.
Communications also contacted Apex communications and requested dispatch of Apex Rescue Squad. They were dispatched at 6:37 p.m. and responded with an ambulance and "crash truck". The airport fire department was also notified, and they were dispatched at 6:38 p.m. The airport fire department officer contacted Communications and reported that a plane was confirmed down, with sixteen souls aboard, and of a turbo-prop type.
The first-arriving fire and EMS units began the tasks of reaching the crash site, while also establishing incident command and incident management roles. The Morrisville Fire Chief assumed the role of Incident Commander, and he assigned an arriving MFD Captain the role of Operations Officer. EMS Command was established by the arriving Wake County EMS District Chief, who had self-responded. A temporary command post was established at the intersection of Maynard and Koppers roads. Staging was set at Davis Drive and Koppers Road.
The first ambulance arrived at 6:53 p.m. Apex Rescue Squad 471. The first airport firefighters arrived at 7:07 p.m. The crash site was 150 to 200 yards from the road. Within 35 minutes, the first patient was being extracted from the crash site. The patients were carried on backboards through the woods, and later using all-terrain/four wheel-drive vehicles. With 45 minutes, all patients—total of seven—had been removed from the crash site.
Four were transported to Duke Hospital in Durham. Two were in critical condition. One died during transport, and the second after reaching the hospital. They were transported by three (?) Wake County ambulances. Three more patients were transported to Wake Medical Hospital. Some 35 EMS and rescue squad members responded, including Apex Rescue Squad, Cary EMS, Garner Rescue Squad, Six Forks Rescue Squad, and Wake County EMS.
About 100 firefighters were on scene, from departments including Apex, Fairview, Garner, Morrisville, Raleigh-Durham Airport, Swift Creek, and Yrac. The response included at least a dozen volunteer fire departments. Other responding agencies included Wake County Fire Marshal's office, Wake County Emergency Management, and law officers from Cary, Morrisville, Raleigh, the airport, and the state highway patrol. Special equipment was also called to the scene, including generators and light trailers, and a request for dry-chemical extinguishers from the airport fire department.
By 10:00 p.m., most of the rescue crews had left the scene. The search was suspended, as all souls aboard were accounted for. The following day, the command post was moved to a nearby hotel. Workers also cut a temporary road to the crash site, to remove the bodies of victims. By late afternoon, they had been removed.
From NTSB report:
The airplane crashed about 4 miles southwest of the runway 5L threshold during an ILS approach. The captain had associated the illumination of the left engine IGN light, illuminated as a result of a momentary negative torque condition when the propeller speed levers were advanced tp 100% and the power levers were at flight idle, with an engine failure. There was no evidence of an engine failure. The captain failed to follow established procedures for engine failure identification, single engine approach, single engine go-around, and stall recovery. AMR Eagle training did not adequately address the recognition of engine failure at low power, the aerodynamic effects of asymmetric thrust from a 'windmilling' propeller, and high thrust on the other engine. AMR Eagle and Flagship Airlines crew training records do not provide sufficient detail for management to track performance. Flagship Airlines management was deficient in its knowledge of the types of crew records available, and in the content and use of such records.
The National Transportation Safety Board determines the probable cause (s) of this accident/incident as follows. 1) the captain's improper assumption that an engine had failed, and 2) the captain's subsequent failure to follow approved procedures for engine failure, single-engine approach and go-around, and stall recovery. Contributing to the cause of the accident was the failure of AMR Eagle/Flagship management to identify, document, monitor, and remedy deficiencies in pilot performance and training. (NTSB Report AAR-95/07)
Victims and Survivors
Passengers killed:
Dennis Allain, 38, Kennesaw, GA
Jonathan B. Kast, 35, Franklin, MA
Kelly Ryan-Ciulla, 26, Long Island, NY
William Gibson, 39, Kernersville, NC
Scott A. Johnson, 41, Hawthorn Woods, IL
Pauline Josefson, 70, Warwick, RI
Bryan Kerchal, 23, Newtown, CT
Keith Korhorn, 40, Crestwood, IL
David M. Parker Jr., 39, Zion, IL
William Peters, 26, Woodstock, IL
Salvatore "Sam" J. Stellato, 43, Glenview, IL
Douglas T. Suckow, 22, Holmdel, NJ
Katanish L. Turner, 20, Redford, MI
Crew killed:
Captain Michael P. Hillis, 29, Raleigh, NC
First Officer Matthew I. Sallor, 25, Miami, FL
Passengers hospitalized:
Lauren S. Anderson, 18
John Ciulla Jr. 31, Long Island, NY
Ronald Lewis, 35, Crystal Lake, IL
Richard Mann, 40, Greensboro, NC
Donald Merkel, 60, Wheaton, IL
Photographs

Images used with permission of The News & Observer - Raleigh, N.C.
Rescue workers at crash site, 12/13/94. Robert Willet photo.
Triage

and treatment area, 12/13/94. Jim Bounds photo.

Triage

and treatment area, 12/13/94. Jim Bounds photo.

Crash site, 12/13/94. Jim Bounds photo.

Apparatus at staging area, 12/13/94. Chuck Liddy photo.

Apparatus at staging area, 12/13/94. Mel Nathanson photo.

Duke Hospital Trauma Center, and Six Forks Rescue Squad wheeling in one of two patients, 12/13/94. Harry Lynch photo.

RDU spokesperson Teresa Damiano talks to reporters at the command post, 12/13/94.
Mel Nathanson photo.
Crash site

, 12/14/94.

Chuck Liddy photo.

Press conference at Wake Medical Center about three crash survivors with trauma surgeon Dr. Osi Udekwu, 12/14/94. Harry Lynch photo.

Press conference with US Secretary of Transportation Frederic Pena

, 12/14/94.

Chuck Liddy photo.
Temporary road to crash site

, 12/15/94.

Chuck Liddy photo.

Wake County Sheriff's Deputy K. W. Wattenbarger stands guard over the crash site, 12/15/94.

Chuck Liddy photo.

Crash site, 12/15/94. Chuck Liddy photo.

Crash site

, 12/15/94.

Chuck Liddy photo.

Crash site

, 12/15/94.

Chuck Liddy photo.
Crash site

, 12/15/94.

Chuck Liddy photo.
Red Cross volunteer Kenneth Guy, of Garner, 12/15/94. Chuck Liddy photo.

NTSB Chairman Jim Hall at Press Conference outside the Meredith Suites off Highway 55, 12/16/94. Rob Cross photo.

Eleven year-old Kelly Williams points to the general direction to motorists, 12/16/94. Robert Thomason photo.

Morrisville Fire Chief Tony Chiotakis at crash site, 12/16/94. Harry Lynch photo.

Trucks carrying parts of the plane on Koppers Road, leaving the crash site, 12/15/94. Jim Bounds photo.
Debbie and Dale Powell, 12/15/94. They were at the scene, helping the victims. Dale is a firefighter and Debbie is a nurse and EMT. Rob Cross photo.
Morrisville Police Officer Chris Rhew, 12/17/94. With land owners Huey W. Maynard and son Billy Maynard and dog "Shaggy." Officer is watching the access road to the crash site. Since Koppers Road was opened to normal traffic, Rhew said over 100 cars have passed through the area. Robert Thomason photo.
Lee and Sue Powell, 12/18/94. Standing by their truck at their home on Good Hope Church Road. Marc J. Kawanishi photo.
Crash site, 12/19/94. Left is access road cut into scene. Right is path of plane. Nose landing near the toppled and scorched tree at right. Harry Lynch photo.
Testimonials
Read testimonials from Wake County EMS personnel.
Read testimonial from responder David Ferrell.
Run Card
EMS and Rescue Squads
Agency
Unit
Apex
471 (w/2)
472
481 (crash truck)
POV (w/2)
Cary
Medic 1 (w/3)
582 (mobile command post)
Garner
87_
Knightdale
One ambulance (possibly cancelled en route)
Six Forks
1271
Wake County
EMS 1 (w/2)
EMS 4 (w/2)
EMS 6 (w/2)
EMS 8 (w/2)
EMS 103 (driving disaster unit, converted modular ambulance)
EMS 104 (DC)
EMS 105 (DC)
Bethesda
Medic 51
Parkwood
Medic 61
Fire Units
Dept
Unit
When Responded
Notes
Apex
Squad 4 (converted Wake EMS modular ambulance, rehab unit)
Crash night
Truck 4 (1988 Ford/4 Guys walk-in rescue)
Crash night
Bay Leaf
Units TBD
Crash night
Cary
Not dispatched / did not respond
Durham Highway
Engine 2 (?) (1992 E-One)
Crash night
Tanker _
Next day / Later day
Fairgrounds
Units TBD
Crash night
Fairview
Heavy rescue (1994 International/EVI walk-in rescue)
Crash night
Garner
FS1 (w/6-8) (1988 Mack/Swab walk-in rescue)
Crash night
Morrisville
Squad 8
Crash night
Engine 3
Crash night
Fire Chief
Crash night
POV
Crash night
"Blue Ox" pick-up with Capt. David Ferrell
Raleigh
Not dispatched / did not respond [correct?]
RDU
CFR 10, 1988 Chevy Suburban
Crash night
CFR 100, Fire Chief
Crash night
CFR 1 (1991 Ford/E-One mini-pumper)
Crash night

[was it there?]

Disaster trailer
Crash night
Swift Creek
Units TBD
Crash night
Yrac
Engine 293 (pumper/tanker)
Crash night
Bethesda
Engine
Crash night
Heavy rescue
Crash night
Parkwood
Engine
Crash night
Brush truck
Crash night
For 4x4 capability
Participating Agencies
Rescue/EMS

Apex, Cary, Garner, Knightdale, Six Forks, Wake County, Bethesda, Parkwood

Fire

Apex, Bay Leaf, Durham Highway, Fairgrounds, Fairview, Garner, Morrisville, RDU, Swift Creek, Yrac, Wake County Fire Marshal, Bethesda, Parkwood

Law Enforcement

Cary, Morrisville, RDU, Wake County SO, Raleigh/Wake CCBI, NC SHP, FBI

Emergency Management

Wake County, Durham County, North Carolina

County/State/Federal

Red Cross
Wake County agencies: Health, General Services, Garbage, County Manager's Office, Mental Health-Crisis Intervention, PIO, Field Services, Social Services
NC DOT, NC National Guard
NTSB, FAA
Statistics
Some random stats:
Four day operational period, for Wake County - December 13 to 16
Approximately 150 emergency workers
Fire personnel: 111 members, including seven from Wake County Fire Marshal's Office
Fire equipment: 27 pieces
Rescue personnel – 41 members, including 12 from Apex and 11 or 13 from Wake County EMS
Abbreviations
Some used in this document include:
EM - Emergency Management
POV - Personal-owned vehicle
Newspaper Headlines
Click to enlarge: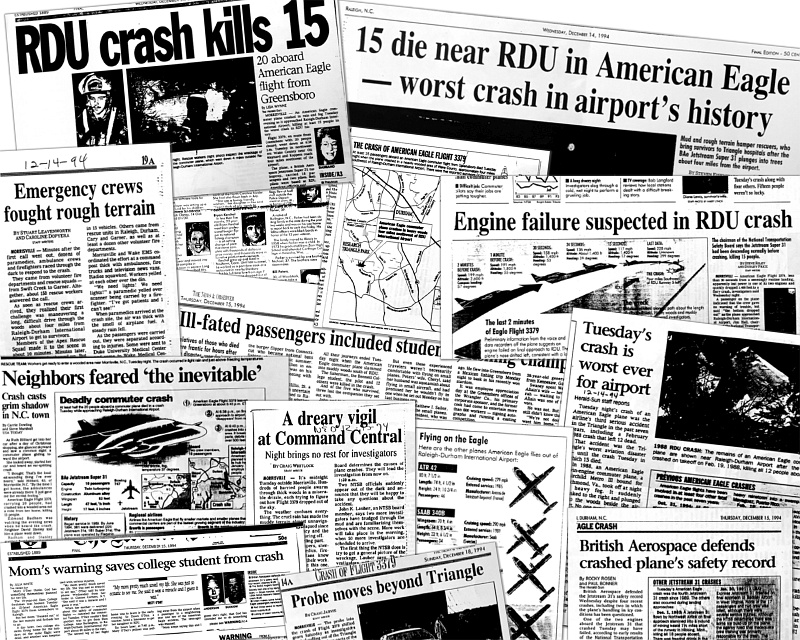 Memorial
See this page of information.
Sources
They include:
Audio recording of 911 caller and first 13 minutes of radio traffic. Contributed by David Ferrell.
Cary News, various articles. See below.
GenDisasters [GenD] – Retrieved from http://www3.gendisasters.com/north-carolina/18976/morrisville-nc-commuter-plane-crashes-dec-1994
Herald-Sun, various articles. See below.
National Transportation Safety Board Aircraft Accident Report, December 13, 1994.
News & Observer photo notes via North Carolina State Archives.
News & Observer, various articles. See below.
News Record, see below.
New York Times, see below.
Oral histories.
Raleigh-Durham International Airport fire department records.
USA Today, see below.
Wake County Emergency Management records.
Wake County EMS training video about the crash. Undated.
Wake County GIS
WCEMS News - January 1995.
Wikipedia - Flagship Airlines Flight 3379, via https://en.wikipedia.org/wiki/Flagship_Airlines_Flight_3379
WTVD newscast, December 13, 1994, via https://www.youtube.com/watch?v=NjmDNpnvnVA
Sources - Newspapers
Cary News:
December 17, 1994 - On the crash site
December 17, 1994 - Two pull survivors from plane wreckage
December 17, 1994 - Emergency officials put training to work
Herald-Sun (Durham):
December 14, 1994 - RDU crash kills 15
December 14, 1994 - Evening turned to horror by crash
December 14, 1994 - Bad-weather mishaps plaque Jetstream plane
December 14, 1994 - Crash is latest woe for airline
December 14, 1994 - Tuesday's crash is worst ever for airport
December 15, 1994 - Transportation head calls for greater oversight
December 15, 1994 - Crash takes life of rising bass angler
December 15, 1994 - British Aerospace defends crashed plane's safety record
December 15, 1994 - Plane engine failed before deadline crash
December 15, 1994 - Survivor: There was no warning of danger
December 15, 1994 - Mom's warning saves college student from crash
December 15, 1994 - Commuter crashes: Pilots, equipment or bad luck?
December 15, 1994 - Some American Eagle flyers nervous after crash
December 16, 1994 - Rescuers cope with tragedy of crash
December 16, 1994 - Fatal plane crash was first for engine model
December 16, 1994 - Plane crash survivors remain in hospitals
December 16, 1994 - Air crash, holidays strain Red Cross blood supplies
December 16, 1994 - Crash put chaplain in new territory
December 17, 1994 - American Eagle errs: Engine OK before fatal run
December 17, 1994 - Horn sounded too-slow alarm just before crash
December 18, 1994 - Crash touched the living
December 18, 1994 - 'Christmas present'" Survivor's family grateful, 'She's going to be fine'
December 18, 1994 - Commuter pilots shatter airline stereotype
December 19, 1994 - Eagle pilots demand apology for comments about training
December 19, 1994 - First crash survivor released from hospital
December 20, 1994 - Families, friends bury victims of Flight 3379
December 20, 1994 - Grace under pressure
News & Observer (Raleigh):
December 14, 1994 - 15 die near RDU in American Eagle - worst crash in airports history
December 14, 1994 - A list of other plane crashes
December 14, 1994 - Steady drizzle at time of crash, forecasters say
December 14, 1994 - 5 Jetstreams have crashed in U.S. since '88
December 14, 1994 - Crash follows ruling on commuter safety
December 14, 1994 - One of the first rescuers heard an explosion, found victims afire
December 14, 1994 - '88 American Eagle crash had been worst at RDU
December 14, 1994 - Emergency crews fought rough terrain
December 14, 1994 - Rescuers shout for lights during dark hunt for victims
December 15, 1994 - Engine failure suspected in RDU crash
December 15, 1994 - The call to 911
December 15, 1994 - Ill-fated passengers included students, fishing champion
December 15, 1994 - A dreary vigil at Command Central
December 15, 1994 - Passengers who died
December 15, 1994 - Crew members who died
December 15, 1994 - Passengers who survived
December 15, 1994 - Last-minute decisions meant life or death
December 15, 1994 - Stricter standards for commuter planes announced
December 15, 1994 - Analyst finds similar risks in commuter flights, car travel
December 15, 1994 - Pilots young, but had experience
December 15, 1994 - Wary passengers have little choice
December 15, 1994 - Victim taken from crash site
December 16, 1994 - Eagle had glitch on earlier flight
December 16, 1994 - Scene of the crash (graphic)
December 16, 1994 - Eagle pilots' morale was rock-button before the crash
December 16, 1994 - Accident was first for engine model used on Jetstream Super 31
December 16, 1994 - List of Jetstream crashes
December 16, 1994 - Both Eagle crew members were sons of pilots
December 16, 1994 - Pilots train extensively to overcome engine failure
December 16, 1994 - Hospital report crash survivor's conditions improving
December 17, 1994 - American facing big bill for disaster
December 17, 1994 - Experts suggest pilot error in crash.
December 17, 1994 - Midwest Eagles grounded again
December 17, 1994 - Survivors progress toward recovery
December 17, 1994 - Pilots and advocates for passengers welcome tighter limits on crew hours
December 18, 1994 - Triple threat
December 18, 1994 - Grisly sleuthing all too familiar for NTSB investigators
December 18, 1994 - A bad week for aviation
December 18, 1994 - Probe moves beyond Triangle
December 18, 1994 - 'It shows miracles happen'
December 19, 1994 - Besieged pilots question union, Eagle
December 19, 1994 - Turboprop expected to return
December 19, 1994 - Commuter planes feel brunt of consumer fear
December 19, 1994 - Crash victims' burials to focus on peace
December 20, 1994 - Town's longtime fears are realized
December 20, 1994 - Reality sheds light on drills
News & Record (Greensboro):
December 17, 1994 - Whys and What Ifs Linger After Plane Crash\ Many Passengers Were Forced To Fly
New York Times:
USA Today:
USA Today, December 14, 1994 - Commuter plane crashes
December 14, 1994 - Neighbors feared 'the inevitable'