Historic Millbrook
---
Introduction
This page presents some history of the Millbrook Community, which originated some miles north of the original city of Raleigh limits. The content on this page is adapted from this blog posting from August 5, 2009.
Early History
Wake: Capital County of North Carolina, Vol. II: Reconstruction to 1920 by K. Todd Johnson and Elizabeth Reid Murray (see blog posting) provides a succinct early history of the Millbrook Community.
In the 1860s, the Raleigh & Gaston Railroad built a small station at "Mill Brook." This was the first stop for trains headed north. Around the station and the tracks, a community developed. "Families, homes, and some businesses." Two churches organized by 1875, Methodist and Baptist. Schools appeared by 1877, public for whites and blacks, a private elementary, and a private academy for whites. Wake Baptist Grove Church-- later Wake Chapel Baptist Church-- was organized in 1899 by black residents, who utilized the one-room public schoolhouse. Click to enlarge:

In 1887, a new railroad depot was constructed. In 1888, the Millbrook post office was opened. It was located near the depot, and the first postmaster was merchant Henry A. Bland. The office "was temporarily discontinued in 1906," but "reestablished in 1908."
Another general merchant, Nathaniel W. Hatch, oversaw postal activities from 1908 to 1915. The authors list several merchants from the 1890s to the 1920s, including the names Baugh, Bland, Dean, Harp, Holloway, Hunter, Rogers, Sanderford, Thompson, and "the firm Pine Ridge Store." The community had a cotton gin, as well as a lumber dealer, and a "well-known farmer and cattle producer."
Millbrook Post Office, c. 1970?, from Elizabeth Murray Reid SlideCollection, Olivia Raney Local History Library, Raleigh, NC
A modern picture of the railroad depot, from 2002, appears in A Directory of North Carolina's Railroad Structures, Second Edition, compiled by Art. Peterson, Tony Reevy, and William L. Dowdy (editor), and published that year by The Old North State Chapter of the National Railroad Historical Society, Raleigh, N.C.
The building, a long, single-story frame structure with a high-roof, was vacant at that time. From TerraServer, this U.S. Geological Survey aerial photo shows the structure present that year. However, Bing Maps shows a newer aerial photo with the building missing. Below is a very quick sketch of same.

Mike Legeros illustration.
The Wake County Roads web site tells a little more about Millbrook. Back when Wake Forest Road was also Highway 1, this was the halfway point between Raleigh and Wake Forest. The crossroads had a couple "bed-and-breakfast type houses" for folks on the road. The original portion of Millbrook Road was completed by 1940. The east and west extensions were added by 1970, or abouts. When did Capital Boulevard become US.1? The same site notes 1948 was the year NC.59 was named North Boulevard, and renumbered Highway 1.
Millbrook Baptist Church
In October-November 1875, a one-room frame church was erected on the current of the current Falls of Neuse and Spring Forest roads. It was named Midway Baptist Church, because it was located about halfway between New Hope and Mt. Vernon Baptist churches. Architecturally, it resembled a small New England church. It was white and had one front door and a door on either side. The pews were handmade of heart pine and were sanded and polished until they shone. A well was dug near the church from which water was drawn for the thirsty members when there were occasional all-day services. Services were held once a month, and the first preachers came by horseback or on foot, spending the nights in the community.
At this time the Millbrook Community consisted of the church, the school, a post office, a general store, a sawmill, a cotton gin, and several homes.
On April 27, 1924, the first services were held in a new church building, located at the presently addressed 1519 E. Millbrook Road. The chapel his still used today, and the building has been expanded over the decades. Source: Millbrook Baptist Church history.
Millbrook Lodge
In 1904, Masonic Wake Forest Lodge #97 moved to the Millbrook Community, and shared a two-story building with the original Millbrook School. In 1930, it merged merged with Mt. Pleasant Lodge #157, which was in danger of losing its charter due to lack of membership, and finally, in 1945, the Lodge changed its name to Millbrook #97. By this time, the old lodge and school building had become so dilapidated that the Brothers called it "the leaning tower of Pisa." Plans were made for a new building, and Brother Joe Mann donated approximate one-third of an acre at the presently addressed 4305 Wake Forest Road. With Brother Frank Jones as principal architect, a beautiful two story brick building was erected, at a cost of $11,000. The building served the lodge until 1981, when a shopping center had grown up around the property and land prices had skyrocketed. It was sold to Firestone Tires, and the lodge relocated to New Hope Road. Source: Millbrook Lodge #97 history.
Norwood Farm
Onnis Norwood, who was born in north Wake County, established his 54 acre farm near the community of Millbrook north of Raleigh in the 1930s. He and his wife Lyda hired a North Carolina State University architectural professor, a Mr. Satterfield, to design their brick Tudor Revival style farmhouse. Onnis grew cotton, tobacco, hay and corn. His mule barn and numerous other frame outbuildings still stand on the property. To supplement his agricultural income, he operated a lumber mill on the farm. Source: Raleigh Architectural Survey, Phase 4.
Survey entry: WA2549 - Onnis & Lyda Norwood Farm. 1933. 4812 Old Wake Forest Road, Raleigh Raleigh East Quad Substantial brick, Tudor Revival style house designed by Raleigh architect Satterwhite. Still the center of a 54 acre farm.
Fires in Millbrook
On May 9, 1960, a home and former school building burned. The house, valued at $15,000, originally contained two rooms had been recently remodeled with five more added. The Six Forks Road volunteer fire department poured water on the fire for several hours before bringing it under control, reported the Raleigh Times. Mrs. Charles Billing, a widow, lived alone in the home. Defective wiring in the attic was cited as the probable cause.
On March 6, 1961, the Norwood Lumber Company burned. The main plain mill and about 8,000 to 10,000 board-feet of lumber was destroyed. The fire started about 10:00 p.m. Volunteer firemen from Six Forks, Stony Hill, and New Hope respond. The fire as controlled before midnight. Residents near the mill heard an explosion just before the fire was discovered. It apparently started in a tool said, said the firemen. The firm was one of the oldest lumber companies in this part of the state, noted the News & Observer on March 7, 1961. The planing mill and its machinery were located in a 40 by 80 foot open building. A truck parked next to the building was also burned. The burned lumber was stored in and around the building. Crews noted that the damage would have been greater if there had been any wind on the other largely windless night. The mill was located just east of Old Wake Forest Road.
On March 20, 1972, the Norwood Lumber Company again burned. The sawmill area was destroyed. The fire begins shortly before 3:00 a.m. The Bay Leaf Fire Department was dispatched, and they arrived to find the tin-roofed sawmill engulfed in flames. The shed was about 30 by 80 feet in size. "Firemen from the Wake-New Hope and Six Forks departments were also summoned almost immediately" said Bay Leaf Fire Chief George Norwood in the Raleigh Times on March 23, 1972. The mill was owned by Norwood's brother John H. Norwood and his nephew Jack E. Norwood. "Electric motors, saws and other electric mill equipment" were destroyed. Neither the Bay Leaf nor New Hope fire chief had any idea how the fire started. It was spotted by a woman who lived beside the mill. She notified Jack Norwood, who called BLFD. The fire was confined to the sawmill area, and no lumber was burned. The nearby lumber was "green", which helped. About 60 firemen answered the call, and remained on scene until 4:40 a.m. The mill was one of the oldest in Wake County.
Vintage Photos
A number of historic images are available at Olivia Raney Local History Library, both from the Durwood Barbour Postcard Collection and the Elizabeth Reid Murray Slide Collection. The former are circa 1920, the latter are circa 1970 (?). Click to enlarge each:
Millbrook barnyard, c. 1920. Photo from Durwood Barbour Postcard
Collection, Olivia Raney Local History Library, Raleigh, NC
Millbrook, c.1970-1980 (?), Elizabeth Reid Murray Slide Collection,
Olivia Raney Local History Library, Raleigh, NC
Vintage Aerial Photos
| | | |
| --- | --- | --- |
| | | |
| 1971 | | 1971 (larger) |
| | | |
| | | |
| 1959 | | 1959 (larger) |
Source: USDA Historical Aerial Photos, via http://library.unc.edu/services/data/gis-usda/
| | | |
| --- | --- | --- |
| | | |
| 1988 | | 1988 (larger) |
Source: Wake County iMaps. Historical aerial photos are available for 1981, 1988, 1999, 2002, and later.
Help Identify These Sites in 1959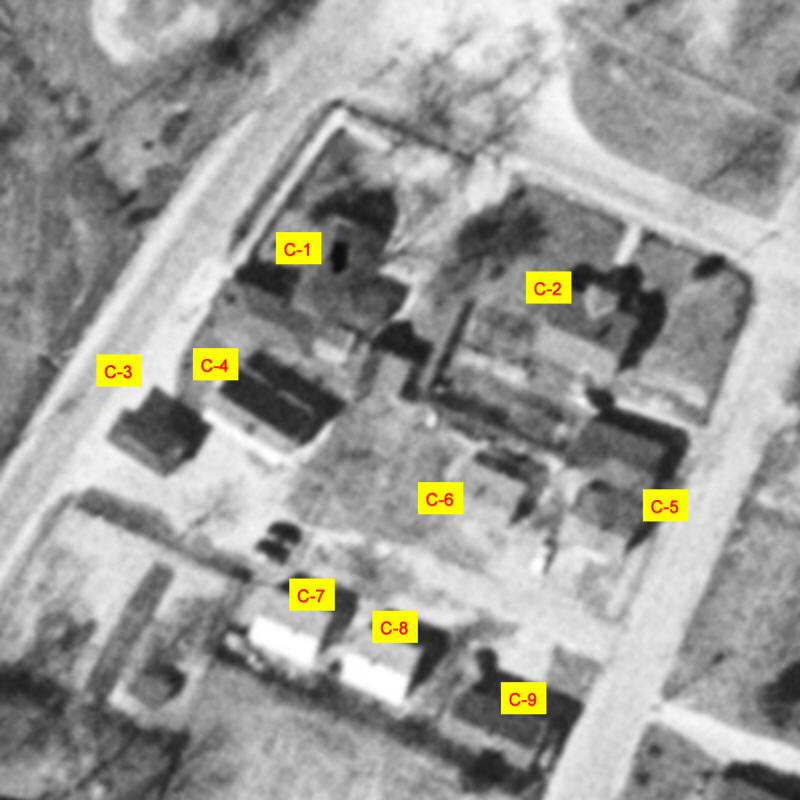 See this page for annotations and more views.
Vintage Maps
Below are maps from a couple eras, plus two contemporary photos from Lee Wilson. Click once or twice to enlarge:
Raleigh in 1887
Raleigh in 1959
Raleigh c. 1970?
Current Photos
Lee Wilson photos
Acknowledgements
Thanks to Lee Wilson for contributing information and images.
---
Comments From Original Posting
See the original blog posting for more comments, which have continued to be added.
Ms. Reid's first volume of Wake County history adds a couple more details. The Millbrook depot was six miles north of the Raleigh depot. Mill Brook was named after a "local watercourse." The Millbrook post office closed in 1977, replaced by a larger facility at Departure Drive. Some of Millbrook was still outside the incorporated limits in 1981.

The stops on the Raleigh & Gaston Railroad schedule from 1868 were Raleigh, Mill Brook, Huntsville (later renamed Neuse Station), Wake Forest, Franklinton, Kittrell's, Henderson, Junction, Ridgeway, Warrenton, Macon, Littleton, Gaston, and Weldon.
Legeros - 08/03/09 - 20:33

Just noticed on the maps there is also a 1st Street.

Found a picture of the old train depot.
lee - 08/04/09 - 02:16

Posting updated, and with a couple more likely to come.
Legeros - 08/04/09 - 05:04

It may be just me, but I really enjoy theses post and learning the local history.
Fierro - 08/11/09 - 18:35

These photos bring back memories. I grew up in the Millbrook Estates neighborhood during the 70's and 80's. I remember when Millbrook still looked like these photos. Sometime in the late 70's or early 80's there was a movement to revive old Millbrook. It was called "Historic Millbrook," and an ice cream shop named "Heart's Delight" and some other businesses moved into the old buildings. My mother worked at one of the other businesses, which was a paint store. I remember one of the old buildings, which was never restored, was a big two-story, white, wood building. It looked like something out of a Western movie. It had at one time been either a hotel or a school. I also remember that there was a "Grocery Boy Jr." convenience store on the hill on Old Wake Forest road there where there is a storage place now. We used to ride our bikes to the Grocery Boy and buy "Star Wars" cards…that must have been in 1977 or 1978. Commuters on Millbrook road had to make a turn onto Old Wake Forest road and go north for a block before they could reconnect with the other part of Millbrook road. That jog, the lights, and the railroad caused a lot of traffic to back up and I remember many times being stuck in traffic in Historic Millbrook. At that time the road was only two lanes, which also contributed to the tie ups. The road was moved to allow it to go straight through, and it was widened. This was the death knell for Historic Millbrook, since the traffic could fly on by. Now its mainly a bunch of auto repair shops. The name "Millbrook" comes from the brook, Marsh Creek and the old mill that was on the creek. The old mill wall is still there and its made out of huge granite stones. The wall was built on an area with a huge rock that the water has washed the earth off of. Its very picturesque and not many people know about this old mill. Its located on the Raleigh Racquet Club's property at the eastern edge of the clubs property behind houses of Fox Run and Whitehall neighborhoods. I've always wanted to see photos of the mill when it was active, but have never been able to locate any.

Thanks for your site, I love it!
Mark - 09/20/11 - 01:12

This is a great site. Like Mark above, I lived in the area in the 70s & 80s. I was actually in Fairfax Hills, but wne to school at Millbrook Elementary. Raleigh has grown so much…. it's nice to see how it used to be when we grew up. I hope more folks hop on here & add their photos of this area during that special time.
Dan (Email) - 09/29/11 - 10:48

I saw some pictures that were added with the white house with purple trim and shutters. The address of this house now is 5024 Old Wake Forest Rd, and it is at the intersection of Old Wake Forest and Second Street. Does anyone know any of this history of this location (specifically before the 1980's)? My husband now works in this building, and we were just wondering if there was anyone with any historical info that could be displayed in the house for the customers to see and appreciate? Thanks!
Aubrey (Email) - 09/21/12 - 21:40

The house pictured with the purple trim was built by my grandfather in 1892. My father and his siblings grew up there and he bought the house from them when he married my mother in 1934. My sisters and I grew up there and mom stayed there until 1981 following my father's death. She sold it to a lawyer who had his offices there for a few years. It's had many incarnations but at least it's still standing. I hope it continues as there is not much else left from the old Millbrook of the 50s, 60s and 70s.
Nancy - 03/21/13 - 15:02

Nancy, do you happen to have any photos of that intersection around 1900 to 1950?? I am looking for a photo of a home that was on the corner of Millbrook Road and Old Wake Forest. It would have been in the location of the restaurant, and, I believe, a family by the name of Poole lived there. I am also under the impression that it was the parsonage for the Methodist Church at that intersection.
Graham (Email) - 08/25/13 - 22:00

I grew up (and sold our house just this year) in Cedar Hills. I remember as a kid the ice cream parlor in what I believe is the old post office building. There was also a bar in what I believe is now the office for the storage facility (the building could have been demolished/rebuilt, but it was of similar shape). Millbrook ended into dirt/gravel and you had to go around to connect back to it (it also ended at North Blvd if I am remembering correctly).
Andrew - 04/18/14 - 12:32

hearts delight had mix-ins in their ice cream, reeses, snickers etc….delicious stuff. former brentwood resindnt in early 80s and marsh creek flowed through brentwood park – fierce snapping turtles. does anyone know who owned the brentwood subdivison area in the 19th century era by any chance, or earlier? thanks.
scott thompson (Email) - 04/23/14 - 03:04

The Adams Bothers built Brentwood—My wife and three kids moved there in 1967..

Anyone remember Pate's grocery store and later the soda shop.. Mrs, Kelly, Mrs. Didawick—-Mrs Tuttle—Mrs. Wilburn—Mrs. Jacson—Mrs. Thomas—Mrs Randall—many others—these were in the OLD building—no pix..sad!
Freddy Smith (Email) - 02/29/16 - 18:36

I grew up in Millbrook in the 1940s does anyone have any information on the old Litchford plantation we lived in the house that the cook originally lived in
Joy - 10/12/16 - 09:12

I've been meaning to come back to this site to see if anyone else ever visited what is thought to be the "Mill" of Millbrook. I used to live in Fairfax Hills from 1971 to 1996, and as a teen I would cross over Falls of the Neuse, cut through Friendship Church, and follow the power lines down to Marsh Creek. There, in the woods, was the stone ruins of something. Could that be the old mill of Millbrook? Is anyone here willing to go visit it with me to make an account of its whereabouts and authenticity?
Dan Ratte (Email) - 01/11/17 - 21:32
---
Copyright 2023 by Michael J. Legeros