02/08/09 194 W, 1 I - + 12 - 14 The Greatest Show on Earth
Attended the circus on Saturday night. First time in thirty-some years. Tickets were relatively cheap. Parking, food, and circus crap were the wallet eaters. Doors opened early and kids, parents, and childless adults were invited ringside. Meet the performers. We mingled among the masses, then sampled the bill of fare upstairs. The show opened with the national anthem, accompanied by a scantly-clad woman astride an elephant and carrying an American flag. Unsubtle symbolism there! The circus itself was loud (but never too loud), vibrant, colorful, corny, and enormously entertaining. Live musicians played the score and accompanied a couple songs sung (or lip-synched) by the Ringmaster. Highlights? The motorcycle cage was pretty darn remarkable. Trained tigers are always a hit, and who doesn't like elephants? They even had a RPIT team ready, for what Dumbo left behind. (Rapid Poop Intervention Team.) Two hours, including intermission. Fun all around. No camera was carried, however. Yours Truly experienced the event live, instead through a viewfinder. Well, except for a handful of images snapped with my mobile device, such as shown below.
Here's the circus web site
.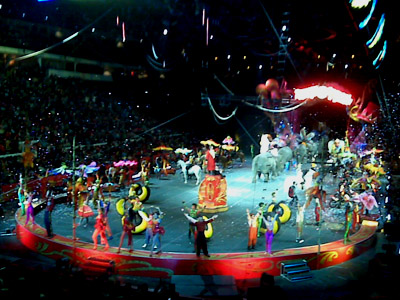 ---