03/01/09 234 W, 1 I - + 17 - 11 Seat Belts Work!
Stony Hill Pumper 264 was involved in a single-vehicle accident while responding to a call on Saturday afternoon. They were dispatched at 1:31 p.m with Wake Forest and Falls fire departments to a reported house fire in Wake Forest at 2120 Purnell Road. No fire was found at the house. While responding, Pumper 264 overturned on its side on Purnell Road, about a half-mile east of Camp Kanata Road. They reported they were overturned about 1:38 p.m. Additional fire and EMS units were immediately dispatched to their accident, including Stony Hill Pumper 262, Falls Pumper 212, EMS 12, EMS 33, and EMS District 6.
Command was assumed by SHFD 101. The three personnel on the pumper were transported to WakeMed with minor injuries. All were wearing seat belts. They were treated and released Saturday evening. Other units on scene included Stony Hill 100, 101; Wake Forest Car 2, Car 4, Battalion 1, Utility 6, Falls Utility 21, Bay Leaf 100, Wake EMS Chief 100, and WC 1. Falls and Wake Forest assisted Stony Hill on scene and also with coverage. They also helped transfer equipment from Pumper 264 back to the station. The 2005 Pierce Contender was up-righted about 3:20 p.m. and removed from the scene after 4:00 p.m. Purnell Road was closed between Camp Kanata and Thompson Mill roads during the operation. Photos by Legeros have been approved for release and
are forthcoming
have been posted
. Archived radio traffic is
available online, as well
.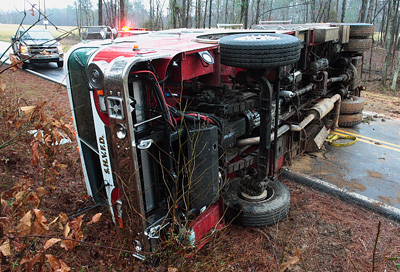 ---
I asked Mike to post this info and the pics for the benefit of all. Everybody, please wear your seatbelts at all times. These three guys were wearing theirs and injury was minimized. Here's what happened before any speculation begins: The truck dropped the right front wheel off of the roadway onto the soft shoulder, speed was not excessive, the truck drifted to the right even more after the wheel drop and inertia took over. A nothing showing size-up was given on scene of the dispatched structure fire and P264 had reduced to non-emergency response prior to the accident. Our guys are OK, one has a mild concussion (capt's seat), but otherwise he's doing well and at home.

I had my best driver behind the wheel who I trust 100%, yet the accident still occurred; so I encourage you all to do what's right and try to minimize risk at all levels. Accidents WILL happen no matter what you do to prevent them.

Also, the new NFPA 1901 standard specifies also that equipment will be secured in the cab of fire apparatus. Even though you may have the seatbelt on, and even have airbags for roll-over protection, "flying" equipment WILL injure you in the cab.

Be safe and thanks to all who assisted us on scene.
A.Rich - 03/01/09 - 14:13
Thanks, AC. Usually, in my experience, organizations clam up and get real defensive over situations like this. I think it speaks volumes about you and your department to step up like this. Glad everyone is OK.

There have been several of these incidents across the country, and seat belts are MAKING A DIFFERENCE, along with all of the advances in the design of fire apparatus.

AC- in my Power Point presentations I am doing, I always include a safety reminder at the end. Can I use some of the pics of this MVC for those messages?
DJ (Email) - 03/01/09 - 15:00
DJ – Feel free to use any pics you want. Any opportunity where the edicts of safety can be reinforced is a good thing.
A.Rich - 03/01/09 - 16:40
Pics have been posted.
Legeros - 03/01/09 - 16:52
Let me first say seat belts work and will save your life please take the time to use them its the most important decision you can make. I would like to say thank you for all your thoughts and prayers and phone calls. I'm still sore and have a headache but will recover it pays to have a hard head sometimes.
J. Schwenk (Email) - 03/01/09 - 23:22