08/01/09 589 W, 1 I - + 11 - 8 The American Fire Station
The evolution of the American fire station is documented in now-posted photos of Baltimore historic firehouses. Two sets of shots,
active stations
and
retired stations
. Taken last week. Ambitious project, there! But the Fruit Loops helped. We start in the 1850s, with a trio of former firehouses on Ann, Gay, and Montgomery streets. These were built for Baltimore's volunteer fire companies that served prior to the paid department. (The latter starting on Feb. 15, 1859.) The apparatus at these three stations were probably large hand engines, and accompanying hose reels or wagons. Were they horse-drawn yet? Don't know. Steamers were coming soon, as Baltimore's first steam engine was purchased in 1858. It was horse-drawn. A fourth early station on Eutaw Street was built in 1859 and opened as Engine 7 in 1860. That was a steamer, as were all the paid engine companies. The Eutaw Street station had a steeple and a bell that was removed in 1905.
The apparatus space for a hand-engine company was minimal. Room was needed for the engine and a host cart and little else. Then the horses came, and bays became bigger. That is, if the horses were housed at the station, which is likely or certainly the case in Baltimore. Horse stalls were added to apparatus floors, and hay lofts added elsewhere in the building. (The hooks extended from the roofs at the stations on 24th Street and on Fort Avenue were presumably for the purpose of raising bales.) As steam engines replaced hand engines, they also required more room. The houses built in the 1870s, 1880s, and 1890s are considerably larger than those from a couple decades earlier. (See this web site for dates and other info about historic Baltimore fire stations.)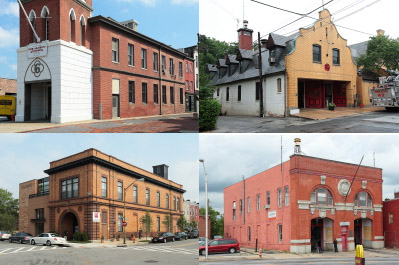 Motor apparatus replaced the city's fire horses in the 1910s, including tractors for the steamers. This change released more space in apparatus bays. Triple-combination pumpers, for example, were shorter than horse-drawn steamers. Even motor service ladder trucks were likely shorter than their horse-drawn counterparts. Thus, fire stations could be constructed smaller in size. Or utilize smaller spaces, as Engine 40 did in the rear of a community building on Liberty Heights Avenue beginning in 1919. Some of the stations built during the late 1910s and early 1920s were designed to resemble residential homes. See Engine 53 on Swann Avenue, Engine 40's second location on Liberty Heights Avenue, and old Engine 54 on White Avenue. (In other cities, such as Raleigh, bungalow-style stations appeared. These were single-story buildings with an oversized garage.)
Other trends are exemplified in these historic houses. Limited real estate required tall, thin facilities for many fire companies. The volunteer Watchmen house on Montgomery Street was three stories tall. Hose towers are common. Engine 14 on Hollins Street was originally adorned with steeples. Those were removed when the 1888 structure was renovated in 1902. One combination watch and bell tower still stands, at old Engine 6 on Gay Street. That building is probably the most recognizable former firehouse in the city.
Readers are encourage to add their own perspectives or historical knowledge, including Baltimore fire history, hand 'n' horse apparatus, and station design and architecture. The most notable source for the above information is Bill Murray's The Unheralded Heroes of Baltimore's Big Blazes. It's an invaluable source that was reprinted in 1995 for Murray's grandsons. They still sell copies each year at the Fire Expo flea market. Also recommended reading is Rebecca Zurier's The Firehouse, An Architectural and Social History. That hardcover was published in 1991.

This is version 1.0 of this posting.
---