08/06/09 164 W, 1 I - + 10 - 3 Falls Fire Department Cookbook Available For Advance Ordering
The Falls Fire Department has produced a cookbook that's available for pre-ordering. Compiled by the Ladies Auxiliary and their families, the softcover, spiral-bound volume features 350 recipes, and includes recipes that appeared in the original Ladies Auxiliary cookbook in the late 1970s/early 1980s. With colored tabs separating the categories, it also includes a history of the department, information about the ladies auxiliary, and other bits. Plus a few pages of local business ads. The price is $10 for advance orders, or $15 when the books arrive in October. Here's the stunning cover, created as a collaboration of artist Diane Henry and photographer Gregory Wiggs. (He's also a veteran fire scene photog.) Great job by both.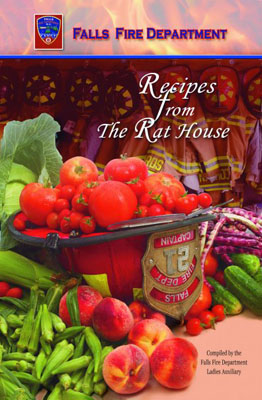 To place a pre-order, send your $10 payment to the below address. Please make checks payable to Falls Fire Department Ladies Auxiliary.
Melissa Rhodes
30 Beaver Ridge Drive
Youngsville, NC, 27596
mwrhodes2 "at" yahoo.com
---
It seems like it's been a while since a ladies auxiliary cookbook has come down the pike from anywhere in Wake County, or nearby. What's the history of cookbooks around here?
Legeros - 08/06/09 - 07:48
Stony Hill's Auxiliary has one, and has for some time… It includes the "secret" beef barbecue sauce recipe too. This one looks good, nice cover!
A.Rich - 08/06/09 - 10:44
Good job to our ladies!
Rhodes (Email) - 08/08/09 - 18:54