08/06/09 86 W, 1 I - + 11 - 6 Mystery Apparatus
Let's see if this chump can stump his readers with another red truck. Hint #1: It's number "2". Hint #2: It's parked somewhere. For extra credit, please tell how you deduced the thing. In a moment there will be a knock at the door, heralding the start of this mystery. Answer it. My pants are caught on a nail.
1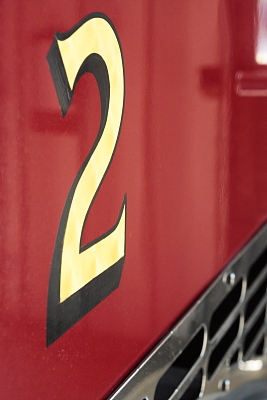 1
Daffy Duck to Porky Pig. "Deduce You Say," released Sep. 29, 1956. Charles Jones director, Michael Maltese story.
---
Is it Durham Highway Pumper 2? How, I could tell it was on the side of the cab so I looked through the pics.
stretch - 08/06/09 - 19:56
Yep…DHFD P-2…
DJ - 08/06/09 - 21:22
Sorry to differ with you, but I'm sure that's Mt. Zebulon's old wagon that used to run out of Pawtaucket Range Rover Station #2 (circa 1988).
Kahdiddlehoffer (Email) - 08/07/09 - 16:37
Don't focus on the "2" or the air vent. Instead, focus on the reflection and you can clearly see the bay of DHFD.
RescueRanger - 08/08/09 - 19:30
You are correct, that's DHFD's pumper numbered "2" (and also "4"), that's sitting at Station 23, which is what's seen in the reflection.
Legeros - 08/09/09 - 21:11
Sitting at DHFD station 2 Mike.
23's Landlord - 08/09/09 - 21:50