08/12/09 140 W, 1 I - + 7 - 10 Your Web Site Wish List?
Probably every reader of this blog also views our incident photos, posted on this
Legeros.com page
, or linked to
Lee's Fickr site
. Here's a typical series of photos,
Wake Forest station opening by Lee
, and
Cary structure fire by Legeros
. The pages and their buttons and controls should be pretty easy to use. But are they really? Are there aspects of using Legeros.com photo pages, or the Flickr galleries, that our readers find frustrating? Do you have a wish list of ways we could make our pages and site better? Please provide examples of other sites that you like, or that work better. Feel free to also opine on other fire and photo web sites. Now's a good time for griping! What is your wish list!?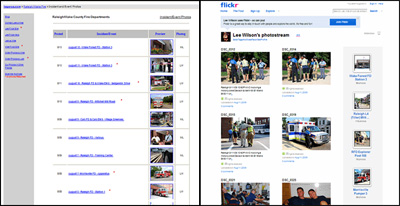 ---
A link to the pics on the top bar, or in the about box since I'm usually online with a 13" laptop. Thanks!
cornerhydrant - 08/13/09 - 13:39
Or in the easy address box, right under the web site address.
cornerhydrant - 08/13/09 - 13:41
Unable to "fave" my favourite pics of Mike's for later slide-show viewing, as I can with Lee's pics.
cornerhydrant - 08/13/09 - 13:47
There has been more options with the flikr site. But both sites are fantastic I think mike has an archive to view alot of his older photos No problem looking up old pics by Mike…
Chris (Email) - 08/13/09 - 18:31
I'm not a big fan of the Flickr site as it is a bit cumbersome. I think Mike's site is a bit more user-friendly so I am more apt to look at the photos by Mike rather than Lee…no offense of course.
Citizen - 08/13/09 - 19:46
Agreed that Mike's pics are easier to navigate, but really miss the ability to "share this" to e-mail buddies an instant link of Mike's pics or mark a bunch of favourites for later viewing (which I always set to autoplay as a slide-show, sit back and relax). BTW,I always use Flickr in slide-show mode, which is so much easier than clicking on the smaller image, then enlarging, then going back and doing the same thing over for each pic.
cornerhydrant - 08/13/09 - 22:00
You asked, here you go

Likes
1. I like Flickr's ability to comment on individual pictures.
2. The ability on Flickr to see camera settings.
3. See original size for seeing details.
4. Size of Flickr's slide show pics and ability to change speed.
5. Flickr's ability to RSS feed pics.
6. Flickr's tighter use of space around thumbnails.
7. The ability to use Greasemonkey and scripts to manipulate Flickr.
8. The ability to see the narrative on all pages when clicking through Mike's pages.

Dislikes
1. Seeing such long file names on Mike's site.
2. That when clicking through Mike's site the thumbnails on right and left jump so much depending on if portrait or landscape.
3. Long URL to reach. Maybe get a domain name that can re-direct to pics page directly. Long url makes it harder to share and remember with others if not via email or web like in verbal discussion.
2redline (Web Site) - 08/14/09 - 15:13
Great feedback. Thanks for taking the time.
Legeros - 08/14/09 - 18:21