08/16/09 164 W, 1 I - + 10 - 10 American Fire Marks, A Good Story
Everyone knows the story of fire marks, those metal plates affixed to American buildings beginning in the 1700s, and that indicated which volunteer fire company would fight a fire there. And that they'd receive a reward if they responded. And if a different fire company arrived, they'd let the building burn. Etcetera, etcetera. Good stories, but are they true? Probably not, notes Robert M. Shea in this excellent article American Fire Marks - A Good Story, found at the website firemarkcircle.org.
The author includes ample footnotes for his research, and concludes that American fire marks served primarily as a sign that the property was insured. A form of advertising, which he calls "one of the longest and successful ad campaigns in America." Fire marks, he notes, were issued by American insurance companies for over 150 years! Read the article to learn the stories behind the stories.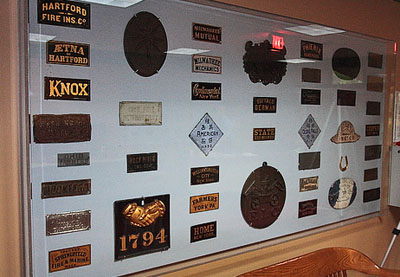 ---