08/20/09 211 W, 1 I - + 13 - 7 Ready to Roll
Slides are finished. They number 91 and include front matter and some appendixes. Lists of stuff, at the end. Tomorrow's workshop on the history of firefighter in North Carolina will cover a couple hundred years. We'll start in the 1770s, or abouts. Work our way to present day. Hand engines to steam engines to motor engines. Fire laws to fire companies to fire departments. Trucks and tools and people and places. Paid departments and rural departments. The whole ball of wax, minus whatever's missing. And there are holes. Always are.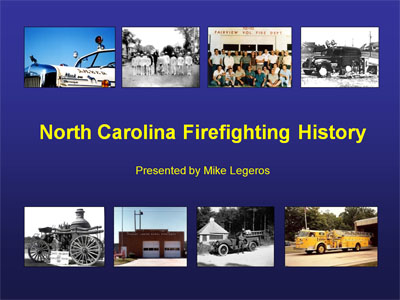 With laptop in tow, we'll pack a stack of business cards. Mine read "author, historian, photographer." Original, eh? Handouts, also, with web and e-mail addresses. Note cards, markers, sticky pads, and painter's tape. In case we want to jot and hang stuff. Bottle of water or two. Copy of each volume of Raleigh & Wake County Firefighting. Humorous props, perhaps, as well. One or two. Plus the presenter, who is his own amusing sight. Room 306C should be ready for visitors by 8:30 a.m. We'll be playing a slideshow of old photos from around the state. Come early and watch, or chat. Everything should be ready to roll.
---
Oh yeah!! Stony Hill on the front slide. The old 1954 Mack will be in the parade on Saturday downtown.
A.Rich - 08/20/09 - 22:57
Stony Hill, it's always about Stony Hill….hahahahahahaha
Silver - 08/21/09 - 01:22
Mike,

Just looking at your presentation. It is a wonderful persentation. Just thought I would share some information about the City of Greenville. The city currently covers over 35 square miles with a population of over 75,000. The combined fire-rescue department has over 140 uniformed employees with 6 active stations, land has been bought for a seventh, and planning has been started for an eight. They currently staff 1 Engine, 5 75' Quints (Engines), 1 110' Ladder Truck, 1 Rescue Truck, 1 Battalion Chief, 4 EMS Units per shift with a 5th Peak Time EMS Unit. Also the city hosts USAR Task Force 10. The City of Greenville Fire Departments and Rescue Squads were merged in 1978 to create the current City of Greenville Fire/Rescue Department. Thanks!!!
Steven (Email) - 08/22/09 - 06:53
Thanks Steven! See my note in the comments the Workshop Slides posting for more information about my slides.
Legeros - 08/22/09 - 09:04