10/08/09 163 W, 3 I - + 9 - 13 District Chief Position Created at Six Forks EMS
On Tuesday, October 13, at 0800 hours, Six Forks EMS will place a new District Chief unit in service. Numbered District Chief 4, the unit will respond primarily in the north and northwest region of Wake County. The Wake County EMS System presently has five District Chief units, three operated by Wake County EMS (DC1, DC2, DC3), and two operated by contracted EMS agencies (Cary, DC5 and Eastern Wake, DC6).
District Chiefs serve as first-line supervisors to EMS personnel, and also respond to larger incidents involving multiple EMS unit and high-acuity clinical responses, such as cardiac arrest and severe respiratory distress. They also supplement Advance Practice paramedic units, and perform many human resource management and administrative functions as well. The District Chief 4 vehicle, a Dodge Ram covered pick-up, is pictured below at Six Forks EMS Station 1. Read this press release
from July for more information.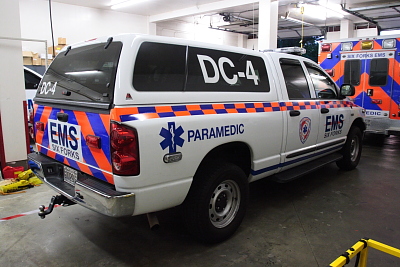 ---