10/09/09 208 W, 3 I - + 13 - 14 White Balance
For your Friday enjoyment, here's a bit of camera play. Here's an image from last night's commercial structure fire in Raleigh. The camera is a Canon Digital Rebel XT, in Program AE mode, at 1600 ISO. The file format is RAW. The flash hasn't fired. This is the image without any adjustments:



Pretty cool photo, no? The chief and the vehicle look like they're bathed by emergency lights. Let's add some post-processing, including color, contrast, and sharpness: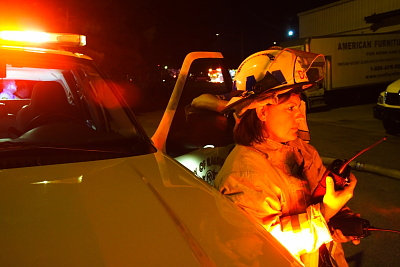 Still pretty cool. But is it real? Did the chief and that vehicle really look that orange? Did our eyes actually see such tinting? Or is the orange-ness actually a product of the camera? Let's adjust the white balance, and we'll reach something closer to reality.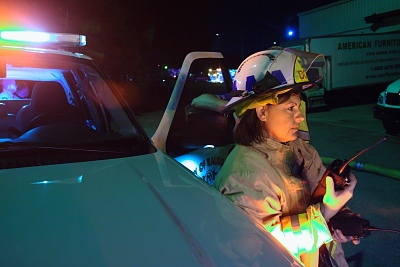 Not nearly as cool, but considerably closer to what we were seeing on scene. Which version is better? Well, that's an eye of the beholder thing. In fact, filters are frequently used to produce this very type of tinting. Adds an artsy effect. Which version will we post? Wait and see.
Read more about white balance, also called color balance.
---
I hate to disagree with you Mike, but the human eye/brain has an incredible white balance system and our eyes acclimate to see a scene as neutral after a while, even when lit by colored light. Red light will always cast a red tint on everything, as will yellow light. So yes, #3 is what the eye saw after it acclimated itself, but #2 is closer to reality.
c.hydrant - 05/12/10 - 12:49