10/26/09 399 W, 3 I - + 11 - 10 Let There Be Rock
Now for a musical interlude. Veteran hard-rockers AC/DC appeared at Greensboro Coliseum last night. They're touring to support their latest album, Black Ice. The Australian band was formed in 1973 by Scottish-born brothers Malcolm and Angus Young. AC/DC released their first album with their second singer Bon Scott in 1975. Current singer Brian Johnson has been aboard since the release of Back in Black in 1980. AC/DC has released fifteen studio albums to date, not counting the quasi-compilation Who Made Who in 1986. They're the fifth best-selling band in US history, and ninth best-selling articles, having sold more than Madonna or Michael Jackson.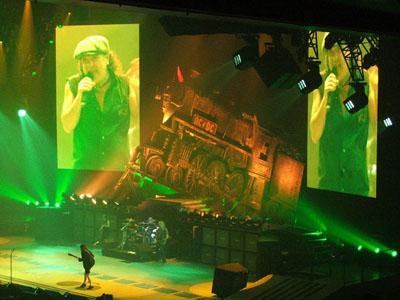 Sunday night's show opened with an animated film involving a demonic Angus driving a steam locomotive with a passenger train. Enter a pair of seductive female fans, who overpower the red-skinned guitarist. The wee one is bound and the ladies begin pulling on levers. That is, pulling levers in suggestive fashion. The train moves faster, the station gets closer. At the last moment, Mr. Young breaks free, grabs his guitar, and leaps from the cab. Explosions on stage, the projection screen parts, and a giant locomotive prop pushes into view. With sparks and steam everywhere, the band appears, playing "Rock 'N Roll Train." The first single from last year's
Black Ice
.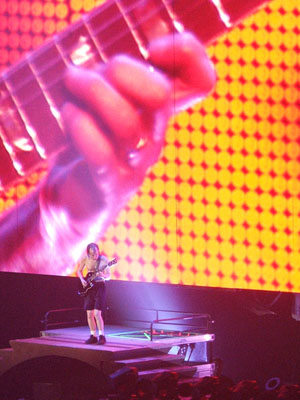 Mr. Blogger brought a camera, a Fuji FinePix S5100 that's several years old. Though professional cameras were banned, smaller point-and-shoot cameras were tolerated. The camera is a 4.0 megapixel model. Program Shift mode, with 400 ISO. Camera held as steady as possible. See more pictures at this Flickr site.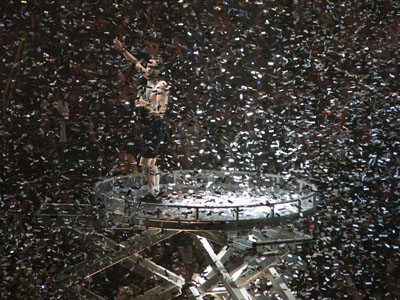 The set list as best recalled:
Rock 'N Roll Train (Black Ice, 2008)
Hell Ain't A Bad Place To Be (Let There Be Rock, 1977)
Black Ice (Black Ice, 2008)
Back In Black (Back In Black, 1980)
Dirty Deeds Done Dirt Cheap (Dirty Deeds Done Dirt Cheap, 1976)
Big Jack (Black Ice, 2008)
Thunderstruck (The Razors Edge, 1990)
Jack, The (TNT, 1975)
Hells Bells (Back in Black, 1980)
Shoot To Thrill (Back in Black, 1980)
You Shook Me All Night Long (Back in Black, 1980)
War Machine (Black Ice, 2008)
TNT (TNT, 1975)
Whole Lotta Rosie (Let There Be Rock, 1977)
Let There Be Rock (Let There Be Rock, 1977)
Highway To Hell (Highway To Hell, 1979)
For Those About To Rock (For Those About To Rock, 1981)
---