01/03/10 275 W, 1 I - + 17 - 11 This Morning's Fire / Bridford Place
House fire at 5532 Bridford Place. Durham Highway Pumper 1 arriving at two-story, wood-frame structure with 1,702 square-feet, with heavy smoke and fire coming from the garage and extending to the roof. House built in 1991. Due to cul de location and parked cars, Battalion 4 directed careful placement of both apparatus and supply line. Arriving units staged both on Bridford Lane, and on North Exeter Way.
Fire also entered the attic, and damaged a room above the garage. Ladder 6 was raised and readied as a precaution. Car 10 assumed command from Battalion 4. Special hazards included live electricity-- due to extended response from power company-- and ice forming on many surfaces. A second, small fire started next door at 5536 Bridford Place, though on the opposite side of the structure. Engine 18 extinguished with another line.
After the fire was controlled, apparatus were backed from the cul de sac, and salt was applied from a Public Works truck. Relief companies included Engine 1, Engine 27, Ladder 5, and Rescue 2. The ladder was extended and used to enter the second story during overhaul, due to structural instability. Rescue 2 personnel also utilized a hydraulic jack to further stabilize a section of the structure. By this time, however, your humble photographer had departed.
No injuries, including from ice. No occupants, who were out of town. Cause determined as electrical. Units on scene included Durham Highway P1, P2 P4; Raleigh E23, E24, E18, E17, E9 (?), L6, R3, B4, B3, B1, C10, C20, A1, Six Forks EMS 123, 122, 124, D4, and Wake EMS T1. Relief companies: E1, E27, L5, R2. View preliminary photos by Legeros. Or read the WRAL coverage.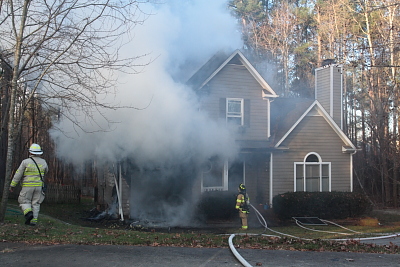 ---
Does anyone know if Bethesda was dispatched? i think the fire was just around the corner for their station 2, which is contracted to the area by Raleigh?
Bethesda - 01/03/10 - 21:24
Bethesda has no contract into this side of Harrington Grove. This was on the Wake County side, which gets DHVFD response as well as being in E-23 / L-6 first due.
RFD - 01/03/10 - 22:43
DHP2 did not respond it was P1 and P4, MIke just a small correction.
DHFD - 01/03/10 - 22:59
It would make too much sense if Bethesda had been dispatched….
2Bethesda - 01/03/10 - 23:00
Did anyone need an IV
IV - 01/04/10 - 08:21
As the crow flies, Bethesda Station 2 looks about a half-mile from the fire. Add road distance, says Google Maps, and it's 2.5 miles.
Legeros - 01/04/10 - 08:41
whatever happened to closest station response?
charlie - 01/04/10 - 08:54
The closest Wake County engine was dispatched, DH.
New Year, New Horse - 01/04/10 - 09:22
Why can't everybody just get along and not bicker/armchair QB? This is the main reason I don't volunteer anymore. A system is in place for a reason. Some may think that it's not the best, some may think otherwise. Give all the guys (and gals) props for busting their butt in freezing conditions without getting injured.
charlie3 - 01/04/10 - 12:11
There were some very funny and acrobatic moves made by many of the guys there on the ice (LOL). Maybe we can help out the Hurricanes? Thankfully no one was hurt and we had some laughs. Cold is not even a good word to describe how it felt!!
A.C. Rich - 01/04/10 - 12:50
no…there was no medical treatment needed…those that fell on the ice were not injured…rehab was routine and everyone was glad for that. Job well done to all the crews that were out there….yes, Capt Rich, it was beyond cold…you are correct!!
abc - 01/07/10 - 15:38