06/06/10 189 W, 1 I - + 13 - 13 Sanborn Fire Insurance Maps... in Color!
That North Carolina Maps site, referenced in the Trolley Tracks posting, is a digital collection containing over 3,000 maps from the North Carolina State Archives, the North Carolina Collection at UNC-Chapel Hill, and the Outer Banks History Center. As it happens, they have digital version of Sanborn Fire Insurance Maps produced through 1922. That's the year before their copyright starts. (Said maps were produced to the 1950s.)
We've blogged about digital Sanborn Maps before. They're available through NC LIVE-- typically requiring login through a library account-- and are available for all years produced. Not just until 1922. But they're black-and-white. Sanborn Maps surfaced by North Carolina Maps are in glorious color. Which makes them infinitely easier to read. User interface is also faster and more intuitive. Click the Sanborn Maps tab on the main site, and scroll down to see a list of all available.
For extra credit, can you identify the "mystery map" below. That's a city hall building with a fire station, in a popular North Carolina city. Man, nothing better than old maps!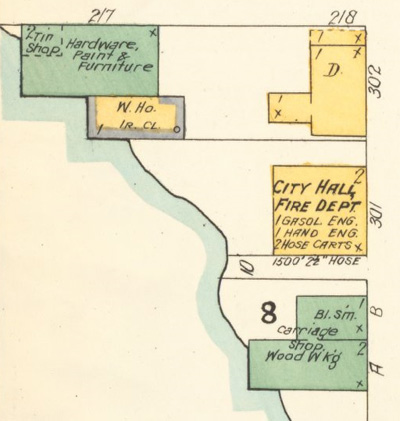 ---