06/07/10 119 W, 1 I - + 13 - 9 Trespassers Burned at Raleigh Substation
WTVD posted this video report on an usual incident in southwest Raleigh early this morning. Just after midnight, units were dispatched to an electrocution at a Progress Energy substation near Centennial Ridge Way and Tryon Road.
A man and a woman in their mid-twenties were treated for burns after climbing a fence and receiving electric shocks in the order of 23,000 volts. One was seriously burned and WRAL reports they were rushed to UNC hospitals.
Power to the substation was temporaily shut down during the rescue, which caused an extended outage to that area. A third person involved is being sought. Units on scene included Engine 20 and EMS 8.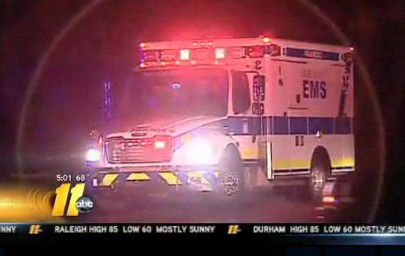 ---
Listened to some of this on the scanner archives. E20, EMS8, EMS11. Others? Male victim found at substation. Female victim found at nearby apartments. Substation down long gravel road.

Bing maps has bird's eye view, though linking to same seems unavailable. Basically, the thing sites behind a number of apartment buildings. That is, through the woods to same.

Google Maps aerial view, http://maps.google.com/maps?f=q&source=s..
LJM - 06/07/10 - 09:15
Wow!!! Think a fence would have been a clue to stay out ???
Tim B (Email) - 06/07/10 - 12:20
Once again… here's your sign!
A.C. Rich - 06/07/10 - 14:00