06/12/10 265 W, 1 I - + 12 - 10 Interschutz
The international fire/rescue/safety/security expo Interschutz is underway this week in Leipzig, Germany. It's purportedly the largest such show in the world, and is organized only once every five years. And that's up from once every ten years, if memory serves.
Firegeezer has surfaced some photos and links from FWNetz.com, including an image gallery numbering 300 images. Mostly apparatus photos, and of which are mostly European rigs. Some of the trucks that caught Mr. Blogger's eye include:
Also observed a multi-axle aerial platform by Bronto in Finland, which is touted as a new world's record of 112 meters. That's 367 feet, Charlie. Talk about a pucker-factor! And there's lots of other stuff. Heavy pumps. Light pumps. Aerials of all sizes. Airport apparatus. A military tank conversion.
Great photos by the gang at FWnetz. Thanks for posting, and giving the world a chance to virtually share in the experience!
We hope to attend in 2015, after unsuccessfully planning a trip there this year. That is, Mr. Blogger looks forward to attending. The Missus was more excited at the prospect of our first European trip, than that particular destination.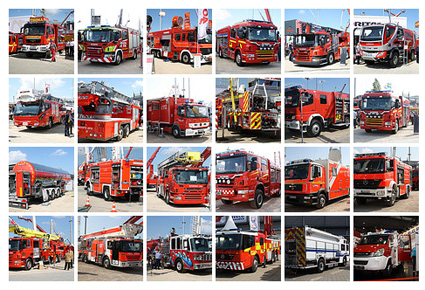 ---
The first truck is not only a mobile ventilation unit. Itīs a pumper/engine of the Basle FD (Switzerland) and designed for fires in underground traffic facilities, like subway, tunnel, underground parking lots, etc. The ventilator is just one part of the truck. It has also 1190 gallons of water, 529 gallons of foam, 200 pounds of powder and 80 pounds of CO2 on board.

The tractor-drawn tank and pump is from Poland.

I also planned to visit the Interschutz this year, but donīt have the time. Maybe in 2015, too.
Dennis (Email) - 06/12/10 - 11:35
some awesome equipment on display there-would love to be at next one! we could learn a few things from our European brothers with regard to equipment. Some of it is really well thought out.
goose - 06/12/10 - 17:46
Anyone have any ideas when Raleigh's replacement tiller will be in?
tiller - 06/16/10 - 07:52