06/26/10 149 W, 1 I - + 13 - 8 Still More Sanborn Maps
He never tires about blogging about
Sanborn Maps
, those marvelously detailed maps from the late 1800s and much of the 1900s, that documented fire equipment, water supplies, buildings, and other infrastructure of locales across the country.
See such maps from North Carolina
. Mike's latest map play involves Raleigh maps and a set of digital crayons. He's extracted those pages containing diagrams of then-current and then-former fire department facilities. Mostly fire stations, but the alarm house as well. The idea isn't new--
see this web page of his
-- but the color scheme is a change. And the streets are now shaded. And notations have been added. Got the idea from a
Detroit discussion board
, and someone's highlighting of former fire stations there.
View the Sanborn Map excerpts
. And just ignore Mike speaking in the third-person. Must be the heat.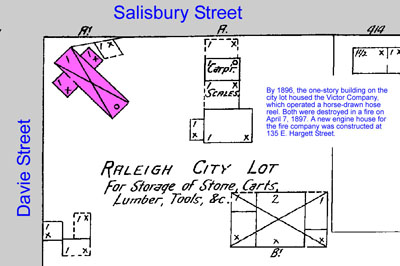 ---