09/04/10 104 W, 1 I - + 7 - 4 This Afternoon's Second Alarm in Cary
Two alarms at
607 E. Chatham Street
. Engine 2 arriving at a one-story, wood-frame, six-unit, residential motel, with 2,400 square-feet. Harrison Motel, built 1950. Heavy fire in single unit, with extension to adjoining units. Second alarm requested within minutes. Interior operations with vertical ventilation. Staging on East Chatham Street, with three of four lanes closed by police. Rehab and medical monitoring street-side. Dispatched just after 6:00 p.m. Controlled in about 30 minutes. Units on scene included E2, E1,
E3,
E4, L1, L3, T6, R2, B1, B2, Western Wake
P196
P191, EMS 54, EMS 53, D5, WC1. Photos forthcoming.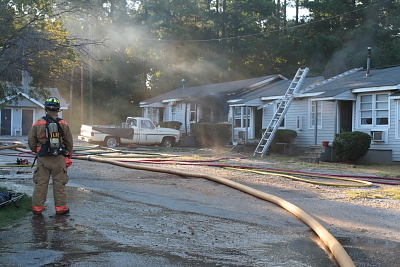 ---
Thanks for the Cary coverage Mike!
fire1983 - 09/04/10 - 21:02
Mike, correction on units… CFD E3 was not on the alarm, and it was WWFR E191 on the box not P196.

and ditto on thanks for the Cary coverage!

and FYI a second alarm in Cary is 1E and 1L. The second brought E1, L3 to this. It would have been E1's 2nd due on the original alarm but they were on an EMS run at the time.
CFP 7021 - 09/05/10 - 10:30
Thanks for the updates! We didn't mention L5 as E20, which was a coverage unit.

Glad I could make it. Here's how my luck was going that day.

Working house fire in Raleigh, couple blocks from my house. Mike was sitting in MACHETE matinee in Cary.

Two alarms in Cary, couple miles from the theater. Mike was leaving the EM warehouse in Gary, having just driven there from the movie!

BUT, upon leaving the Cary fire, dinner was easy to find. Dined at the splendid Indian restaurant across the street from the Circus. Butter chicken on the buffet. Yum.
Legeros - 09/05/10 - 10:51