02/28/11 456 W, 2 I - + 7 - 6 Future Home of Morehead City Station 2
Pictured is the future location of Morehead City Fire & EMS Station 2 at 4034 Arendell Street. That's the old News-Times building, a one-story structure with 6,690 square-feet. Built 1977. The structure has both bay space and an office area, the latter which will be converted to living quarters as well as the administrative offices for the fire and EMS departments. The building will also house a relocated satellite police station. The entire structure is planned for use, and without expanding the building's footprint. The property had been on the market for several years, and the town acquired same at a cost below market value.


Funding is being provided by the United States Department Agriculture, though what looks like a combination of a loan up to $2.1 million and a grant of $200,000. Early estimates placed the project costs at $1.05 million for acquiring the land and $1.3 million for renovation and site improvements. The architect for the renovation is C. R. Francis Architects of New Bern. Renovations are planned for completion this year. Moving the station will also lower the ISO rating for the town, from 5 to 4. (The location is more strategic, the town having developed in directions west and north of the original municipal boundaries.) The project was approved at a special meeting of the city council on November 22, 2010.
The current Station 2 is located at 3308 Arendell Street. It's a combination one- and two-story structure with 3,342 square-feet. Built in 1956, it's had additions including a bay extension in the rear and living quarters added on the west side. The station houses Engine 2, a quint, and a reserve pumper-tanker. The fireboat is also housed there, parked in the rear. The boat appears to be out of service, based on reading the below town minutes. The fire station sits on land owned by the Carteret County School System. If the city ceases using the building, the property reverts back to the schools.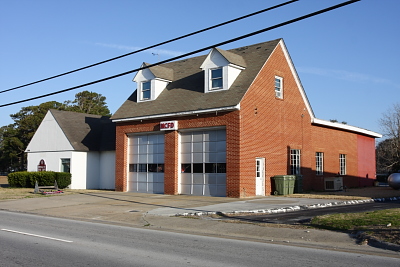 Camp Glenn Elementary School is located beside the fire station. It's named after the National Guard camp on that site from 1911 to 1918, and was later the site of a Navy base and the first Coast Guard air station, 1920 to 1921. The first State Highway Patrol training school was also held at that location, at the site of the then-abandoned camp.

See more photos of both buildings.

Sources:
---