03/09/11 93 W, 1 I - + 12 - 2 Applebee's Flapjack Fundraiser for Wake County Firefighters Association, Sunday, March 13
The Wake County Firefighters Association is holding its first Applebee's Flapjack Fundraiser at the Knightdale Applebee's on
6609 Knightdale Boulevard
on Sunday, March 13, from 7:30 a.m. to 10:00 a.m. Tickets will be $7 per person and all proceeds will benefit the Wake County Firefighters Association. Tickets can be purchased at the door. Departments are encouraged to bring apparatus, for display in the parking lot of Applebee's.
Here's a printable flyer
, as well. Be there and bring an appetite!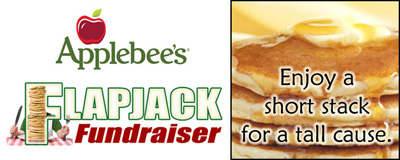 ---
Mmmmm….how about apple flapjacks? Those would be deee-lish.
Silver - 03/09/11 - 15:07