03/13/11 108 W, 1 I - + 8 - 5 Caption This Photo / Flapjack Fundraiser
That's Wake County Firefighter's Association President and Bus Boy Extraordinaire Lee Price in action at Applebee's in Knightdale, where a Flapjack Fundraiser raised about $800 through the sale of 180 plates of cakes 'n' links. Thanks for everyone that participated, both behind the scenes and before the fork. Good eating and good fellowship. And nobody broke the camera, though they made the joke a few times. But like a Hawaiian shirt at a fire scene, it never gets old. The association is planning future fundraisers at Applebee's in other regions, one per quarter.
See photos from this morning
.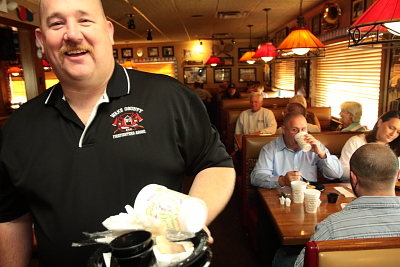 ---
Lee Price's house of munch
ha - 03/14/11 - 10:43