03/21/11 226 W, 2 I - + 13 - 4 When Old Buildings Look Like Old Firehouses
As a result of my research and photos of Baltimore (city) former firehouses a couple years ago, random questions occasionally appear in my inbox. The latest was from the owner of 18. S. Schroeder Street. They were curious about the history of the building, which their neighbors believed was a former engine house. The owner also couldn't find any information prior to 1936.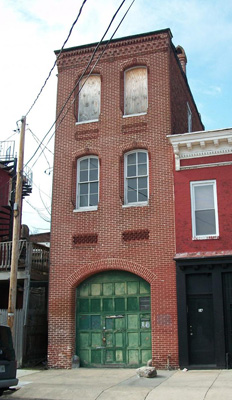 Not seeing any information in my own lists, I turned to the experts on the Baltimore City Watch Desk forum. They didn't have such an engine house on their lists, either. And one offered that the building looked like a carriage house. Since Yours Truly today happened to be at the Library of Congress, with access to Digital Sanborn Maps, a little research confirmed those observations. Here's the building from the 1914-15 fire insurance map, listed as occupied as a carriage house and also undertaker supplies (!).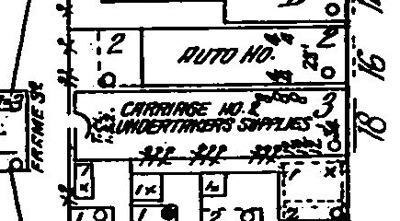 In the Capitol City (Raleigh), old buildings that look like old fire stations are few and far between. Head north and east-- or even south, to such places as Charleston-- and there are many such structures. And people probably think quite a few of them were former fire stations.
---
What do you know offhand about 417 S. Dawson St? I hope this link works:

http://maps.google.com/maps?f=q&source=s..
rfburns - 03/21/11 - 16:40
This would be a sweet house for a Heavy Rescue company..http://maps.google.com/maps?hl=en&client=safari&rls=en&bav=on.2,or.r_gc.r_pw.&um=1&ie=UTF-8&q=central+prison+raleigh+nc&fb=1&gl=us&hq=central+prison&hnear=Raleigh,+NC&ei=mguITc2JJczAtgf92d3hDQ&sa=X&oi=local_group&ct=image&resnum=4&ved=0CAQQtgMwAw
Silver - 03/21/11 - 22:41
Dang it!!!! It's the building at 1400 Western Blvd., in front of the prison. Link didn't work…
Silver - 03/21/11 - 22:45
About the building on Dawson Street, county tax records say it was built in 1920. http://services.wakegov.com/realestate/

Before that time, Sanborn Maps, http://www.lib.unc.edu/dc/ncmaps/sanborn.., show dwellings at that location.

The tax records call the building a warehouse. Since it was built in 1920, that means it was built in the era when RFD was both career and motorized. Fire stations in the city in that era required living quarters, which this building doesn't have, or doesn't look to have.

Plus, there's no record that I have ever come across, noting that it was used by RFD. But others have asked that same question!
Legeros - 03/22/11 - 07:19
http://kearc.com/sdawson.html
Google Search - 03/22/11 - 11:14
Jeff It would be but might not fit! Leave Rescue on north side that's where all the fire is currently coming from!
Jason Lane - 03/22/11 - 18:54
True J', I just mean the concept here of a single company Rescue house would be cool, especially in a key spot such as 1400 Western (can get to a lot of spots quickly). You are correct though, the Fire Triangle these days is 11's, 15 and the ol' one-niner. Glad to see you guys are gettin' some…
Silver - 03/22/11 - 19:58
Agree Jeff there are some cool buildings, especially the old ones like old, old station four looks like a house, then I like the old water tower building!
Jason Lane - 03/22/11 - 23:39
Agree and agree!! Speaking of, I bet the City could get a good deal on Old #4 on Wake Forest!!! It's "For Lease"...
Silver - 03/22/11 - 23:55
Thanks for the notes on 417 S. Dawson Mike and "Google Search". I appreciate it. I guess when you see bay doors opening up to the street, you just assume fire station, which isn't always the case…
rfburns - 03/23/11 - 06:35
Here's a gallery of nearly 200 former firehouses and fire department buildings around our state, http://www.flickr.com/photos/legeros/set..

And galleries of old engine houses from other cities, http://www.flickr.com/photos/legeros/col..
Legeros - 03/23/11 - 07:01
the city needs to worry more about getting more rescue companies and engines and ladders before worrying about how cool a one company rescue house would be. Until they can take water off the ladders because of their ISO rating and when a 3 alarm fire hits and half the city is gone. Keep that in mind.
point - 03/30/11 - 07:12
^Rescue companies do not have any beneficial affect on ISO ratings.
RescueRanger - 03/30/11 - 22:05
But RR, if said rescue company carries an ISO recognized compliment of ground ladders, does that invisibility still apply? (Raleigh companies do not. Cary Rescue 7 does, I think…)
Legeros - 03/31/11 - 07:52
Mike that is correct. A 'rescue' that is more equipped as a 'service truck' can receive all the points that a ladder truck does minus the points for the elevated master stream. Point in case, WWR295 is equipped and recieves all points that a ladder does, except the ladder pipe. And you are correct that CFD R7 is similarly equipped as the new CFD R4 will be. Dual purpose trucks, with additional equipment = ISO points and usability.
shevais - 03/31/11 - 08:19
ok well do you not get my point? Raleigh HAS to carry water on ladders because of their ISO rating. They also DO NOT have enough engine companies. Closing county stations that run with the city is an idiotic idea that they do because they think that they are above the volunteers and even the paid guys. It will take a horrible fire for the city to realize what they have done and screwed up. Silver making the joke about old 4 but in all seriousness, open it again. Put an engine company and something else there. It is desperately needed whether you see it or not. Look at yesterdays fire, over 25% of the cities engines were at that fire, 25% of the ladders, and 66% of the rescue companies. Just keep an open mind about this.
point - 03/31/11 - 09:32
@point

Pretty much everyone who comments on this blog is not in a position to open fire stations, old buildings etc. They are merely speaking of their opinions of what they would "like" to see. The old building with a Rescue would be cool for nostalgia type reasons for history buffs and firefighters who like the old time feel, but everyone knows that it wont happen. The Fire department admin. and city manager make the decisions on purchases and station placements and I dont think i have ever seen any of them comment on this blog. As far as old Station 4 is concerned, yes i feel it was a mistake to close it but unless the private owners come down on their asking price then i do not see the City getting it back especially the way the economy is. So if you are really worried about some firefighters who think it would be cool to be stationed in a older building and really think they would rather have that building than more Engines and Ladders then i feel like you dont get the "point" of what this blog is about or how Municiple Fire Departments are run.
gen3fire - 03/31/11 - 10:13
ISO points awarded for ladder or service trucks are dependant on the territory served. For instance, Raleigh's response area requires a certain number of ladders based on buildings over 3 stories tall. So RFD does not qualify for points for service trucks. On the other hand, some county departments may receive this type of credit if the territory doesn't contain buildings of that height.
ISOer - 03/31/11 - 10:41