03/26/11 244 W, 2 I - + 10 - 9 Beam From World Trade Center Displayed in Chatham County Ceremonies Today
As this WRAL story reports, a piece of the World Trade Center wreckage will be displayed in ceremonies in Pittsboro, Goldston, and Siler City today. The ceremonies and the artifact are part of a plan to develop a Chatham County 9/11 memorial. The route and schedule, from the article, is below. See this press release for more information.
9:00 a.m. - Entering Chatham County at Orange County line on U.S. Highway 15-501 North, heading to Pittsboro
9:30 a.m. - Hosting a Tribute Ceremony at Lowe's Home Improvement parking lot in Pittsboro and remaining at this site until 10:30 a.m.
10:30 a.m. - Leaving Pittsboro following Business 64 to N.C. Highway 902 towards Bear Creek, but turning onto 1010 (Pittsboro-Goldston Road) toward Goldston.
11:00 a.m. - Hosting Tribute Ceremony in Downtown Goldston on Belleview Street and remaining at this site until noon.
12:00 p.m. - Heading north on U.S. Highway 421 to Siler City and exiting at U.S. 64 Business, heading east to the Walmart Shopping Center.
12:30 p.m. - Hosting a Tribute Ceremony at the Walmart Shopping Center in Siler City and remaining at this location until around 1:30 pm.
1:30 p.m. - Tribute Trail ends
Afternoon update. Here are a couple pictures from the tour's first stop, in the parking lot of Lowes in Pittsboro. See more photos, taken post-ceremony through post-departure.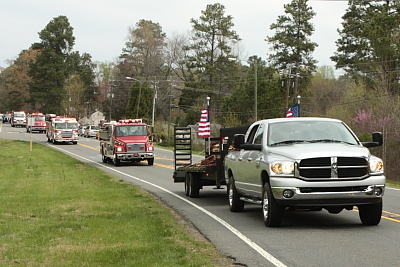 ---
News & Observer gallery from today, http://www.newsobserver.com/2011/03/26/1..

And an 80 shot gallery at that! Wonder if that's something new, the N&O posting so many photos from a story, versus just a handful?
Legeros - 03/26/11 - 16:41
My photos from the event, http://legeros.com/ralwake/photos/2011-0..
Legeros - 03/27/11 - 12:47