05/19/11 209 W, 1 I - + 9 - 6 Raleigh Street Map, 1959
For your evening enjoyment, check out this digitized 1959 street map published by the Raleigh Chamber of Commerce. It's presented by the UNC Library's North Carolina Maps web site.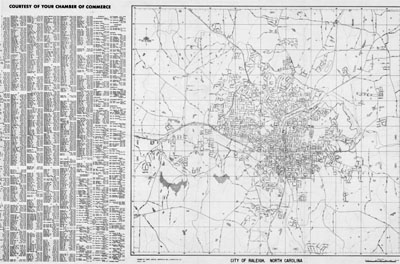 Some of what's noticed:
No Beltline!
Rhamkatte Road is present-day Lake Wheeler Road.
Avent Ferry Road has been rerouted to Western Boulevard, east of Dan Allen Drive.
Gorman Street is still decades away from connecting to Hillsborough Street.
Hillsboro Street is spelled thus.
Reedy Creek Road and State Farm Road ride right into Umstead Park.
Creedmore Road is spelled thus.
Leesville Road starts at Glenwood Avenue.
Millbrook Road ends at Six Forks Road.
Howell's Road is a street south of Lassister Mill and should be the site of Howell's Store, which was also the first location of the Six Forks Road FD.
Mini City doesn't exist, of course.
Race Track Road leads to... a race track, east of Old Wake Forest Road.
North Boulevard is named thus.
Rose Lane looks long as heck.
Creech Road is named Old Creech Road and New Creech Road.
Raleigh Municipal Airport is shown in south Raleigh.
Parkland Road runs parallel to Pecan Road, where a new Fire Station 2 will be built in ten years.
---
Absolutely cool. I have been looking for an old Raleigh map, from the 70s, off and on for a while.
DJ - 05/19/11 - 22:01
A nice accompaniment to the maps on that site are the Wake County IMAPS historical aerial maps, which date to 1981. You have to endure the street labels, which I can't figure out how to toggle off. But neat all the same.
Legeros - 05/19/11 - 22:08
An absolutely awesome find! Is there a story behind the neighborhood across from North Hills, where the streets were numbered? Comparing that map against today's map, it looks like 9th St=Lassiter Mill Rd, 7th St=Dartmouth Rd, 8th St=Camelot Dr, 14th St=Lambeth Dr, etc.

In that same area, I guess Rogers Rd is now Ramblewood Dr. And it's neat how Howell's Rd runs through what would eventually become North Hills Mall. Also, if you carefully compare the above map and today's map at the intersection of Millbrook and Six Forks, it looks like back then Millbrook was aligned with what is today Windel Dr. Also funny to think that this area was a few miles outside the city limits back then!
rfburns - 05/20/11 - 07:02
There are other Raleigh maps on the site, such as this one from 1928, http://dc.lib.unc.edu/u?/ncmaps,9544

You can do some pretty neat map-based explorations, across the various maps.
Legeros - 05/20/11 - 07:05
Also, it looks like Wake Forest Road had already been screwed up where it crossed Downtown Blvd by this time. I wonder when that happened…
rfburns - 05/20/11 - 07:15
If you look at the 1948 map, Downtown Boulevard doesn't exist. Instead, a road named what looks like Dawson extended north to Fairview Road. Then Louisburg Road started where Wake Forest Road turned north.
Legeros - 05/20/11 - 07:40
Is there any way to get a high quality version of this image?
Jeanne T. Rivenbark (Email) - 11/21/20 - 17:46