05/21/11 324 W, 1 I - + 4 - 8 The Little Round Knob
Every digital SLR camera has a little round knob that controls the shooting mode. The settings include Automatic, Program Shift (P), Shutter Priority (Tv), Aperture Priority (Av), and Manual (M). Mr. Blogger uses Program Shift (P) nearly always. The notable exception is when the little round knob gets bumped. This happens from time to time, and results in some or many pictures taken in Shutter Priority (Tv) mode. (Accidental bumping into Automatic mode is easier to detect indoors, as the flash starts popping up.)
This happened last night, as Yours Truly attended the Cary Fire Department's inaugural promotion and awards ceremony. (See those photos.) Thanks for the invite on that one. But apologies for the grainy photos, which will be posted shortly. Imagine the surprise, shock, and horror upon discovering, some hundreds of pictures into the night, that your DSLR camera has been shooting Tv instead of P. That's when you realize why your pictures had been darker than brighter, and why you bumped the ISO higher and eventually to 1600. Which allows more light, but adds noise/grain to the image.
What's the remedy in such situations? Can't start over. Can add additional post-processing, using something like Noise Ninja. (Never tried heard, but have heard about.) Or you live with the results. In this case, the amount of grain is acceptable and perhaps entirely fine. How to prevent future miscues?
Well, you can check your damn camera before you start shooting. And keep watching the thing, as you jostle it around. (The newest Canon DSLR camers have a locking knob, which is even better!) Perhaps add a little sign to the strap: check your damn settings. (More than photographer has told me their story of attaching notes to their camera, until checking ISO settings became automatic to them.) And maybe, in general, just getting better. It takes time. Always learning. Always improving.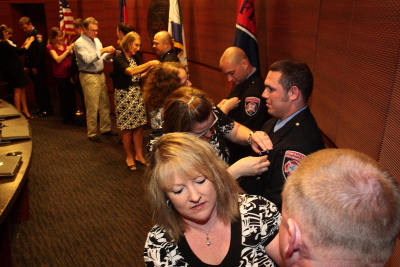 ---