10/12/12 156 W, 1 I - + 9 - 2 History Talk at Raleigh Fire Museum Tomorrow
Don't miss Mike's magnificent words 'n' pictures history of the Raleigh Fire Department, starting at noon on Saturday, October 13. The location for the hour-long talk is the Raleigh Fire Museum, 105 Keeter Center Drive, Raleigh. The museum is also open that day, from 10:00 a.m. to 2:00 p.m. Come and learn about the history of firefighting in the Capitol City, from before the volunteer era through the modern career department.
Parking and restrooms are available. Admission is free. The museum is open on the second Saturday of each month, and is Learn more about the museum, and the group that operates it, at www.raleighfiremuseum.org. Please note antique Raleigh fire apparatus are stored elsewhere. Read this prior posting for those details. See you tomorrow.
PS, want a preview of the presentation slides? Here you go (PDF), read ahead as desired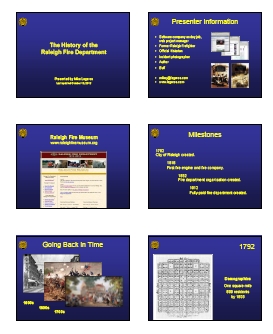 ---