12/27/13 257 W, 1 I - + 8 - 5 UPDATED: Arrangements for Youngsville Asst. Chief Jeff Fields
December 27
The Wake Forest News has posted a nice story about Chief Fields passing. He had recently survived a heart attack and subsequent bypass surgery, when he died suddenly on Christmas morning. He joined the department in 1984, notes the story, and everyone described him as a "big guy with a big heart." He was one of the top "call runners" for the past decade, assisting at more than half of all calls in the district. Notes the story, his ninteen year-old daughter Emily recently joined as a volunteer. He last ran a call on December 12, at a motor-vehicle accident on Highway 1. Read the story.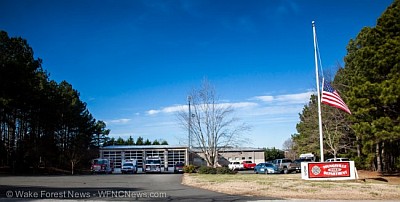 December 26
Social media has been sharing the news of Youngsville Fire Department Asst. Chief Jeffrey Lee "Jeff" Fields, who died at home on Christmas morning. He was fifty-one years old. Funeral arrangements have been announced.
Visitation is Saturday, December 28, from 12:00 p.m. to 2:30 p.m. at Youngsville Station 1, 803 Wheaton Ave, Youngsville. Funeral service will be conducted at 3:00 p.m. at Youngsville Baptist Church, 315 E. Main St, Youngsville. There will be a procession from the fire station to the church, which are about 1.4 miles apart, says Google Maps.
Chief Fields was a member of the Youngsville Fire Department for thirty years. By day, he worked as a warehouse manager. He's also a veteran of the United State Marines. He's survived by his wife of twenty-four years and two children. Read his obituary.
---
That is terible news.
Prayers go out to the Fields family. And to the great folks of the Youngsville Fire Department.
Buckwheat - 12/26/13 - 19:24