08/15/14 160 W, 2 I - + 10 - 7 Charlotte FD Trucks Web Site - New Design, New Old Photos
Haven't visited the Charlotte FD Trucks web site lately? It's been redesigned and has a new address, www.charlottefdtrucks.com. The site's also added numerous archive photos, such as those shown below.
Top to bottom, left to right is Engine 7 as a 1943 American LaFrance, a 1942 Dodge/American former Morris Field crash truck, a 1940 White searchlight truck (alt. year 1938), Engine 5 as a 1966 Seagrave and the only one that was yellow, Squad 1 with a Ford Econline van, and Truck 7 (also the original Rescue 1?), a 1970s Ford F700 with a utility body. Notes the site, it was staffed by Squad 1, and responded on second alarm fires and pin jobs. Here's a prior post about Squad 1.
Visit the Charlotte FD Trucks site.
See also our recent postings on Charlotte FD fleet history: 1910s-1970s | 1980s-1990s | 1999/2000/2001 ALF/GS | 2000s-2010s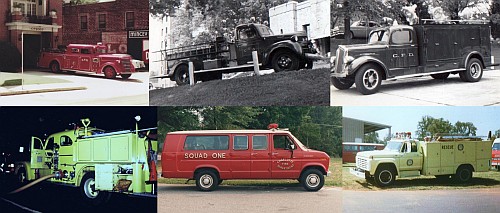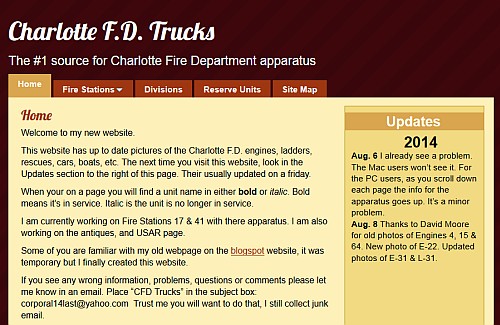 ---