01/16/15 245 W, 2 I - + 8 - 5 Wake County EMS Adds District 7
District Chief 7 was placed in service today at the Garner East EMS station, e.g Garner Fire Station 4 on Spaceway Drive. The Wake County EMS paramedic unit is a full-fledged response unit. The District Chiefs also function in a supervisor capacity, and have a variety of additional administrative responsibilities. Chief Kev today is driving a Suburban, which is a temporary truck until the new Expedition is ready. Here's a Facebook posting from WCEMS with more information a couple more photos.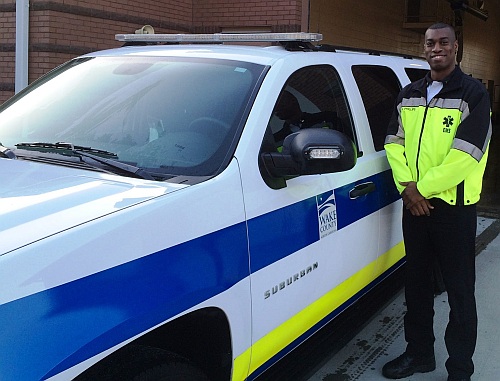 Where are the other District Chiefs located? Here's the list, though they don't have designate response areas. These are their "base stations" and they respond as closest unit via automatic unit location via GPS.


UNIT
STATION NAME
STREET ADDRESS
TOWN
NOTES
District 1
Downtown
331 S. McDowell Street
Raleigh
Wake County Public Safety Center
District 2
Fairview East (?)
4500 Ten-Ten Road
Apex
Fairview FD Station 1
District 3
Durant
10000 Durant Road
Raleigh
District 4
Six Forks Main
1431 Lynn Road
Raleigh
Bay Leaf FD Station 3
District 5
Cary Main
107 Medcon Court
Cary
District 6
Wendell Main
401 E. Third Street
Wendell
District 7
Garner East
125 Spaceway Court
Garner
Garner FD Station 4
District 9
?
107 Sunnbrook Road,
Raleigh
WakeBrook Campus, staffed 11:00 a.m. to 11:00 p.m.
Advanced Practice Paramedic Supervisor.
District 10
n/a
n/a
n/a

Special Event District Chief, placed in service at
such things as the State Fair.
And here's a map. Click to enlarge:
---
DC-9 is stationed at Garner Fire Station 4. The district chief arrives in the morning and then relocated during the day. He is in charge of the APP'S
Fire Hound - 01/17/15 - 11:01
No DC-8?
EMS - 01/17/15 - 13:31