02/01/15 128 W, 1 I - + 7 - 2 Raleigh Fire Company Charters, 1870s
For your Sunday historical enjoyment, here are the original legislative laws that chartered or incorporated Raleigh's fire companies in the 1870s. These are excerpted from collected volumes of private laws as passed by the General Assembly.
They feature the Rescue Steam Fire Engine Company, the Hook and Ladder Company, and Victor Fire Company, and the Bucket Company. See the documents, which are PDF format. These are linked from my Raleigh Fire Department history page.
What other volunteer fire companies served the Capitol City, you ask? See this history chart (PDF) for an overview, and this detailed list (PDF) for details. Who were the particular? See this list of names (PDF) as culled from various period rosters.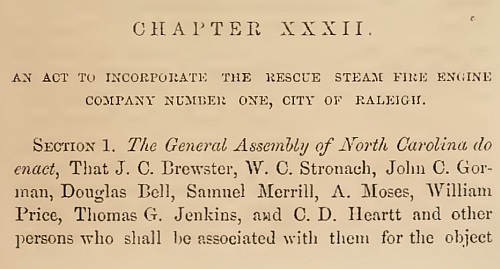 ---