02/05/15 122 W, 1 I - + 10 - 4 Best Recruit Academy Plaque Ever?
Found on Twitter, first tweeted by "Hooks" (@Dhooks89). Charlotte Fire Department Recruit Class 93. Awesome. Next question, why is Charlotte's latest academy numbered 93, while Raleigh's current class is numbered only 40? Aren't they both Very Old Fire Departments?
Have a couple theories. First, Charlotte grew faster than Raleigh, and likely had an earlier need for formal fire academies. (And has surprassed Raleigh's growth over the decades, which means more fire academies needed.)
Second, the Charlotte Fire Department implemented formal fire training a few decades earlier in their history, with the creation of the Palmer Fire School. This likely translated to earlier formal fire academies. Reader and/or historian input welcome.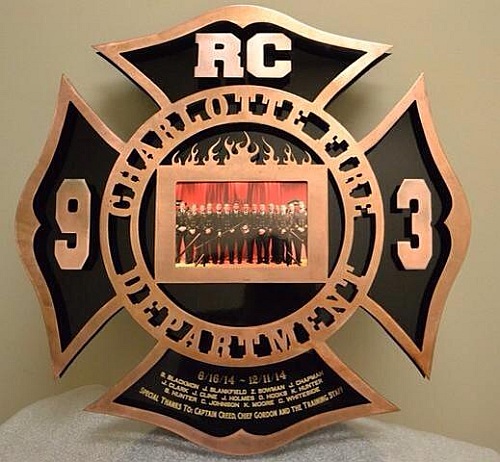 ---
Yes Charlotte has outpaced Raleigh in growth of both their city size and fire department. With close to 1100 employees, the fire department usually has a large number of people retire each year. Also, 5 firefighters are assigned to every piece of apparatus in the city. Recruit classes 94, and 95 are in the academy as we speak. R/C 96 is set to begin in the coming months. The new hiring process has just started for the academies later this year. I was hired in Jan of 2007 and was class 75, so in just over 8 years there has been 20 classes since mine.
john - 02/06/15 - 09:58
Also, you aught to ride to the academy sometime if you are in the area and look at all the other plaques hanging on the wall. Pretty awesome. Every class presents a plaque to the academy.
john - 02/06/15 - 10:00