02/05/15 74 W, 1 I - + 12 - 6 Coolest Industrial Pumper-Tanker Ever?
From the Pierce Flickr page, Jack Daniels Fire Brigade in Lynchburg, TN. Unit is named Pumper 7. Capacity includes 3000 GPM, 2000 gallons foam, 500 gallons water.
Read this story
by Patrick Huguenin about the JDFB and their Fire Chief Fred Elliott. The brigade has thirty-four members, all full-time employees of the plant. Thanks to Lee Wilson for finding the pic.
See larger versions
of the picture.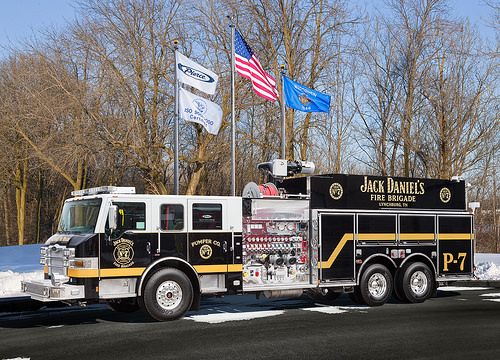 ---
Firehouse.com story on this truck. Has 600 HP engine, 3000 GPM pump, Husky 300 foam system, 2000 gallon foam tank, 500 gallon water tank, 2000 pound dry chemical system, and eight-inch Hydro-Chem deluge gun. http://www.firehouse.com/press_release/1..
Legeros - 03/19/15 - 22:45