03/19/15 135 W, 3 I - + 9 - 4 Columbus County Apparatus Accident on Tuesday
As reported in this WECT story, two Columbus County firefighters were injured on Tuesday afternoon when their engine overturned while responding to a grass fire. Old Dock Cypruss Creek Fire Department Engine 8 was responding to a grass fire when the accident occurred on Dock Road about three miles east of Highway 130. The accident occurred about 5:15 p.m. on a curve. The apparatus left the roadway and overturned. Notes this Fayetteville Observer story, other firefighters removed the two men from the truck before ambulances arrived. Neither suffered serious injuries and were reportedly conscious and alert when transported to a hospital in Whiteville.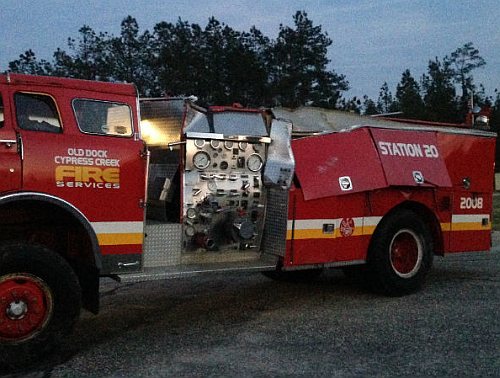 WECT images / Google Maps image
Map location is approximate!

---