06/07/15 145 W, 1 I - + 9 - 6 Fire Truck Show at NC Transportation Museum, Saturday, June 13
Event announcement. Fire Truck Show at the North Carolina Transportation Museum on Saturday, June 13. (Same day as Raleigh Fire Museum opening, which Yours Truly is likely staffing. Sigh.) Event is 10:00 a.m. to 2:00 p.m. Concludes with a fire truck parade at 2:00 p.m. Requires admission to museum. Participating fire departments and organizations:
Salisbury FD
Spencer FD
East Spencer FD
Cleveland Community FD
Cold Water FD
Concord FD
Ellis FD
Faith FD
Locke FD
Millers Ferry FD
Scotch-Irish FD
NC Forest Service
Society for the Preservation and Appreciation of Antique Motor Fire Apparatus of America (SPAAMFA).
Includes display of the museum's fire truck collection, which includes a 1917 Brockway service truck from Elizabeth City and a 1922 American LaFrance from Asheville and Lexington.
See Legeros photos
of the museum's apparatus collection.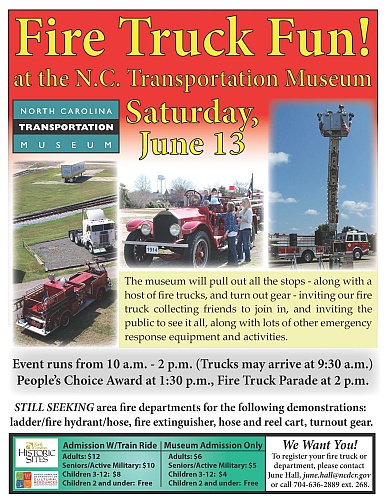 ---