06/24/15 172 W, 1 I - + 7 - 6 24th Annual Great American Fire Truck Parade in Wilkes County, July 4, 2015
Looking for a fire truck parade on the Fourth of July? Tool over to Wilkes County, where the 24
th
Annual Great American Fire Truck parade will commence at 8:00 p.m. on Saturday, July 4, 2015. The parade starts in historic downtown Wilkesboro and proceeds through North Wilkesboro. The trucks run lights and siren, but no candy is thrown.
See this poster
(PDF) or visit this
Facebook event page
.
The event is sponsored by the Wilkes County Fire & Rescue Association. They expect between seventy-five and a hundred pieces of apparatus (!), along with agencies like the North Carolina Forest Service and local law enforcement agencies.
What fire departments will participate? There are twenty-six that provide service in Wilkes County, and most are expected to participate. Of those, most will have multiple rigs in the parade. Plus surrounding counties like Surry, Yadkin, Watauga, Alexander, etc. Here are pictures from Missy Severt from prior years, from 2012 and earlier.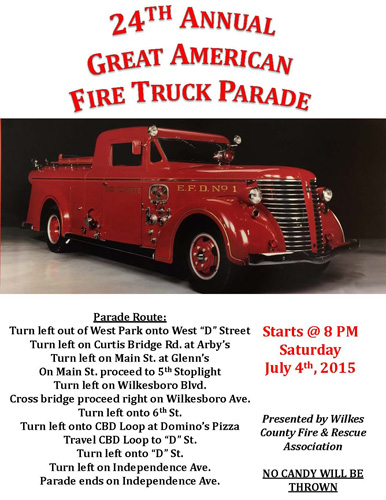 ---