07/09/15 318 W, 1 I - + 3 - 3 Video Footage From 1995 - High-Level Rope Rescue
Let's go back to the Wayback Machine and watch some more historical footage from the Raleigh Fire Museum video archives. e.g., their YouTube channel. This time it's a rope rescue in downtown Raleigh.
On the afternoon on Wednesday, May 3, 1995, two men were repairing windows outside the seventh floor of the Wake County Public Safety Center. At about 2:15 p.m., one side of their motorized scaffolding failed and fell away. The two workers were left hanging in their safety harnesses.
The Raleigh Fire Department and Wake County EMS responded to the scene. Crews went to the roof and a third-floor landing below the workers. As the conditions were assessed, a couple options presented themselves. Truck 11 was brought to the scene and its 105-foot aerial ladder extended. Still wasn't long enough and even after they attempted to add a ground ladder as an extension.
Rope rescue was the next option. The first worker was raised to the roof, as his safely line was evaluated as undamaged. He was rescued at 3:40 p.m. The second worker's rope looked less sound. He would be lowered to the third-floor landing and with the assistance of a rappelling firefighter.
Firefighter D. Michael Davidson performed the task. He had trained in high-level rope rescue as a member of Six Forks Rescue Squad. He descended to the seventh-floor location, attached the worker's harness to his, and both were lowered to the landing at 3:49 p.m. (As a precaution, a giant air mattress had been inflated below them.)
Neither worker was injured. The dozens of spectators cheered. And the whole thing was broadcast live on WTVD. They later supplied copies of the raw footage to the fire department. The Raleigh Fire Museum has created a thirty-minute compilation, from the two cameras that were filming that day.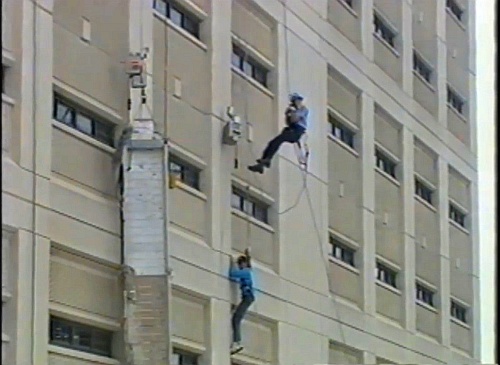 ---
Who exactly is speaking at 25 minutes 30 seconds? I assume a Chief of some level.
2redline - 07/11/15 - 00:56
Chief of Department Sherman Pickard.
Legeros - 07/11/15 - 09:28