09/14/15 365 W, 1 I - + 9 - 5 Adding WiFi to Your DSLR Camera
The latest and greatest DLSR cameras--along with mirrorless, and compact cameras--are equipped with wi-fi. They can transmit their photos to your computer or mobile device, which makes mobile posting a breeze. Snap a shot and post to Facebook, just like that.
Have an older camera that lacks wi-fi? No problem, there are brands of SD memory cards eqiupped with same. Notable brands include Toshiba and EyeFi. What, your camera uses CF cards instead of SD cards? No problem, as adapters are also available.
Yours Truly recently made the leap and my details are below. (Merely X years after the technology has become available. Wish I'd done this years ago.)
This will be a particularly helpful with fire scene photos. For a few years now, I've been posting real-time pictures to Twitter and Facebook. Just a couple, and always using my mobile phone. The problem comes in the process. Taking a phone picture means changing modes, from DLSR to iPhone. This interruption invariably causes me to miss a good camera shot.
Here's the magic:
Using my Canon 7D (and soon my Canon 50D). Stores pictures on CF cards. Since I'm saving in Canon RAW, changed the settings to also save as JPEG. (The phone apps we'll be using can't read Canon RAW.)
Replaced my 8 GB CF cards with a CF adapter for SD cards. There are a couple brands out there. EyeFi looked like the most reliable.
Added a wi-fi SD card. Chose Toshiba FlashAir instead of EyeFi. (The latter requires proprietary software, or at least I have read.)
Installed Toshiba FlashAir app on phone. Take picture with camera, leave camera powered on, switch phone to receive FlashAir wi-fi signal. Use app to transfer JPG images from camera to phone. (Let's say two seconds per picture, transfer time.)
Use phone's native photo app to make any edits to the photos, such as cropping or exposure compensation.
Installed another app on phone, called Reduce. Use to batch-reduce the JPG images to lower-resolution size, for faster uploading. (Let's say half-second per picture to process.)
Upload as desired to social media, such as Twitter or Facebook.
Questions?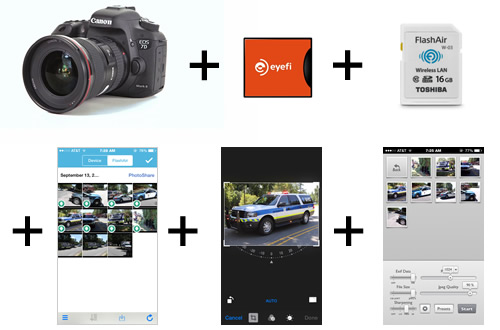 ---