04/03/07 23 W, 1 I - + 15 - 11 Tanker Versus Building
Here's something you don't see every day. Glenwood Avenue at Millbrook Road. No injuries.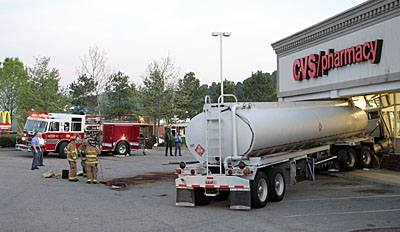 ---
bet that guy is looking for a new job.
AB - 04/03/07 - 13:24
So thats why gas prices are rising…...
Jason Boggs (Email) - 04/03/07 - 15:49
You Are Right Chief Boggs
Candler Thornton (Email) - 04/03/07 - 21:47
Sad, but true…..gas truck was unmanned and actually went over there with nobody behind the wheel. Talk about luck!!!
Guest - 04/03/07 - 22:39
Mike (or Lee), some time (when we're not expecting it) you all should do an experiment and post a random picture and see how long it takes for an anonymous person to point out something they view as an "incorrect procedure." No wonder I've never met a perfect person, they all remain anonymous.

Luke - 04/03/07 - 23:41
[ Deleted a mess of anonymous comments and responses to comments, ergo the response from Luke. Sign your name and your nits can stay. Or maybe we'll enable required registration one of these days. Sorry for no later pictures, had to get ready and go to work. Lunch engagement prevented revisiting. Lee is still 10-7. ]
Legeros - 04/04/07 - 04:47
Mike only to hear you say "ergo" on the radio;)
McGraw - 04/04/07 - 10:56