New Hanover Fire History - Research Notes
Origin of New Hanover County FD - 1990s to Present
Last updated: September 7, 2018
Disclaimer: This document consists of research notes, with incomplete historical information collected from varied sources. This narrative is not necessarily comprehensive, and likely omits valuable additional and contextual information, due to its unavailability.
---
See related documents: rosters, deeds, minutes, etc.
Change Log
September 7 - Added Myrtle Grove VFD web site posts from 2010, letter from chief, press release, that addressed the county taking over their department.
Pre-History
From 1950 to 1952, the county operated a one-person New Hanover County Fire Department. Read that history.
Since that time, fire protection to unincorporated areas of the county--on the mainland, at least--was provided by privately operated volunteer fire departments
The county also created a fire department at the airport in the 1970s, which was later taken over by the New Hanover County Airport Authority.
Until the mid-1980s, the county didn't even have a fire marshal. That position was created in 1986 [correct?].
Plan Proposed to Create County Fire Department - 1994
1994, Dec 4 - Wilmington Morning Star reports that the county Fire Commission plans to recommend to county commissions that the county create a combination FD (paid and volunteer) to cover the fire district along US 421 north of the city. It's primarily an industrial corridor and has lacked its own department since North Wilmington VFD disbanded in April 1993, after the county cancelled its contract.
The department had been facing dwindling numbers of membership, cancellation of commercial protection contracts, and other issues. Read more history. Since January 1993, Wrightsboro FD and Winter Park FD had been covering the district. But their response time is 15 to 20 minutes.
The fire commission's recommendation is based on consultant's study, which examined the needs of the former NWVFD district. They did not recommend adding a new, all-volunteer department, however, because the district doesn't have enough residents.
They also note that the county needs to hire a fire service administrator, to organize/supervise the FD, and work with the seven county VFDs. Currently the Emergency Management (EM) director is the liaison between the county and the VFDs.
North Wilmington's old fire station, which was donated by Cape Industries, is available for reactivation as a fire station.
Also, issues with NWVFD caused the county in 1993 to renegotiate contracts with VFDs. On September 7, 1993, the Board and the VFDs signed a new contract that changed how equipment purchases and capital assets are handled. Bulk purchasing and major capital items will now be referred to the county Emergency Management department for acquiring. The contract also requires that any dissolved
VFD return equipment to the district, if bought after October 1, 1993, with money collected in the district. Equipment bought before that date belongs to the private VFD corporation. Each department also owned their own stations. As a result of this new clause, departments purchase minimal new apparatus over the next two years. Between 1993 and April 1995, only two or three pieces of apparatus are purchased. Source: Star-News, 4/15/95; JKR.
1995, Jan 12 - Wilmington Morning Star reports on Ogden VFD trying to build a second fire station in Porters Neck community. Some neighbors objected, saying it could hurt property values and deplete water supply. Eleven people petitioned Superior Court to nullify the permit that NHC had approved for the station. The judge denied the request in December 1993. The neighbors appealed the verdict, which is scheduled to be reviewed January 27. These developments caused OFD to halt their plans. They already purchased the land, and have no looked at other locations during the delay.
1995, Jan 13 - Wilmington Morning Star reports on details on new NHC FD. Fire tax rate could double over next five years. Proposal from Fire Commission would cost about $600,000 a year, requiring a fire tax raise. Proposal was discussed prior Thursday by BOC, FC members, and county staff in three hour meeting, among other issues. There's also annexation planned by the city to the east, which would "suck up" all or part of areas served by WPFD, MGFD, and SFD. However, State Law requires that the city contract with the VFDs for two to five years after annexation. Also, suggestion that businesses and industries on US.421 help pay for the fire protection needed there. Some are already contracting with city FD. But the county is particularly unprepared for a disaster in that district, where industries use a "significant amount of hazardous materials."ť
Porter's Neck Station Can Move Ahead - 1995
1995, Mar 24 - Wilmington Morning Star reports that residents attempts to stop Porter's Neck fire station has been rejected by state Court of Appeals.
1995, Apr 10 - BoC Minutes - Meeting held to determine if city and county could effectively combine services, including fire protection. Public Safety Committee formed to investigate. (JKR)
1995, Apr 14 - Wilmington Morning Star reports that a public safety committee is developing plans for fire protection countywide. Voters in the fall will vote for proposed city/county merger. Committee has considered six-year plan that would provide full-time FFs countywide. In the first year, two full-time FFs would be stationed 24/7 at the seven VFDs. The volunteer members would be given the first chance at the jobs, if they meet the requirements. To increase response to areas outside the city, eight more stations would be needed, says Wilmington fire chief. Also, a paid FD would be created to cover the US.421 corridor. Estimated $492,500 for first year, for 15 FFs, but not including equipment and cost to renovate station with sleeping quarters added.
1995, Apr 25 - Wilmington Morning Star reports that a city-county merger has volunteers unhappy and could lead to rising fire insurance rates, to county leaders trying to find compromise. One proposal would have two districts, city and county. Otherwise, joint district rating would drop due to factors like unavailability of water outside city. Paid firefighters would be based at all VFD stations, though volunteers would supply the bulk of manpower. Etc. Details are far from being worked out.
1995, Jun 28 - Wilmington Morning Star reports that Wrightsboro VFD is threatening to stop responding to US.421 unless it gets paid for "the time and trouble." They'll stop responding on Sep 1. Says WVFD, they receive no compensation for serving the corridor, even those it's outside their district. They are the closest of two departments that respond, along with Winter Park. They answered 40 calls there last year, most false alarms. Since 1992, there have been no major fires in that corridor. NHC considering establishing an FD to cover. WVFD says a better option would be a substation, that they staff.
Funds Withheld to Wrightsboro - 1995
1995, Jun 30 - Wilmington Morning Star reports that Fire Commission has decided to withhold funding from Wrightsboro VFD, unless they rescind their ultimatum. WVFD says responding to US.421 uses 10 percent of their $90,000 operating budget. But WVFD has not provided details of costs incurred, such as how much fuel is used. If funding is stopped, they will also no longer be dispatched by NHC 911, and "no longer be in control at any fire scenes." WVFD and Ogden VFD are the only two of seven VFDs opposing the city-county consolidation proposal.
1995, Jul 5 - Wilmington Morning Star reports on city-county merger proposal, that "at least two" VFDs are having trouble accepting the proposal. The proposal would "overhaul the traditional system of volunteers fighting the county's fires." It would raise fire tax rates (in the county). Etc. Voters decide in the fall on the merger.
1995, Jul 7 - Wilmington Morning Star reports that Wrightsboro VFD issue is still unresolved. County commissioners will discuss in Aug 7 meeting.
1995, Jul 17 - Wilmington Morning Star reports that county commissioners plan to tighten contracts with VFDs. Current language says VFDs agree to help other FDs. Language should require automatic aid. Fire Commission recommends withholding funding from WVFD until their issue is resolved.
Fire Service Contract Revised - 1995
1995, Jul 18 - Wilmington Morning Star reports that county commissioners voted unanimously to require VFDs to answer calls outside their district, via amended fire service contract language. Also, rough draft of proposal presented to increase fire protection in county, which includes adding some paid personnel to the VFDs. The proposal would increase 2.5-cent fire tax rate by one cent. Commissioners asked fire commission to review plan.
1995, Aug 2 - Wilmington Morning Star reports that public safety committee will recommend to county commissioners and city council that a merged FD be created, with two districts and two fire tax rates. Some VFDs and volunteers have objections, such as feeling they had too little input on the plan. They don't like that a single corporation would be created, to control all assets and equipment of the VFDs. There's also debate on if a county fire administration (yet to be hired) be hired by the county, versus by the Wilmington fire chief. Etc.
1995, Sep 1 - Wilmington Morning Star reports that Wrightsboro VFD has rescinded their threat about US.421. They signed a contract and agreed to continue service the corridor. Commissioners still have not acted on recommendation to create a county FD and station for that district.
1995, Oct 6 - City/county merger to voters on Tuesday. Doesn't pass.
1995, Nov 6 - BoC Minutes - Board approved creation of Fire Service Administration Department and a new Fire Services Administrator position. The person will be responsible for administration of the county fire services program, and supervising existing positions under the Inspections Department. (JKR)
1995, Dec 4 - BoC Minutes - Commissioner Sisson moves that county move forward in developing and implementing a career/volunteer fire department to provide adequate protection to the 421 North corridor. The district is still being protected by Wrightsboro VFD and Winter Park VFD, and "since this is a high risk area, their current response times are inadequate." Board discussed. One Commissioner wanted to contract with the city, saying the county should not get into the "paid fire department game." Another Commissioner wanted to continue talks with the city about consolidating their services. The motion was ultimately denied, and a subsequent motion was carried to continue consolidation talks [with the city?]. The Board also wanted to ensure that the VFDs are part of the committee. [JKR]
1996, Jan 17 - Wilmington Morning Star reports that two county commissioners are accusing each other of misrepresenting themselves and facts to the fire commission and on talk radio. Involves two members of the fire commission, and the county commissioners discussing whether to reappoint, and opposition and issues related to those two members, by the VFDs, and issues therein.
More Disputes with Ogden Substation - 1996
1996, Jan 16 - BoC Minutes - Board receives feedback from the VFDs, over conflict between their departments and the fire commission. This generated a discussion on how reliable "these cooperations are" and if this needs to be changed. The VFDs feel threatened by recent county action, specifically over a contract to co-own the planned Porters Neck fire station. Commissioner Barone stated that she's been talking with many volunteers, and there's a call to remove Commissioner Sission from the fire commission. That action was rejected, but the Board said they will work on a resolution for the future. (JKR)
1996, Jan 19 - Wilmington Morning Star reports that county commissioners Thursday threatened to take extreme measures against Ogden VFD, over the long-delayed Porters Neck fire station. County and OVFD have been negotiating for months. County pledged monies toward the station, but would also have their name on the deed. County wants part-ownership to guarantee some control. Also wants final approval on any loans taken out by OVFD for building the station. County could decline to contract with OVFD for next fiscal year, and would thus need Seagate VFD to cover the Ogden district. (Seagate will be losing about 60 percent of district with city's first planned annexation.) OVFD has no comment on commissioner's threat, as OVFD has not yet been notified. OVFD prefers sole ownership/control, but agreement that county gets back investment if property or OVFD ever ceases to exist.
1996, Jan 22 - Wilmington Morning Star editorial, "County Fire System a Smoldering Mess." Praise for volunteer FFs. They represent an admirable tradition that started with rural communities. "But these days, New Hanover County is about as rural as Charlotte." Comments on tax rates, the latest controversy in Porter's Neck, annexations, etc.
1996, Feb 8 - Wilmington Morning Star reports that county commissions aren't back down on threat to terminate Ogden VFD contract, if they don't get joint ownership of proposed Porters Neck fire station.
1996, May 18 - Wilmington Morning Star reports that Philip Kouwe from Fishers, IN, has been chosen as first county fire services administrator, after nationwide search. He'll supervise the Fire Marshal and fire inspectors. One of his responsibilities will be creating a plan to provide protection to 421 corridor. Will also work with fire commission to develop budgets for VFDs. Starts June 17, and make $53,310 a year.
1996, May 20 - BoC Minutes - Board receives information that agreement was reached between Ogden VFD and the county over the Porters Neck fire station. The building will be co-owned and the project is finally moving forward. (JKR)
1996, Jun 17 - BoC Minutes - Board meets new county Fire Services Administrator Phil Kouwe. (JKR)
Plan to Commissioners - 1996
1996, Nov 1 - Wilmington Morning Star reports BoC will consider a plan next week to create NHC FD, to staff a station on US.421. If approved, NHCFD could be operating by March. The 421 corridor has been without its own fire department for nearly five years. [ Article states county cancelled NWFD contract in early 1992. Believe it was early 1993. ] Plan will have county hiring one Captain and three Lieutenants to supervise three 24/7 shifts with six FFs, with two FFs working per shift. Paid part-time FFs would work 8 to 5 during week days, and volunteers would handle nights and weekends. Will occupy former NWFD building that belongs to Hoechst Celanese, and will need renovations to add sleeping and living quarters, estimated at $78,000. Renovations must be completed before station is occupied. County will buy two new vehicles, a tanker and a "quick response vehicle" (mini pumper).
1996, Nov 6 - BoC Minutes - Board discusses adopting fire protection plan developed by Phil Kouwe, which was modeled from a consultant's study, and move foward with developing and implementing a combination career/volunteer fire department operated by the county, to protect the US 421 corridor. The new FD would also supplement the other volunteer FDs. Several years earlier, the city gave the Board a proposal to provide contracted service. This plan would save more money in the long run, since it incorporates full-time, part-time, and volunteer FFs.
Plan was met with opposition by Chief Rhodes and several commissioners stating that the county could save money by allowing Wrightsboro VFD to use the old North Wilmington VFD station as a substation, thus saving on renovation costs, since the build wouldn't be manned 24/7.
City representatives were also present, and expressed interest in covering this district, since they already have contracts with several businesses on US 421, and since they already provide contracted haz-mat coverage to the county.
County plan is supported by Myrtle Grove Fire Chief Wilbur Davis, who feels the plan will serve as a model for fire service in the county. He had concerns about the city's proposal, feeling that they would "work against the volunteer effort." He felt that the city needed to work on a plan that would work with the current VFDs, before agreeing to provide protection the county.
Motion was tabled until next meeting, until Commissioner Sission could meet with the City Manager, to discuss further. (JKR)
1996, Nov 7 - Wilmington Morning Star reports the plan to create NHCFD postponed for two weeks, until city and county can discuss other options. City has also offered to provide protection, and for $200,000 less than county proposal. Wrightsboro VFD has also suggested a WVFD-operated substation be established.
1997, Mar 24 - BoC Minutes - Board receives motion by Phil Kouwe to amend current Fire Prevention and Protection Code to "officially authorize" the use of Deputy Fire Marshals. It would also remove the empowering body at the local appeals board for fire code enforcement actions, which was part of the old fire code. Motion carried 4-1, but not unanimous, so not approved. Will be re-read at next meeting. (JKR)
1997, Apr 7 - BoC Minutes - Board awards bid to Motorola for radio equipment for Emergency Management. Also, amended Fire Prevention and Protection Code is unanimously approved. (JKR)
1997, Apr 20 - Wilmington Morning Star reports on fire that destroyed "luxurious sound-side home" on Figure Eight Island, and that a fire station is planned near the island, the Porters Neck substation for Ogden VFD. Also notes that the island tried to start a VFD about ten years ago. The HOA purchased a 1,000-gallon pumper and training sessions were conducted. But they ran into a lack of volunteers. It sold its truck about three years after their efforts fizzled. Ogden VFD answers to the island, which comprises less than 10 percent of OVFD annual runs. Last major fire was around 1985. OVFD is working with architect on the new station. Could be under construction as soon as 30 days. [ FEIVFD incorporation filing was recorded January 24, 1983. The corporate disillusion was recorded February 10, 1988. ]
1997, Jun 6, 1997 - Wilmington Morning Star Reports that new NHCFD should begin answer calls by late July or early August. Renovations to the former NWFD station are underway, fire equipment has been ordered, and three fire trucks have been purchased. Donnie Hall, the NHCFD Captain, started working about two weeks ago. Interviews have started for nine full-time positions. Exactly 100 applied for six FFs and three Lieutenant jobs. Applicants included current county volunteers, and career FFs inside and outside the county. FFs will earn $20,717, Lieutenants $28,562. Start up costs for NHCFD estimated as $335,960. First-year operating costs estimated $391,607.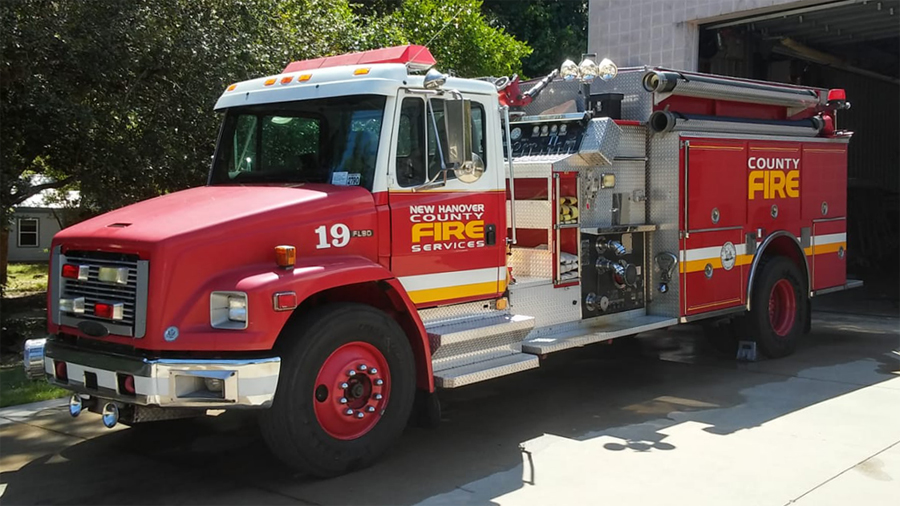 One of the original three trucks, with original lettering. Will Murray photo, 2018.

Plans in Review for Porters Neck Fire Station - 1997

1997, Jul 15 - Wilmington Morning Star reports on delays with Porters Neck fire station for Ogden VFD. Engineers review of design plans is delaying start of construction. County and OVFD previously resolved dispute on funding, with county agreeing to fund a share. Other delays included negotiations over a performance-based contract. OVFD wants provisions in contract that gives OVFD control over full-time FFs hired by county to staff station. OVFD also doesn't want its district divided, and wants a representative on the county fire commission.

1997, Jul 21 - BoC Minutes - Board receives report on delays with Porters Neck fire station. Project slowed as result of [impediments in?] developing performance standards for the building and the construction material being chosen by contractor. Ogden VFD working with architect and have changed the design several times to ensure the facility "can have further future uses" as well as "withstand hurricane winds." (JKR)

1997, Sep 2- BoC - Board approves contract with Emergency Services Consultant Group (ESCG) to evaluate county fire services, and see if feasible to merge the seven FDs into one service. (JKR)

1997, Sep 5 - Wilmington Morning Star reports county awarded $22,500 contract to ESCG to study the county fire service needs. Fire commission agrees that protection should take a more unified approach. Study needed to develop long-range plans.

1997, Sep 15 - BoC Minutes - Board recognizes nine new NHCFS employees. (JKR)

1997, Oct 4 - Wilmington Morning Star reports that groundbreaking for Ogden VFD substation at 823 Porters Neck Road will be held Sunday. Work on the station began about two weeks ago and should be completed early next year.

1997, Oct 20 - BoC Minutes - Board informed of Commissioner Howell attending Myrtle Grove FD open house and dedication of new aerial truck. [ First aerial for county VFDs? ] (JKR)

1997, Oct 25 - Wilmington Morning Star reports that county has bought a Humvee brush truck for the new NHCFD and their station on 421. [ The new FD and station are apparently now operational. ]

1997, Nov 10 - Wilmington Morning Star reports that Wrightsboro VFD is threatening not to sign a contract, accusing county of micromanaging through changes in latest contract. County has given WVFD a deadline of December 1. The latest contract contains performance standards, including requirements for FFs to have haz-mat training, to maintain detailed personnel records, to "promptly delivery properties" that belong to the county should either party cancel the contract, etc.

1997, Dec 8 - BoC Minutes - Board approves purchase of automatic external defibrillators (AEDs) for all county fire stations, for $60,000. (JKR)

1998, Jan 20 - BoC Minutes - Board approves [renewed?] contract with Wilmington FD for "hazardous materials emergency response." (JKR)

1998, Jan 23 - BoC Minutes - Board participates in budget meeting retreat for two days. Discusses increasing fire tax, so county can fund 21 additional FFs. This idea is well-received, since the increase in service will ultimately improve the fire insurance rating, and savings will offset the fire tax increase. (JKR)

County Fire Protection Study Received - 1998

1998, Apr 30 - BoC Minutes - Board conducts work session with fire commission, to receive findings of fire study. It was performed because fire commission was faced with three major issues: (1.) impact of annexation, (2.) need to integrate career personnel, (3) infrastructure, with such issues as should county assume lead in buying/maintaining apparatus and station, or let VFDs continue to do.

Report recommends adding full-time staffing to fire system, interlocal cooperation, especially the city; full-time administration and management of fire system; financial controls; accountability; and enhanced fireground and rescue operations.

County should consolidate all similar functions under authority of a county FD. Fire system should also function as a county-wide system, with automatic responses added, artificial boundaries eliminated, stations and equipment placed on system-basis, etc. Any new stations should be built, staffed, and managed by the county, whether career or paid. Existing VFDs should remain in business, but should consolidate functions to bring admin, training, and purchasing under single authority.

There is much discussion, with a common theme of all VFDs operating off a "model plane" with the NHCFS Administrator as the ultimate authority. The Chiefs of every department would meet, and provide one vision, and make sure that resources and strategies are implemented countywide. Also noted is apparent need for restructuring of fire commission. Board recommended that fire commission meet and return with "a recommendation that everyone can support." (JKR)

Read complete minutes (PDF).

1998, Jul 1 - BoC Minutes - New Hanover Regional Medical Center assumes EMS role, and county EMS department is transferred. (JKR)

1998, Aug 3 - BoC Minutes - Board receives recommendation from Phil Kouwe for functional co

nsolidation of fire services in county. Unanimous approval of resolution to move forward with functional consolidation of various fire service agencies into single fire protection system, and establish Interagency Committee for Implementation to create a plan to carry out the "vision of consolidation." (JKR)

1998, Aug 17 - BoC Minutes - Board approves budget recommendation to fund confined space rescue team to be operated by NHCFS, with private industries with an interest in this service providing the bulk of funding. [JKR]

Annexation Impacts - 1999

1999, Jan 31 - City annexation takes effect. Ten square miles are added east of the "old city limits" between Howe and Bradley creeks. First of three planned annexations. Seagate VFD loses 63 percent of district. Winter Park VFD loses about two percent. Ogden VFD loses about 9 percent.

1999, Feb 17 - Wilmington Morning Star reports on annexation impacts on VFDs. Seagate VFD lost 63 percent of service district on January 31. The remainder will be annexed in second phase of planned annexation. Winter Park lost about two percent on January 31. Nearly all of the WPFD district will become part of the city during second annexation phase. Ogden VFD lost nine percent of district, but will not lose any more during second phase. The VFDs will continue to protect the annexed areas, for at least the next five years, through contracts from the city. By state law, municipalities must pay VFDs half the money the districts would have generated in those annexed areas. The VFDs will respond first to reported fires, per the contracts, until city firefighters arrive.

1999, Mar 26 - Wilmington Morning Star reports that starting today, one company of city firefighters will be stationed at Seagate VFD. The city will announce the partnership at 8:00 a.m. at the Seagate fire station.

Wilmington Moves to Seagate - 1999

1999, Mar 27 - Wilmington Morning Star reports that Wilmington has stationed a pumper and four FFs at Seagate's station. WFD and SFD have been training together for at least a year. The move will reduce city response times to newly annexed areas. Two new city fire stations are planned for Eastwood Road and Cardinal Drive, and Military Cutoff and Drysdale Drive. Bidding has started on both.

1988, Aug 2 - BoC Minutes - Board approves recommendation by Phil Kouwe to pursue building a new station and relocating Federal Point VFD, from current location on Dow Road in Carolina Beach, to just north of Snows Cut Bridge. This would eliminate extended response times. [JKR]

1999, Aug 18 - BoC Minutes - Board approves InterLocal Agreement with Wilmington FD, to provide crash-rescue response to US 421 corridor. [JKR]

1999, Dec 6 - BoC Minutes - Board approves promissory note for $250,000 with Federal Point VFD, which allows county to retain 100% ownership of the new fire station. It will require the county to repay the VFD, in the event the county severs relations with the department during the next 20 years. After that time, the note will be void. [JKR]

2000, Mar 13 - BoC Minutes - Board observed presentation by North Carolina Association of County Commissions to the county, with an Outstanding County Program award for its submitted program Functional Consolidation of County Fire Services. They remarked that the county had been progressive in handling problems that have plagued fire services all over the state and "constructed a plan that benefits the citizens in which they serve." Acting Fire Services Administrator Donnie Hall was recognized and received a certification of appreciation. [JKR]

2000, Apr 17 - BoC Minutes - Board awarded contract to Anchor-Richey EVS, for mini-pumper for Myrtle Grove VFD. [JKR]

2000, Jun 6 - BoC Minutes - Board heard from [County?] Fire Chief Wilbur Davis about the need to raise the fire tax by one-cent, to provide full-time staffing for supplementing the VFDs. This would help meet the growing demand for more fire, rescue, and medical services, since volunteers are having difficulty responding to calls during peak times during the day. Board took no action, stating that the County Manager had included the increase in the recommending budget. [JKR]

Fire Tax Raise Approved - 2000

2000, Jun 14 - BoC Minutes - Board voted unanimously to raise fire tax by one cent. This was prompted by the coming annexation from the city, and resulting loss of fire tax revenues, as well as an "overwhelming demand for service" not sufficiently provided for by the volunteer system. [JKR]

2000, Jun 16 - Wilmington Morning Star reports on the fire tax increase, which will generate an additional $340,000. But the next phase of city annexation is expected to cost the county fire system $500,000 in revenue. Also notes that the county has responded to lack of daytime volunteers for calls by hiring 30 full-time FFs to augment the 240 volunteers.

2000, Jul 10 - BoC Minutes - Board awarded contract to Pierce, for a new pumper for Ogden VFD. [JKR] [ Q: Was this a new process, implemented in recent months or years? ]

2000, July 29 - Wilmington Morning Star reports that the county is short on firefighters. Daytime fire calls to the seven VFDs has increased dramatically in recent years. County Fire Administrator will take plan to BoC in August to increase number of paid FFs and Captains assigned to each VFD. Currently in the daytime in the southern part of the county, paid staffing ensures three people are on the scene. He wants to increase to ensuring that seven people are on scene. NHCFD has the money for the increase, but needs BoC approval. NHCFD wants to start hiring before city annexation alters coverage area and its budget, from fire tax revenues.

Winter Park Remaining District to Ogden - 2000

2000, Aug 21 - BoC Minutes - Fire Services Administrator is now Donnie Hall, who presented to Board a plan approved by the fire commission, for recommended actions after Phase 2 of the city's annexation plan takes effect. Since Winter Park will have only one area remaining to protect, around Springview Drive, he proposed that the residents are best-served if Ogden is the responding department, due to traffic patterns.

Winter Park members spoke about the plan, and how the response change to Springview Drive isn't necessary, since there has never been a problem in the past. Also, they will be receiving one-half of their fire tax from the city for a five-year period after annexation, so this will essentially be provided free of charge to the county. There were other discussions for and against the plan, but the Board of Commissioners approved unanimously.

Also, Administrator Hall stated that the current two-person staffing provided to VFDs by the county is insufficient and needs to be upgraded. He recommended that the county hire one training captain, hire additional FFs sufficient to have 21 during the day and nine at night, and reclassify lieutenants to station captains serving as a daytime role. The captains will provide a trained command presence for the firefighters, and ensure that daytime functions are better managed. [JKR]

2000, Aug 24 - Wilmington Morning Star reports on the county's plan to "end its relationship" with Winter Park VFD and Seagate VFD later this year. The former department will celebrate its 50th anniversary next year, but it will a "bittersweet moment" for their 33 volunteers. Both departments will lost all (Seagate) or nearly all (Winter Park) of their territory after the city completes the second phase of its annexation. Winter Park Fire Chief Chris Hunt doesn't understand why the county "wants to get rid of them," particularly as the department's building and apparatus are all paid for. They're valued together at about $1 million. Adding "fuel to the fire" is the county's decision to take what will be Winter Park's remaining coverage area--"a small chunk encompassing Spring View and part of King Grant"--and reallocate it to Ogden VFD, even though the Winter Park station is closer. WPVFD also offered to cover the [remaining] northern part of its district for free, after the annexation. The County Fire Administrator said allow that would "open up a hose of liability issues."

2000, Sep 30 - Annexation takes effect, with 9.25 square-mile area between Wilmington and the Intercoastal Waterway and Bradley and Whiskey creeks. It was to have taken effect on August 31, 1998, but more than 70 residents of the area blocked it. Second of three planned annexations. Seagate VFD loses all of remaining district. Winter Park VFD loses all but a small area, off NC 132.

Federal Point Moving - 2000

2000, Oct 14 - Wilmington Morning Star reports that Federal Point VFD is moving from Pleasure Island. Its moving 1.5 miles inland to a new building that's more centrally located, as its district is smaller due to recent annexations from Carolina Beach and Kure Beach. County is building the $1M station, which will be offset by $250,000 from sale of current station to Carolina Beach.

2000, Nov 13 - BoC Minutes - Board receives comments from Winter Park VFD President Bill D'Emilio, urging they reconsider recent vote to relocate the northern part of their district to Ogden VFD. They were currently in the process of "buying into pensions for their members before their doors are closed" and this move has "accelerated" the closure process. Also, they've been informed by the Wilmington FD that if WPVFD and SVFD do not have primary response districts, the city cannot contract with them, and, thus, "closing their doors." He says that WPVFD feels they were forced out by "others on the fire commission" and the county Fire Administration. The fire commission defended their actions, and so did the Board of Commissioners. They agreed to extend the date of removing the district until the fire commission could meet again, to discuss these concerns. [JKR]

2000, Nov 19 - Wilmington Morning Star reports that BoC has postponed transferring Winter Park's remaining response area to Ogden VFD until January 1. This will give the fire commission time to review its unanimous August 21 decision to transfer the district, which was to take place November 30. Though WPVFD is closer to its small silver of territory, reasoned the county, OVFD can respond quicker, with less traffic and paid FFs supplanting volunteers. Without a coverage area, WPVFD would lose its state certification, and thus the city couldn't contract with the department.

2001, Feb 1 - Wilmington Morning Star reports on annexation impacts. Fire tax revenues have been shrinking, though coverage areas haven't shrunk much. City has annexed "relatively small, densely populated areas" with the county still responsible for "largely rural, thinly populated areas." Thus fire tax rate increases have been needed.

2001, May 7 - BoC Minutes - Board approves special use permit for construction of new Federal Point fire station. [JKR]

2001, May 12 - Wilmington Morning Star reports the new Federal Point VFD station is moving ahead, after BoC approved special-use permit. Delays presented as county officials and residents haggled over location, along with concerns over tree loss on the 2.5 acre parcel. FBVFD is leasing their current station from Carolina Beach, the new owners of the building.

Proposed Tax Increase - 2001

2001, May 14 - Wilmington Morning Star reports that the county officials are requesting the BoC approve a fire tax increase, for a second straight year. Intended to bridge an estimated $12M shortfall for upcoming fiscal year. Proposal for one-cent increase. Needed to keep up with service requirements and growing call volumes for the fast-growing unincorporated areas. Tax was raised by a half-cent last year. The reason for the proposed increase is a loss of revenue due to annexation.

2001, Jun 18 - BoC Minutes - Board votes unanimously to raise fire tax by one cent, to pay for more career personnel, needed for the increased demand in service. [JKR]

2001, Aug 21 - Wilmington Morning Star reports Winter Park VFD has lost its status as a "first responder." WVFD has lost most of its district. The WVFD board recently agreed to transfer responsibility of its district to Ogden VFD, which is the largest in the county. The department is not closing its doors.

2001, Sep 4 - BoC Minutes - Board awards Triad Fire the contract to purchase a new fire truck. Pierce? [JKR]

2001, Sep 17 - BoC Minutes - Board approves plans for Federal Point fire station. They direct county staff to proceed with bidding process. [JKR]

2001, Sep 20 - Wilmington Morning Star reports that the Federal Point VFD fire station project has been approved to be put out for bid. The project is almost a year behind schedule. The $1.2M facility will include a training room that can double as a community center. Officials hope to award the contract within 45 days. It includes demolition of an old dilapidated house on the property.

2001, Nov 19 - BoC Minutes - Board adopts resolution approving the recommended Fire Insurance Districts for recognition by the state as certified insurance districts. The North Carolina Department of Insurance has modified requirements for the boundaries of Insurance Districts that are approved by the local boards of commissioners. County can now extend the boundaries from five miles to six miles, and thus rate more properties for insurance purposes. Also, district boundaries have been modified due to annexation by the City of Wilmington. These district changes include provision for Winter Park and Seagate fire departments, and identify small parcels of property to allow the department to remain rated and serve the County without major financial obligations on the Fire Tax District. [JKR]

2001, Nov 30 - Wilmington Morning Star reports county commissions are debating the project scope of the Federal Point VFD fire station, including the need for a training room/community meeting room. Project now cited as $1.7M.

2001, Dec 1 - Wilmington Morning Star editorial about county fire protection. Opposes adding a community center (slash training room), because of cost.

2001, Dec 3 - BoC Minutes - Board awards contract to Hale Construction for building Federal Point Fire Station. There is much discussion and several failed votes. Issues included that the cost is too high, and the community was concerned about a lack of a community that was promised to them. Board comprises by approving motion at a reduced amount than previously requested. County Fire Chief states "he felt he could work with that number." [JKR]

2002, May 6 - BoC Minutes - Board awards contract to Pierce, for new engine for Highway 421 station. [JKR]

2002, May 20 - BoC Minutes - Board notified of [or approves] Fire Services awarded grant from NC Safe Kids for $5000, for permanent car seat checking station. [JKR]

2002, Jun 17 - BoC Minutes - Board accepts donation of 1982 Chevrolet/______ "twelve-bay" beverage truck for Fire Services use for Rescue program. [JKR]

Federal Point Station Nearly Ready - 2002

2002, Jun 17 - BoC Minutes - Board receives report that Federal Point Fire Station is ahead of schedule and can be occupied by end of September. [JKR]

2002, July 8 - BoC Minutes - Board approves county to apply for debt service to fund new Federal Point Fire Station. [JKR]

2002, Sep 18 - Wilmington Morning Star reports city council has approved staff to negotiate to buy Seagate VFD. It would replace one that the city had proposed on Greenville Loop Road, but was opposed by residents who were annexed about two years ago. 2003, Mar 22 - Wilmington Morning Star reports that six months later, talks for the city to buy the Seagate fire station have ended. City is looking at another site. SVFD says they're waiting to hear from the city, and after their contract with the city expires in October 2005, they will sell the station.

2003, Jan 9 - BoC Minutes - Board receives report that Federal Point Fire Station is completed. [JKR]

2003, Mar 24 - BoC Minutes - County Fire Chief gives annual report to board. Includes: [JKR]
Vice-Chairman Greer requested Fire Administrator, Donnie Hall to present the Annual Report. Fire Administrator Hall reported that the Fire Services Department is comprised of three divisions:
1. Operations:

This Division deals with fire suppression, rescue, and medical response.
During the past year, fire calls response increased by 5%. The insurance rate for homeowners decreased in the Myrtle Grove District from a Class 9S to a Class 5, and in the Castle Hayne District from a Class 9S to Class 6. Further development of tactical rescue has provided an opportunity for the Fire Departments to receive continual training in the area of structural collapse.
The Fire Services Department is also a primary responder for tactical incidents that occur at the General Electric Plant. There is an on-going effort to continue to build a relationship with the Wilmington Fire Department Tactical Rescue Team to establish one of the region's well rounded responses to a natural or manmade disaster. The training has also been expanded to work with new objectives regarding terrorism threats to the area.

2. Administration:

This Division deals with inspections, investigations, and public education.
In 2002, an overhaul of the Fire Marshal's Division was completed. Some inspectors were replaced and the Fire Marshal retired in December 2002. The Fire Services Department has found a replacement but additional information has to be completed before releasing the name of the new Fire Marshal.

3. Fire Marshal's Division:

This Division completed 1,660 fire inspections and 63 fire scene investigations. When investigating a fire, it must be determined if the fire was caused by an accident, an act of nature or intentional. Of the 62 fires investigated, one-third was ruled intentional or undetermined and no arrests have been made. During the current year, the Fire Marshal's Division has already conducted 30 fire scene investigations.

Fire Education:

The Carolina Fire Crew is a singing and dancing group of firefighters that provide skits and music entertainment to school children. This group held 48 performances with 37 performances held at schools. The attendance is estimated at 16,773 with 12,587 being children and 4,146 adults. This program has been recommended for a County Outstanding Program Award and the group received an Honorable Mention for the N. C. Fire Prevention Award.

Two FEMA Fire Act Grants were awarded during the past year, one for Health and Wellness programs and one for Fire Prevention programs.

Grant funds received for health and wellness were used to bring in physicians and physical fitness trainers to work with the firefighters. The program was concluded in December 2002 and an award was presented to Doug Monroe, a volunteer in the Castle Hayne Volunteer Department, for being the highest achiever.
Grant funds were also received to educate the public about fire prevention. This goal was accomplished through Public Service Announcements, establishment of a Smoke Detector Program and an educational program on the use of smoke detectors.

Capital Projects:

The Federal Point Fire Rescue Station was completed and plans are underway to announce in the near future an ALS Medical Unit responding as part of a partnership with New Hanover Regional Emergency Medical Services and the New Hanover County Fire/Federal Point Rescue Unit to provide better service to the southern part of the County.
A storage facility was completed for the Castle Hayne Volunteer Fire Department and the Wrightsboro Volunteer Fire Department was renovated.
A rescue truck was replaced for the Castle Hayne area that was 20 years old and an engine was replaced in a truck for the Highway 421 area.
In the future, a Capital Replacement Program should be established to replace aged equipment on a planned schedule without increasing the debt service.
Due to budget constraints, capital equipment has been eliminated from the Fire Services budget. These needs must be addressed in the FY 2003-2004 Budget to protect the safety and health of the firefighters.

In concluding the presentation, Fire Administrator Hall advised that the fire insurance rates for homeowners are based on grades received in the following major categories:

Communications represent 10% of the score, Water Systems represent 40%, and Fire Departments represent 50%. With the number of water systems that have been established, the Engineering Department has been cooperative in identifying areas where fire hydrants can be located with water lines providing a sufficient flow to accommodate the number of dwellings in an area. If a dwelling is within 1,000 feet of a fire hydrant, that homeowner is eligible to receive the fire insurance deduction at an estimated savings of $250 per $100,000 of the property value depending on which insurance provider is used.

Hearing no further comments, Vice-Chairman Greer expressed appreciation to Fire Administrator Hall for an informative presentation.
2003, May 29 - BoC Minutes - County Fire Chief Hall presents to Board during budget session the need to raise fire tax by two cents, to update old equipment including SCBAs, and providing full-time staffing at FPVFD and WVFD. Board has concerns about raising taxes that high since there's still uncertainty with city annexation. Chief argues that there will be improvements in equipment, and added staffing will improve services, and savings will result from lowered insurance rates for each station. [JKR]
2003, Jun 2- BoC - Board approves hiring a firm to prepare a Master Plan for constructing a joint training facility with city and Cape Fear Community College. [JKR]
2003, Jun 16 - BoC Minutes - Board votes on one-cent fire tax increase, rejecting requested two-cent increase. Requested to cover needs for increased service demands. Motion fails. Commissioner Caster calls for vote on half-cent increase, which would cover cost of needed SCBA and AED enhancements. Raised to one-cent. Passed 3-2. [JKR]
More Supplemental Staffing - 2003
2003, Jul 18 - Wilmington Morning Star reports on area counties increasing hiring/using paid personnel to supplement VFDs. NHCFD has converted their county fire system from "totally volunteer to a combination system." Some stations have 24-hour staff, and some have paid staff in daytime.
2003, Aug 4 - BoC Minutes - Board awards contract to Stewart-Cooper-Newell Architects to provide a Master Plan and Design a Multi-Functional Fire Training Facility. [JKR]
2003, Aug 4 - BoC Minutes - Board approves adoption of amendment to county code, originally created in 1978, Civil Emergencies, Article 1, Section 32, Response to Rescue Emergencies. The code originally "aligned the responsibility to conduct rescue functions" under the direction of th EM department. The change reflects that Fire Services conducts the services, and has been for some time. [JKR]
2003, Aug 18 - BoC Minutes - Board approves request to add six new positions at FPVFD and WVFD. These will be three shift firefighters at FPVFD plus one supervisor, and two additional daytime FFs at WVFD.
2003, Sep 2 - BoC Minutes - Board hears report from County Fire Chief Hall that four districts have reduced their insurance ratings: MGVFD from 9 to 5/9s, CHVFD to 6, NHCFD station on 421 to 5/9s, and OVFD to 5/9s. Two others are working to request state inspections, to reduce their rates: FPVFD and WVFD.
2003, Sep 15 - BoC Minutes - Board accepts donation of 1989 GMC cargo van to Fire Services, for use for Special Operations Program. [JKR]
2003, Nov 17 - BoC Minutes - Firefighter recruit class inducted with seven graduates. They are administered the oath of office. [JKR]
2003, Dec 15 - BoC Minutes - Board approves InterLocal Agreement between city and county to hire a Community Fire and Life Safety Manager. [JKR]
More Annexations - 2005
2005, Sep 26 - Wilmington Morning Star reports Winter Park VFD will help cover Murrayville area, until new station is build. They sign $240,000 two-year contract. In return, county gets more than $700,000 of equipment for the new station: a 14 year-old tanker, a six-year old engine, and related equipment for both. Contract also requires WPVFD members to help recruit and train people to work at the new station.
2005, Sep 30 - Seagate VFD ceases operation. Their property and structures are sold to the city, their apparatus and vehicles are sold, and those lacking significant value or marketability because of age or condition are planned to be donated to other fire departments that could use them. Equipment with each truck will be offered with the apparatus. Proceeds and remaining cash assets are distributed to six local churches. Articles of dissolution are filed Dec 27, 2005.
Winter Park Fire Department Closes - 2005
2005, Oct 25 - Wilmington Morning Star reports Winter Park VFD will close on Monday, because of dispute with county over funding. They couldn't agree on draft contract for protection to Murrayville area. Debt was a contributing factor. No area of county will be without coverage, but "fewer firefighters will be available to respond to some calls." WPVFD has 23 volunteers. [ They cease operations on October 31, 2005. They donate their remaining funds, $114,000, to Cape Fear Community College, for new equipment for its public safety training center. Their station was located at 4601 Park Avenue. ]
New Murrayville Fire Station - 2006
2006, Jul 18 - Wilmington Morning Star reports that county is proposing a new fire station on Murrayville Road. City abandoned plans three years for a [nearby?] Greenville Loop Road fire station, after "vociferous objections" from neighbors. City instead decided to renovate old Seagate VFD on Oleander Drive. Station plans has had delays. Special use permit application has been tabled, due to lack of information about drainage and setback issues. Early estimate of project is $2.5M, including acquiring 3.5-acre parcel. Station would answer calls covered by Wrightsboro and Ogden VFDs, and reduce response times to area, some of which are close to 14 minutes.
Ogden Fire Department Closes - 2009
2009, April 1 - Wilmington Morning Star reports that Ogden VFD is closing, with county taking over their district. They have two stations, including the substation in Porters Neck.
First part of transition begins Wednesday, with county takes over contract to be primary provider in Scotts Hill area in Pender County. Talks with OVFD began about a year ago. They approached the county about personnel problems. They were having problems with recruitment and retention of volunteers. Ogden VFD will continue operating its corporation, renamed as Ogden Volunteer Fire Fighters Association, and with a purpose to augment and support county fire and rescue services. Funds already collected by the non-profit will "stay in the local community." All Ogden volunteers will become NHC volunteers.
2009, May 29 - Wilmington Morning Star report that NHCFS is asking for 1.5 cent property tax increase for next budget year, to improve service by hiring 13 new employees, including nine FFs, three lieutenants, and one training coordinator. The new employees will be spread out through the county's stations, to ensure each has three FFs per company. Some crews only have one or two FFs.
2009, Jul 1 - Planned date for Murray Road station to open. From Wilmington Morning Star 5/29/09.
Proposal to Merge Fire Districts - 2010
2010, May 8 - Wilmington Morning Star reports county is considering merging the seven county fire districts into two, creating northern and southern districts, and bringing the VFDs under the direction of NHCFS. One VFD chief, Wrightsboro, says the change would force WVFD to shut its doors, and put similar pressure on CHFD and MGFD. Paid county FFs already staff all of the county stations 24/7, and answer 90 percent of all calls.
2010, May 10 - Wilmington Morning Star reports that the restructuring plan sparks a heated discussion at fire commission meeting on Monday night. About 80 people, FFs and citizens, attended, to see the presentation and ask questions. County notes volunteers can continue to serve as they do, as a FF if they meet qualifications, or as a fire corps member, to serve as other roles or as a trainee. VFDs would follow the model of Ogden VFD, which kept its non-profit status but transitioned to being managed financially and administratively by the county. All volunteers of Ogden VFD became volunteers of NHCFS. Some at meeting questioned the requirements, such as body mass index, and service hour rules, to become a county volunteer. No vote is taken.
2010, May 13 - Myrtle Grove VFD David Raines posted this message on the department's web site:
Residents of New Hanover County,

I am writing this letter in regards to the recent information we received about the possibility of the New Hanover County Governments' intention to take over and dissolve the local volunteer departments in the county. I felt that some of the information provided to the public has been less than accurate and needed to be clarified.

Claims made by County Manager Bruce Shell and New Hanover County Fire Rescue Chief Donnie Hall that the dissolution of the fire departments and the formation of one department would lead to better and more training opportunities for the volunteers. The county will provide the same training that is offered to every fire fighter in the state of North Carolina what they will have is no different than what they have now. The one single benefit of their training plan is it allows for fewer persons to be trained at once. This option is available to any volunteer who chooses to do so now without the need for dissolution.

The county also claims that this will improve response times to emergency calls. There is only one way to shorten response times. Put the responding apparatus closer to the call. There are only a few ways to do that:

1. Move district lines so that you are closer to your fire station.

2. Move your fire station.

3. Build more fire stations.

Of all of these options only one of them is cost effective way to do this and that is to move district lines putting you closer to your district fire station. Again, this option is available without the need for dissolution.

Another claim is that you will see significantly lower insurance rating from this move and therefore be eligible for a huge decrease in your insurance premiums. This is simply untrue and based solely on speculation. If the county successfully dissolves the departments you will remain at your current rating until the NC Department of Insurance provides an inspection of the newly formed fire districts. It is at that time that based on how well the new district does that your rates would change and they have the potential to go up or down. Meaning for some it could mean a premium increase. However, the figures being shown are very inaccurate. That is you will not see a $1400 savings on a $225,000 home. Review your home owner's policy and look for the portion of it that is for fire and this is the portion that you will save on. To go from a Class 9 to a Class 5 will probably save you in the neighborhood of 30-40% on your Fire insurance only. This saving will probably be in the range of $200-$400 depending on your insurance provider.

Several of the commissioners and county personnel have made the claim that county Staffing responds to 90% of the calls. I just reviewed the last 10 calls at Myrtle Grove Volunteer Fire Station. It was as I expected the county staff has not run 90% of the calls but 100% of the calls as they are at the station 100% of the time and should catch 100% of the first response calls. However, there were 7 of the 10 calls that also had Volunteers responding with them or staffing the station for the next call. Using their math it appears that the volunteers are running 70% of the calls in our station.

The purpose of this is to inform you that the facts of this proposal are at best unclear and the plan on how to implement it is even more unclear. However, with assurance we are told it will not cost as much as maintaining the current system. How do we trust them when the current County Commissioners and the current fire administration have increased the cost of fire protection in the county from 5.5 Million dollars to 10 Million dollars while assuming an outstanding debt of 7 Million in the last 5 years?

Sincerely,

Chief David Raines
2010, May 14 - Wilmington Morning Star reports further on reactions to county plans for controlling fire protection. Cited values are benefits for both community and volunteers, who will have more opportunities for training. Changes will reduce fire insurance rates and provide more consistent service. Others want to see a concrete plan, versus just a proposed concept. MGVFD chief sends open letter to county manager, noting the changes can be achieved without dissolving the VFDs, and notes concern about the unclear facts of the proposal. Etc.
2010, Jun 4 - Wilmington Morning Star reports that county officials held briefing with local news media, arguing that the plan will provide more consistent fire protection, be cheaper for the county and residents, and provide better training opportunities for volunteers. They cite statistics to make their case. There are 131 volunteers today, down from 231 in 1997. One-third of those respond to three or fewer calls a moment. The number of "high volume" volunteers has dwindled as well. The county staffs all eight stations with 24/7 paid FFs. They respond to 98 percent of calls, while volunteers respond to 44 percent. Training is also an issue. Only 48 active volunteers""37 percent""are certified to "handle a structure fire." The changes would help reduce costs. The "cheapest volunteer station" spends more than $172,000 in annual operating costs. The county spends an average of $88,000 per year for its four stations.
2010, Jun 11 - Wilmington Morning Star editorial - Urbanized county needs best possible fire services. Advocates the proposed plan/concept.
2010, Sep 5 - Wilmington Morning Star reports that BoC will vote Tuesday on a fire service consolidation plan. Many volunteers, from Chiefs to FFs, have reacted strongly against the plan.
Fire Service Consolidation Plan Approved - Four Departments Close - 2010
2010, Sep 7 - Wilmington Morning Star reports that BoC approved fire service consolidation plan. NCHFS will become lead agency for fire and rescue services in unincorporated areas of county. Four VFDs will be consolidated with county: CHVFD, WVFD, MGVFD, FPVFD. Each consolidated station will continue to have combination system of paid FFs, augmented by volunteers. Transition begins October 1. Many volunteer FFs aren't happy with the change, and describe it as a hostile takeover. The issue has been "hotly debated" for months. County officials cite decline in number of active volunteers, and urbanization of county as primary reasons for change. County data says only 37 percent of active volunteers have necessary FF certification. County has created task force of volunteers to present recommendations on how to handle transition, and has met with VFD chiefs to review operational plans.
2010, Sep 30 - Myrtle Grove VFD posted this press release on their web site:
New Hanover County Discontinues Contract For Fire Protection

WILMINGTON, NC - September 30, 2010 - The New Hanover County Commissioners and Staff have put the Myrtle Grove Volunteer Fire Department, Inc. in a difficult position. On September 7th, 2010 the County Commissioners voted to assume control of the Myrtle Grove Fire District. Since that time the Myrtle Grove Volunteer Fire Department has been working with county staff to assure that the transition would be seemless. On September 16th Myrtle Grove Volunteer Fire Department received a proposed three month contract from the county to lease the facility and equipment while Myrtle Grove Volunteer Fire Department developed a long term plan to provide the facility at little to no cost to the county. The building was simply to remain as a fire station until the county no longer desired the property. At which time it would be dissolved according to state laws governing non-profit organizations.

Negotiations have been occurring regularly since the 16th and today the county surprisingly rejected their own offer and indicated that they have decided to go in a different direction. We regret their decision. We were working through the process to provide both short and long term solutions to this situation. We believe that what would have cost the county thousands of dollars will now cost millions. Our offer to use the Myrtle Grove Volunteer Fire Department facility as a fire station has been made and continues to be open. Our concern is for the safety of the community we have served for 57 Years as well as the cost to the citizens given the New Hanover County Commissioners present position. We wish our fellow firefighters well as they continue to provide fire services to the Myrtle Grove Fire District.

Best Regards,

Fire Chief David Raines
2010, Oct 1 -
NHCFD becomes sole provider of fire protection for unincorporated areas of county.
Castle Hayne VFD ceases operation.
Federal Point VFD ceases operation. Corporate disillusion recorded December 22, 2010.
Myrtle Grove VFD ceases operation
Wrightsboro VFD ceases operation.
2011, Jun 12 - Wilmington Morning Star reports that automatic aid in effect between city and county. For calls on border areas, both WFD and NHCFS are dispatched.
2012, May 10 - BoC Minutes - Presentation to BoC on fire district changes. View document (PDF).
New Ogden Fire Station
- 2016
2016, Nov 30 - Wilmington Morning Star reports that county is planning to move FFs out of the Ogden fire station around May 2017, to a loaned lot on Old Oak Road near Groundwater Way, so a $4.6M replacement station can be erected. The temporary station will cost about $100,000, most of which will pay for a metal structure to house a single fire truck.
From project web site:
New Hanover County Fire Rescue (NHCFR) is building a new state-of-the-art Ogden Fire Station in place of the old facility, located at 7375 Market Street.
The old 8,800 square foot fire station, built in 1961, was no longer equipped to be a fully-functional emergency service facility. It will be replaced by a 13,706 square-foot building that will serve as a modern and efficient public safety facility.
Timeline for the project:
October 2015: Board of Commissioners approved the purchase of the property from the Ogden Volunteer Fire Association
July 2016: New Hanover County entered into a contract with Becker Morgan Group to design the new facility
November 2016: Becker Morgan Group presented a design plan for the new facility to the Board of Commissioners
June 2017: Board of Commissioners approved the Ogden Station Construction Contract Award to Daniels & Daniels Construction
July 2017: Groundbreaking for new Ogden Station
August 2017: Construction Begins
September 2018: Anticipated opening of new Ogden station
During construction, NHCFR will be in a temporary station located at 7572 Old Oak Road.
Sources
See site home page.
---
Copyright 2023 by Michael J. Legeros